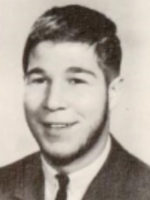 William Etchison Zimmerman, Jr.
William Etchison Zimmerman, Jr. was born August 5, 1942, the son of William E. and Irene Harber Zimmerman, Sr. of Maryland. He was a graduate of Frederick High School and attended North Carolina Wesleyan University in 1964. He graduated from the Army's Officer Candidate School at Fort Benning, GA, and also completed Army Artillery School at Fort Sill, OK.
First Lieutenant William E. Zimmerman, Jr., 25, a twice decorated U.S. Army officer was killed in action April 28, 1968 in Vietnam. Lt. Zimmerman was serving with Company C. 1st Battalion, 22nd Infantry of the 4th Infantry Division in Kontum Province in the central highlands of Vietnam at the time of his death. He died as a result of metal fragment wounds he sustained while on perimeter defense with his unit when it came under hostile mortar attack.
His death came two months after he had been decorated with the Bronze Star with "V" device for valor.