Adult & Professional Studies Program
10 Campuses. 100% Online Programs. 8-week classes.
Become the person YOU were called to be!
Regardless of degree level, program, area of study, or even your location, as an NCWU student, you'll benefit from a personal, practical, and purpose-driven education delivered by understanding and expert faculty whose calling is to help you succeed. With flexible formats of study designed for working professionals, NCWU's adult and online education programs are designed to give adult learners the freedom to balance their degree work to meet personal, career and life goals.
North Carolina Wesleyan University's Adult Studies are nonresidential, baccalaureate degree programs designed for mature adults who are highly motivated and capable of self-directed learning. Adult learners can take advantage of 8-week, hybrid and online classes, as well as opportunities for earning credit through alternative options such as CLEP and DSST testing.
Step into your calling and get ready to advance your career, increase your earning potential and maintain job security!
100% online programs
8-week, hybrid and online classes
10 campus locations
Opportunities for earning credit through CLEP and DSST testing
Dedicated support from faculty and advisors
What type of format is the Adult & Professional Studies Program?
The Adult & Professional Studies program offers a regionally accredited accelerated bachelor's program designed to meet the needs of adult students. Through this program, students have access to:
8-week seated, hybrid and online courses
Seated classes meet one-night-per-week for four hours
Fully online programs available
Full-time or part-time course loads depending on your needs
Personalized academic pathway
How long does it take to complete the Adult & Professional Studies Program?
The Adult & Professional Studies program can be completed in 1.5 – 3 years, depending on transfer credits. You can choose to take full-time or part-time course loads depending on your needs. Seated classes meet one-night-per-week for four hours.
What majors or programs are offered?
The Adult & Professional Studies program offers a variety of majors in today's leading industries. Students can choose to focus on one major, double major and add on a variety of minors including human resources, leadership, psychology and many more!
Bachelor of Arts
Bachelor of Science
Certificates

Only 1 semester (16 weeks) and courses transfer into bachelor programs!
Graduate Programs
What is the admissions process for APS?
The admissions process is easy as 1-2-3 and can be completed quickly!
APPLY
Complete our FREE Application online here
SUBMIT YOUR TRANSCRIPTS

Have all your official college transcripts sent to adultstudies@ncwu.edu or mailed to the Welcome Center at the Rocky Mount Campus.
Each school you attended will have their own transcript request form/process accessible on their individual websites. NOTE: If you have at least 12 hours of college credit, you do not need to submit your high school transcript.

ATTEND ORIENTATION
Once accepted, schedule an in-person or virtual orientation with your location advisor
For students using financial aid: Complete your Free Federal Application for Financial Aid at studentaid.gov (FAFSA school code 002951). This application is used to determine federal and state grants, as well as, federal loans. Students are NOT required to borrow student loans and all are encouraged to complete the FAFSA to determine grant eligibility.
What is the tuition costs for APS?
Benchmarked against many of North Carolina's public institutions such as NC State, NC Wesleyan offers an affordable tuition rate with minimal fees. Students have access to a variety of federal, state and institutional grants.
Tuition
2023-2024 Academic Year (June – July)
$435 per credit hour, $5,220 for a full-time course load of two classes per 8-week session
$45 Technology Fee for every 8-week term that you are enrolled
$125 Graduation Fee (One-time fee added to your account when you apply for graduation)
$15 Background Check Fee (One-time fee; Run on all new students and is non-refundable)
What types of financial aid can I receive?
There are many types of financial aid available for each adult studies student. Below are a quick list of types of aid.
Financial Aid:
Students are considered full-time by taking two classes every 8-weeks
Federal Pell Grant
Amounts determined by FAFSA application
North Carolina Need-Based Scholarship (NCNBS)
Amount determined by FAFSA and NC Residency applications
Phi Theta Kappa
$500 Fall & Spring. You must be enrolled full-time.
2+ Wesleyan Grant
$700 per semester for select community college graduates
United Methodist Award
Equivalent to 20% of tuition. Must be a member of the United Methodist Church and submit an application and a letter of reference from a pastor.
Military Scholarship
Dependent on number of credits, equivalent to 10% of tuition. All active duty, veterans and spouses for all branches of the military, including the National Guard and Coast Guard. Must submit DD-214 or military ID.
Public Service Scholarship
Equivalent to 10% of tuition. All police, fire and EMS employees. Find out more about this Public Service Award.
Department of Public Safety (DPS) Employees
Equivalent to 22% of tuition. Must provide proof of employment.
Where are the regional campus locations for APS?
Through our partnerships with North Carolina Community Colleges, NC Wesleyan has 10 campuses. At each campus, students will have access to a dedicated student advisor that will assist them with all aspects of going back to college. Consider it a one-stop-shop!
Who is eligible for Adult & Professional Studies?
NCWU Adult Studies admissions is open to all persons who meet the following criteria:
• Have completed an application to the appropriate location.
• At least 21 years of age. VP of Enrollment may waive this requirement.
• Background Check

24/7 Tutoring Services. Free & Easy.
North Carolina Wesleyan University is partnered with Brainfuse, a complimentary online tutoring service, provided to all Wesleyan students. This service is available 24 hours a day, seven days a week and features live tutoring in the subjects of writing, reading, math, computer and technology, science and business.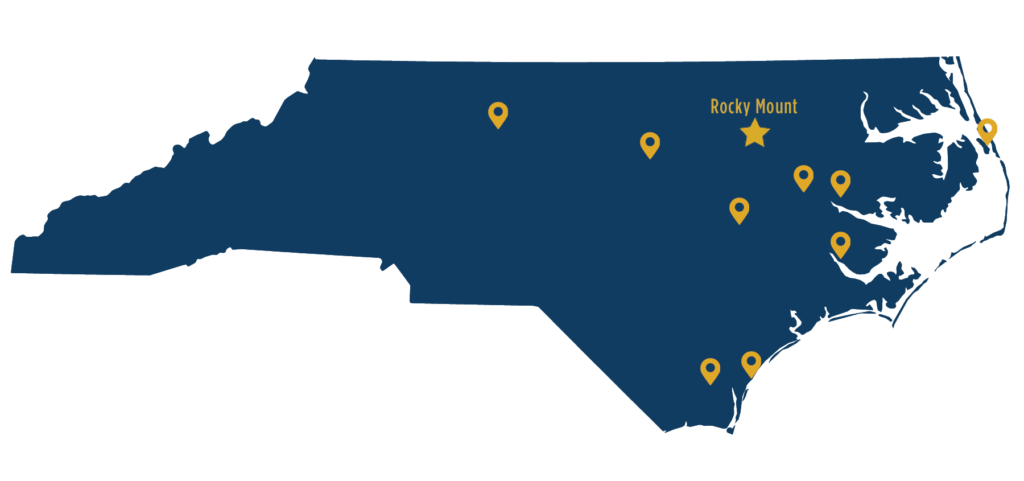 Choose from 10 Campuses
The main campus of NC Wesleyan University is located in Rocky Mount, NC, where the university serves adults pursuing degrees through the Adult & Professional Studies program, as well as residential and commuting traditional students. Adult students have many choices throughout NC to attend any of our 10 satellite campuses.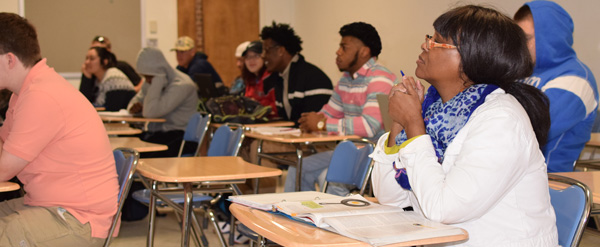 8-week Hybrid & Online Classes
Whether you want to be more marketable in your organization, career, or life in general get the competitive advantage with NC Wesleyan's Adult Studies degree programs. Our coursework includes one-night-per week classes, hybrid classes, and online classes. Some degrees can be completed 100% online. Not all degrees are offered at all locations.
"I chose Wesleyan because of the 8-week courses. I liked the idea of accomplishing more in a short amount of time. I work full time so having the flexibility of accessing my online classes anywhere with a computer, and the accessibility of the online course materials was helpful. I would encourage others to attend Wesleyan because it is not only an education, it is also an experience."
Alissa Cutler '22, Business Administration Major, Greenville Campus
Career Services for Adults
We Are Here To Help You Succeed!
Wesleyan is dedicated to assisting students in their professional development offering resources and guidance for hands-on learning experiences through internships, assignments within the courses and job search resources. Let us help you focus on your education and career at the same time!
Most of our professional development courses are 100% online. Check out course topics below or view our complete list at ncwc.ed4career.com.
• Human Resources
• Management & Leadership
• Customer Service
• Marketing & Social Media
• Sales
• Workforce Compliance
• Teaching & Education
• IT Certifications
• Business