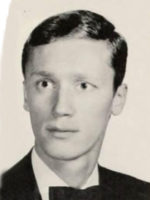 Raymond Merriman O'Kelly, Jr.
Raymond Merriman O'Kelly, Jr. graduated from North Carolina Wesleyan University in 1967 with a Bachelor of Arts in Economics. His Army basic training was at Fort Dix, NJ, followed by Advanced Infantry Training in Anniston, AL, followed with Officer Candidate School.
After graduating from the U.S. Transportation Officers School in 1967 as a Second Lieutenant, Ray spent two years at Fort Eustis where he received orders for Vietnam.
He landed at Cameron Bay and headed to Qui Nhon for assignment and was assigned to the 394th Transportation Company. The first night he was guided in the dark to sleep in an empty billet. Ray heard Vietnamese voices outside. Not knowing the lay of the land, he loaded his 45mm Army issued pistol and kept it close. The next morning Ray reported to the Captain, who learned Ray was qualified on diesel engine repair. He sent Ray to the 1st Log Command Center Headquarters which assigned him to work for the Assistant Chief of Staff for Maintenance.
Ray was sent up and down the Vietnam coast from Qui Nhon to Saigon acquiring equipment. Along the way, he escorted equipment for repair, spending down time at Cameron Bay snorkeling and attending the officers' club at the Air Force Base. On one connecting flight, he ended up in Pleiku Base Camp which came under attack as they landed.
After being promoted to First Lieutenant, Ray was assigned to the 5th Transportation Command, where he was the motor maintenance officer.  Besides guard duty and keeping vehicles rolling, it was relatively quiet until he left country. Before leaving the country, he was surprised to be awarded the Bronze Star Medal.
Then and now, Ray honors most the soldiers that went out on enemy search and destroy missions and those chopper pilots and crews that landed in hot zones to deliver soldiers under fire or to pick up the wounded to deliver them to field hospitals.
Following military service he went to Richmond, VA. where his parents had lived. He got a sales job selling copiers and duplicators.
Ray says the best thing he did was marrying his wife Janet Weatherford.
He changed majors and began to study American History at the University of Richmond Graduate School. Hunger sent him back to work. He applied to A.H. Robins Pharmaceutical Company based in Richmond. He was hired as a sales rep and sent to Roanoke, VA to live and work.
Five years later Ray went with Syntex Labs located out of Palo Alto, Ca. and took a sales territory out of Richmond. After calling on physicians and pharmacists for 16 years with Syntex , the company was bought by Roche Pharmaceuticals. He spent 10 years working at Roche until he lost his job due to a company downsize.
Ray went into real estate for Remax for 4 years, and then joined PDI, a contract pharmaceutical company. He stayed there for 3 years until a heart attack convinced him to leave PDI and sales.
After 7 years, Ray has finished his historical novel, The River Ends Here, a story of the American Civil War. He was recently ordained a Chaplain.  He volunteered at White Oak Rehab and Nursing Home in Waxhaw, NC before COVID-19 closed outside visitations.