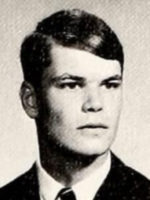 Danny Marion Rouse
Danny was born in Lenoir County and received his undergraduate degree in Economics at North Carolina Wesleyan University in 1969.  He later earned two master's degrees from Central Michigan University.  Danny devoted his life to serving his country for thirty-four years as a Command Pilot in the U.S. Air Force retiring as a Colonel in October 2002. In addition, he was a flight instructor for the B-52, B1B and KC-135 aircraft.
He met his wife, Mihaela, while serving as Director of Operations for the United Nations in Iraq.
His many decorations include the Defense Superior Service Medal, Legion of Merit, five Meritorious Service Medals and the Air Medal earned for heroism while flying combat missions in Vietnam. Colonel Rouse held several command assignments and was Vice Commander for the Air Force Inspection Agency.  He also served as a full professor at both Texas Tech University and Louisiana Tech University.