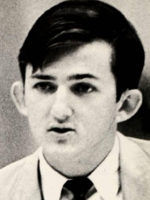 Guy Foster Turner
CDR Guy Foster Turner was born in Quantico, VA. He graduated from North Carolina Wesleyan University in 1966 with a degree In Chemistry.
He joined the Navy and retired after 23 years as a F-4 Phantom fighter pilot. He flew for Key Airlines after his military career.
CDR Guy F. Turner, Jr. US Navy (Retired) died February 26, 2018.