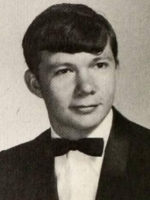 Jerry Darious Merritt III
Jerry Darious Merritt attended North Carolina Wesleyan University from 1964 to 1968, graduating with a BA in Mathematics. Jerry was on the '67 and '68 Bishops basketball team and was President Class of '68.
Jerry joined the Navy in October 1968 and reported for pilot training in January 1969.  After earning his Naval Aviator Wings of Gold, he reported to Meridian, MS for Instructor duty until July 1972 when he was assigned F-8 Fighter training in San Diego, CA. He reported to VF-194, deploying on USS Oriskany in October 1973 to the Gulf of Tonkin in support of post-Vietnam Combat operations. Jerry completed the last F-8 deployment on the USS Oriskany in 1975-1976.
He continued his Naval career and flew and instructed in fighter jets almost his entire career. The highlight of his career was his selection to Command Fighter Squadron 43 at Naval Air Station Oceana, Virginia Beach. Like Top Gun, flying A-4's and F-16's, their mission was to train F-14 crews in air combat maneuvering tactics.
Jerry's next assignment was Operations Officer aboard USS Eisenhower, CVN-69. He retired as Commander from active duty Navy in June 1990 after 21 years of service. He accumulated over 5000 flight hours and 350 carrier landings.
After retiring from the Navy, Jerry was hired by American Airlines and reported to Dallas, TX for training. He flew Boeing 727's, 777's and MD-80's, retiring as Captain in August 2006 after 16 years of service.
Jerry was employed for 15 years by defense contractors as a consultant on the Fifth Generation Fighters, F-22 Raptor and F-35 Lightning II.
Jerry has been a volunteer with the National Park Service for 15 years, volunteering at the Wright Brothers National Monument in Kitty Hawk, NC, giving briefs on the history and operation of the Wright Flyer.
Jerry and his wife DeDe Sens, NCWC Class of 1971, live in Currituck, NC.