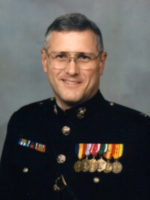 Mark Raymond Sinclair
Lieutenant Colonel Mark Raymond Sinclair retired in 1995 from the United States Marine Corps where he served as a Command and Control Systems officer for more than twenty-five years.  LtCol Sinclair's military experience included command of the Marine Communications Detachment, USS Mount Whitney and Marine Corps Detachment, Fort Lee, Virginia.  His operational assignments included duty as the communications electronics officer of 26th Marine Amphibious Unit, 4th Marine Expeditionary Brigade, and 2nd Marine Amphibious Force (Nucleus), 3rd Battalion 4th Marines, 6th Marines, and 2nd Marine Division. He has served in staff communications and computer systems assignments at Headquarters Marine Corps, US Forces Japan, and US Marine Corps Forces, Atlantic.  His operational experience includes Vietnam, Central America, and Haiti.
LtCol Sinclair's academic background includes a Bachelors degree in History from North Carolina Wesleyan University, Master's degrees in International Relations and National Strategic Studies, and he is a graduate of the Marine Corps' Basic and Advance Command and Control Systems Course and the Naval War College.
LtCol Sinclair's awards include the Legion of Merit, Navy Marine Corps Medal, Defense Meritorious Service Medal, Meritorious Service Medal with Oak Leaf Cluster, Navy Commendation Medal, National Defense Medal with one bronze star, Armed Forces Expeditionary Medal, Viet Nam Service Medal with two bronze stars, Joint Meritorious Unit Citation, Meritorious Unit Citation, Navy Battle E ribbon, Sea Service Deployment ribbon, Artic Service ribbon, Overseas Service ribbon with two bronze stars, and the Vietnam Gallantry Cross Unit Citation with Palm & Frame.
After retirement LtCol Sinclair entered the defense contracting industry where he has held a series of technical and managerial positions.  LtCol Sinclair assumed his current position with Margin Consults in June 2013.  Previously he was with MacAulay-Brown, Inc. where he was the Vice President leading the Warfighter Support Division, a $20M business unit focused on providing support to military forces at the operational level.  Prior to that he was the General Dynamics – Information Technology's Staff Vice President for Business Development in the Aviation and Joint Solutions Sector. Before joining GDIT he was the Hampton Roads Area Manager and Program Manager for the Command and Control Research Program (CCRP) for Evidence Based Research, Inc.  Previously, LtCol Sinclair worked for General Dynamics –Advanced Information Systems.  While with General Dynamics he participated in communications and computer assessments for United Nations Humanitarian organizations including the UN High Commissioner for Refugees (UNHCR), and the UN Department of Humanitarian Affairs (DHA).  He participated in the development of the Chairman Joint Chief of Staff's Joint Vision 2010.  He was been an analyst and Program Manager at the Joint C4ISR Battle Center (JBC) and Program Manager for Joint Experimentation work in support of US Joint Forces Command.  He was also the Program Manager for work in support of Air Combat Command and Allied Command Transformation.
Lt Col Sinclair participated as a member of the US delegation to the NATO SAS-026 Panel charged with revising and extending the NATO Code of Best Practice for Command and Control Assessment and as a member of the team teaching to Code under NATO's SAS-051 Lecture Series.  He also participated as a member of the US Delegation to the NATO SAS-050 Panel which developed a conceptual model of Command and Control for capturing knowledge regarding C2 and supporting exploratory analysis.  He also participated as a member of the US Delegation to the NATO SAS-065 Panel developing the Command and Control Maturity Model for NATO Network Enabled Capability.