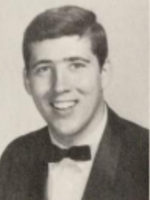 Joseph Carlton Weatherly
Joseph Carlton Weatherly graduated from North Carolina Wesleyan University in 1968 with a Bachelor of Arts in English and Religious Studies. After graduating from Wesleyan, Joe attended Duke Divinity School.  He pastored several small United Methodist Churches for 4 years while in college and divinity school.
This was during the height of the Vietnam War and Joe felt compelled to volunteer for service in the U.S. military.  A member of the United States Army, he served his country in the Republic of South Vietnam 1969/70.
Upon separation from the military, Joe joined a major financial services company. He retired from this company in 2000 with nearly 30 years of service.
In March of 2000, Joe retired and was called to help churches create vision and engage in strategic thinking with practical support in tactical implementation. To date, Joe has worked directly with 205 churches in the USA, England, Scotland and South Africa and he has consulted with churches in Australia and New Zealand. He has been called to serve them as they have sought to bring clarity to their vision, develop strategic plans to enable their vision and then begin the process of implementing those plans.
Joe lives in Charlotte, NC with Sherry, his wife of 46 years. They have four children and five grandchildren.