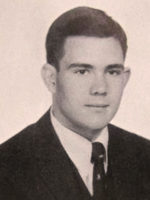 Cecil Jackson Winstead, Jr.
Cecil Jackson "Jack" Winstead, Jr. graduated from North Carolina Wesleyan University in 1968 with a Bachelor of Arts in Economics.  He served one tour in Vietnam as a RIO flying back seat in an F4 Phantom.
After returning to the United States, Jack was killed in a training accident on June 26, 1972 when two US Navy F-4 Phantoms collided midair over the Coso Range. All four crew members managed to eject, but radar intercept officer LTJG C. Jack Winstead was killed.