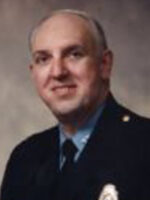 Nelson Stewart Lockey
Nelson Stewart Lockey, a retired captain from the Raleigh Police Department, attended NCWC and received a bachelor's degree in 1976 as part of a program that provided grants for police officers to continue their education after receiving an AAS degree in Police Science from WTCC.  He worked with the Raleigh Police Department from 1965 to 1991. Prior to working with the Raleigh Police Department, he served his country in the United States Army from 1962-1965, promoted to SP5 prior to an Honorable Discharge in 1965. He served in Vietnam and Ethiopia, working in the field of Communications.  Part of his responsibilities included the repair and maintenance of transmit towers and was a third shift DJ.
Nelson started his career at the Raleigh Police Department in August of 1965 as a patrol officer and worked his way through the ranks of detective, sergeant, lieutenant and then retired as a captain of the Raleigh Police Department in 1991. He was a certified law enforcement instructor teaching in the Raleigh Police Academy and the Coastal Plain Law Enforcement Academy in Wilson. He was also a hostage negotiator and negotiator trainer. Nelson worked in various assignments during his police career in various divisions to include patrol, investigations, and administration.  He was a graduate of the FBI National Academy and Southern Police Institute for Police Managers.
Nelson had interests in genealogy, woodworking, collecting toys and police memorabilia. He was the vice president of the Down East Scottish Society in Rocky Mount. He was also a volunteer fireman in Laurinburg, his hometown. Nelson never met a stranger and was often seen entertaining others with his vast array of stories. He was a member of the Rocky Mount American Legion, Post 58.
Nelson passed away on Jan. 29, 2014.  His daughter, Laura Lockey Fahnestock, is a 1991 NCWC graduate and is currently the Police Chief in the Town of Fuquay-Varina with plans to retire effective February 1, 2022 with over 30 years in law enforcement. Prior to being hired as a police chief she worked with the Rocky Mount NC Police Department for 24 years, beginning her career as a NCWC intern for the RMPD.