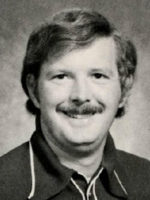 Lewis Newell Foster
Lewis Newell Foster entered the United States Air Force in 1971 and was trained as a Morse Intercept Operator in Biloxi, Mississippi. He then served from 1972 to 1973 at a small listening post near Brindisi, Italy, in southern Italy. After a year and a half, Lewis was placed on flight status and went through months of special training before he was stationed at NKP and Ubon Thailand from 1973 to 1974, where he flew 63 Electronic Surveillance Missions as a crew member on EC-47's in Laos, Cambodia, South Vietnam and along the North Vietnamese border.
In 1974 he was discharged a few months early from active duty from Kelly Air Force Base in San Antonio, Texas to attend North Carolina Wesleyan University. Lewis attended NC Wesleyan from 1974 to 1977, graduating in 1977 with a BA in Behavioral Studies, Dr. Rexford Tucker's program.
Lewis began a mental health career in 1980, working in and managing group homes. He received training as a mental health social worker. As his career progressed, he specialized in the treatment of addictions, family counseling, equine assisted psychotherapy, dual diagnosis counseling, and he used adventure-based activities in his work in outpatient and inpatient settings with adults and adolescents in both North and South Carolina. Lewis has trained many therapists in Multiple Family Group Therapy, www.multiplefamilygrouptherapy.com
He also served with the NC Air National Guard as a Communications Center Supervisor for twelve years (1978-1990) in Charlotte, NC.
Lewis retired in 2013 and lives in Florence, SC.  When he travels Highway 95 to visit his son in Virginia Beach, he stops at NC Wesleyan for a walk around the campus to stretch and to reminisce.