Get ready to be part of Bishop Nation!
At NC Wesleyan, New Student Orientation is called WesWay! WesWay assists students in making the transition to college and teaches the Wesleyan way of life. Students arriving in January 2024 will have a WesWay Day orientation experience.
A detailed schedule of the day will be sent to your my.ncwu.edu email address as January 16 approaches. Please see a general overview of the day below:
Tuesday, January 16th
Before the start of Orientation, Financial Aid and the Business Office will be open from 8 AM-10 AM to meet with students.
10:00 a.m. – Check In
– Check-in and receive your free t-shirt
– Greetings from Taylor Stone, Director of Student Success
– Welcome Address from President Dr. Evan Duff
10:30 a.m. – 11:30 a.m.: Academic Advising
11:30 a.m. – 12:30 p.m.: Book Pick Up & ID Pictures
12:30 p.m. – 1:30 p.m.: Lunch
1:45 p.m. – 2:15 p.m.: Mental Wellness Presentation
2:15 p.m. – 2:45 p.m.: Campus Life Presentation
2:45 p.m. – 3:15 p.m.: Campus Safety Presentation
3:30 p.m. – 4:00 p.m.: Classroom Tours
5:00 p.m. – 9:30 p.m.: Bishop Time!
Wednesday, January 17th
First Day of Classes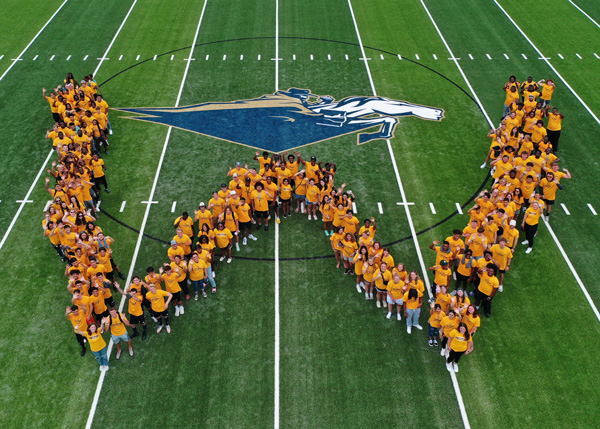 First Year Mentors are Here to Help YOU!
First Year Mentors are a team of dedicated and constructive student leaders that are passionate about NC Wesleyan University and believe in every student's success. From the beginning at New Student Welcome and throughout the fall semester, First Year Mentors help new students connect with the Wesleyan community. They serve as mentors and role models to first-year students, and attend an assigned COL 103 course section to be accessible and provide insight as a mentor.
Learn more and meet our First Year Mentors

HERE

!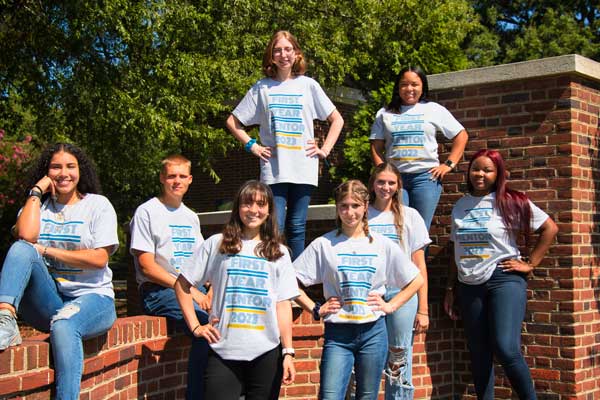 FAQs
Am I required to attend a WesWay Day over the summer?
Yes, all new students must register and attend a WesWay Day.
Do I need to register for WesWay Orientation Weekend in August?
No, WesWay Orientation Weekend begins with campus move-in and students do not need to register.
Do I have to take any placement exams?
Some students will need to take an English placement exam. If you do, you will be contacted prior to your registered WesWay Day, and will have the opportunity to take the exam during WesWay Day.
When will I find out who my roommate is?
Students will be notified the third week of July about roommate and housing information.
How many people am I allowed to bring to a WesWay Day?
Each student is only allowed to bring a maximum of 2 guests and these guests must be registered for the WesWay day as well.
What should I wear to a WesWay Day?
Please dress comfortably and be prepared to walk around campus. In the summer it may be very hot outside and very cool inside.
Do parents and families attend WesWay Orientation Weekend?
WesWay Orientation Weekend is part three of Orientation that kicks off with campus move-in. Parents and families are encouraged to assist the student with move in on that Friday. Parents and families are requested to depart in the afternoon. Please see the full schedule for details.
Do I need to register for classes?
Students are registered for classes by their academic advisor prior to the WesWay Day. You will receive your course schedule at WesWay Day and have the opportunity to meet with your advisor about your course schedule.
How do I access my college email account?
The Office of Admissions will send you information about accessing your college email account to your personal email account.
When do I get my textbooks?
You will have time built into your orientation schedule to go to the bookstore and pick up your textbooks before classes begin for the semester.
I am living on campus. What should I bring for my Residence Hall room when I move-in?
A complete list of what to bring can be found here.
I am a student with a disability. How do I get accommodations at NC Wesleyan?
Students needing any form of accommodations based on an academic, mental, or physical disability must register with the Office of Disability Services. Students register by completing a Self-Identification and Impact Statement and Consent for Release of Confidential Information, which can be found on the NC Wesleyan website under Health Services. Additionally each student must provide current and comprehensive documentation to the Office of CDS of a temporary or permanent disability that requires accommodation. Specific documentation guidelines categorized by disability are outlined in the Disability Services Handbook also located on the website. An Individualized Education Plan (IEP), 504 plan, or Disability Accommodations at a previous institution are not considered sufficient documentation, but it can be submitted as supporting information in addition to a comprehensive assessment.
Hotel Accommodations
Visiting the Rocky Mount Area
Parents, the Rocky Mount community is excited about your visit! We are hoping that you will stay in one of our local hotels while your student is staying on campus.
Comfort Inn
200 Gateway Blvd.
Rocky Mount, NC 27804
252.937.7765
877.424.6423
Courtyard Marriott – Gateway
250 Gateway Blvd.
Rocky Mount, NC 27804
252.451.4800
888.236.2427
DoubleTree – Gateway
651 N. Winstead Ave.
Rocky Mount, NC 27804
252.937.6888
888.543.2255
Days Inn
Golden East
1340 N. Wesleyan Blvd.
Rocky Mount, NC 27804
252.977.7766
800.325.2525
Holiday Inn
200 Enterprise Drive
Rocky Mount, NC 27804
252.937.7100
888.465.4329
Hampton Inn
530 N Winstead Ave
Rocky Mount, NC 27804
(252) 937-6333
Homewood Suites
231 Gateway Blvd
Rocky Mount, NC 27804
(252) 451-4004
Residence Inn
230 Gateway Blvd.
Rocky Mount, NC 27804
252.451.5600
252.451.5050
*There are LOTS of great things to do in Rocky Mount for an enjoyable stay!
Please visit rockymountnc.gov for a full listing of entertainment, restaurants and shops!