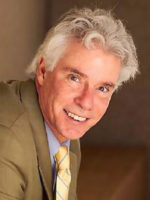 George Reid Lyon
George Reid Lyon served 15 months (1968-1969) in Vietnam with the 82nd and 101st Airborne Divisions. He served as a sergeant in a Recon unit leading "Tunnel Rat" teams and short- and long-range reconnaissance operations. The former paratrooper and combat veteran was awarded the Combat Infantryman Badge, Parachute Badge, Bronze Star Medal, Army Commendation Medal, Vietnamese Cross of Gallantry with Palm, and the Vietnam Civic Action medal.
Reid received his Bachelor of Arts in Psychology from North Carolina Wesleyan University in 1973 and his M.A. and Ph.D. in 1978 from the University of New Mexico with a dual concentration in Neurophysiology and Learning Disorders and Disabilities. He completed his Neuroscience fellowship in 1979 at the University of New Mexico Medical Center. Dr. Lyon has authored, co-authored, and edited more than 130 peer-reviewed journal articles, books, and book chapters on developmental neuroscience, learning differences and disabilities, reading and reading difficulties, and educational policy.
Dr. G. Reid Lyon has had a wide range of professional responsibilities during his career including his contributions as a researcher, neuroscientist, university professor and national leader in the development of evidence-based education policy at the federal and state levels. From 1992 until 2005, Dr. Lyon served as a neuroscientist and the Chief of the Child Development and Behavior Branch at the National Institutes of Health (NIH) where he was responsible for the direction, development, and management of research programs in developmental and cognitive neuroscience, developmental psychology, behavioral pediatrics, reading development and disabilities, learning disabilities, early childhood development, and school readiness. While at the NIH, Dr. Lyon served as an education and science advisor to President George W. Bush and First Lady Laura Bush from 2001 to 2005 to develop evidence-based scientific and education policy. Within his capacity as a NIH neuroscientist, Dr. Lyon testified yearly from 1997 to 2005 before Congressional Senate and House Committees on scientific topics ranging from advancements in developmental neuroscience, early childhood brain development, reading disorders and disabilities to science-based education. He served as the White House representative to UNESCO and in 2006, he was named one of the top ten national leaders in Education during the 1996-2006 decade by the Editorial Projects in Education (Education Week).
Following his work at the NIH, Dr. Lyon served as a Distinguished Research Scientist in Neuroscience and Cognition at the Center for Brain Health at the University of Texas, Dallas. Concurrent with his appointment at UTD, Dr. Lyon was an associate dean in the School of Education and Child Development at Southern Methodist University as well as a distinguished professor of education policy and leadership.
Following his career in higher education, Lyon made a commitment to help fellow combat veterans at the VA Health Center in Cape Coral Florida serving combat veterans who suffer from substance abuse disorders and PTSD. During his academic career, Lyon also served as a professor on the faculties of the University of Alabama – Birmingham, Northwestern University, and the University of Vermont School of Medicine.
Dr. Lyon has received numerous awards for his research contributions from the National Institutes of Health as well as from organizations dedicated to children with learning difficulties and disorders and for his work in developmental neuroscience. He also received the Excellence in the Sciences Award conferred by the Vietnam Veterans of America for his research in children's brain development and the neurobiology of PTSD among combat veterans.