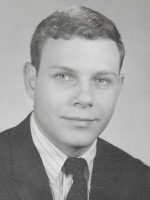 John Albert Lane
John A. Lane attended North Carolina Wesleyan University from September 1962 to January 1964 and then returned to Wesleyan in September 1968 to July 1971. He received a BS in Chemistry with the class of 1972. John served in the Army from July 1965 to August 1968. He graduated Artillery Officer Candidate School (OCS) at Ft. Sill, OK in August 1966. He was a tac officer at Artillery OCS for one year before being transferred to Vietnam in August 1967. He was assigned to the 6th Battalion/14th Artillery as a 1st Lieutenant and forward observer. He also served with the 5th Battalion/22nd Artillery as an aerial observer and assistant intelligence officer. He was awarded four Air Medals, one for heroism and a Bronze Star.
In August 1971 John moved to Greensboro, NC to attend graduate school, but decided that being a chemist was not for him and went into banking. He worked for North Carolina National Bank for five years then moved to Bowling Green, VA to work for Union Bank & Trust in 1976. He retired as a Senior Vice President in 2009 from Union Bankshares Corp (now Atlantic Union Bankshares).
John is the proud father of four daughters, a step-daughter, a step-son, and fifteen grandchildren.