Student Engagement
Make the most of your college experience, get involved and make a difference on campus and in the community.
GET INVOLVED!
As a student at NCWU, we want you to be active through social, educational, and cultural events and programs. We offer out-of-class learning experiences that reinforce classroom lessons and help you to develop into well-rounded students. Student engagement is vital to rewarding social lives, strengthening leadership skills, and the desire to make a difference on campus and in the community.
Most all of our events and programs are chosen by NCWU students and reflects the diverse interests of our student community. During your University career, you are encouraged to get involved and make the most of your experience. The Office of Student Engagement (OSE) staff members are available to help student leaders operate successfully and responsibly within the framework of the University's mission and policies. They serve as a resource to all students in finding the right student organization to join, creating an organization, and/or realizing a vision for programs.
A measurable way to tell your Wesleyan story!
Also, you will have the opportunity to explore our co-curricular transcripts program, WesQuest, a platform which enhances student engagement and success. WesQuest will help you track and document your engagement beyond the classroom. Measuring your achievement of the competencies employers desire, WesQuest is your dynamic, real-time co-curricular transcript to show others your experiences at Wesleyan. 
Created to complement our academic curriculum, WesQuest prepares students to become well-rounded professionals. The program is rooted in the NCWU mission and demonstrates the core values that shape our identity: Knowledge and Understanding, Integrity and Accountability, Patience and Respect, Kindness and Empathy.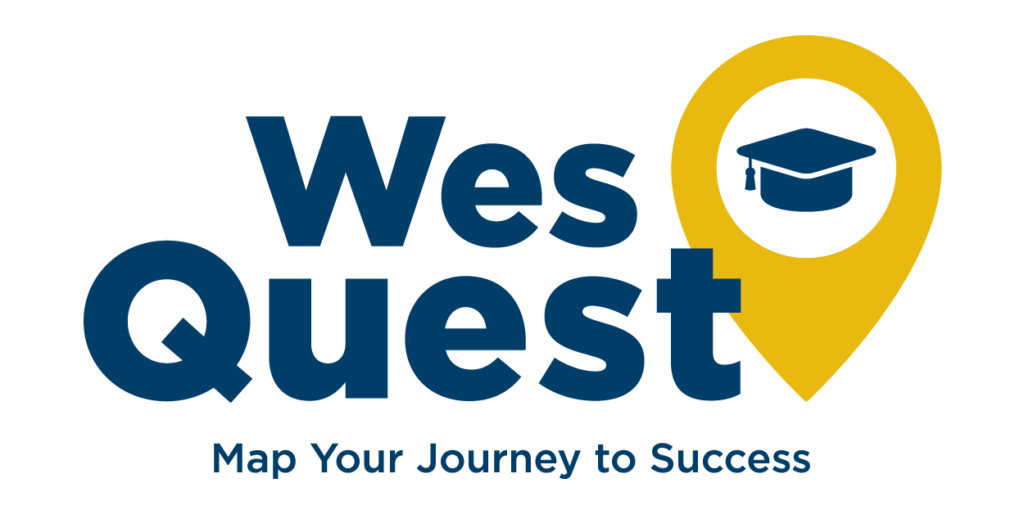 Training Modules
The student engagement team created training modules to introduce you to the WesQuest program, the Suitable platform, and all the ways you can engage in co-curricular learning! By completing the modules, you'll earn 50 WesQuest Advantage points – bringing you closer to your 2,000 point goal!
ACCESS TRAINING MODULES
Alternatively, the student engagement team offers virtual workshops throughout the semester. They are led by a member of the student engagement team and cover similar information provided by the asynchronous training modules. If you have specific questions or would like a refresher on the WesQuest program and/or the Suitable app, then this is a great option!
Logging Into Suitable
Mobile App
Make sure you have the most updated version of the Suitable app. If you do not, search "Suitable" in your iOS App Store or Google Play Store and download it for free, or click the download button for your type of device at the top of this page. Open the app once it's installed.
Enter your @ncwu.edu email address, and click Continue.
The NCWU portal should be listed. Click Sign In.
If Suitable is unable to confirm your email address with NCWU, please contact their support team at support@suitable.co.
Web Version
Visit app.suitable.co.
Enter your @ncwu.edu email address and click Continue.
The NCWU portal should be listed. Click Sign In.
If Suitable is unable to confirm your email address with NCWU, please contact their support team at support@suitable.co.
Earning ePoints and badges
ePoints
Students can use the ePlatform app, powered by Suitable, to track activities, training or certifications, which earn them ePoints.
The ePlatform app provides students with a listing of activities and events that can earn them ePoints, which are required for graduation and can earn students badges.
Using the app
Download the Suitable app from the App Store or Google Play.
Open the app and enter your default NCWU email address. (Your default email address will be your NCWU email.)
Press continue and enter your password to log in.
Allow camera access to scan QR codes.
Badges
Badges reflect different levels of students' achievements in the ePlatform.
All students* must earn the Preflight and Lift badges, and students can elect to earn the additional WesQuest badges, as well as the Dean's Badge of Excellence.
*Junior transfer students are not required to earn the Preflight badge.
FAQs
How do I submit ePoints
To submit ePoints, students should navigate to the activities tab within the ePlatform app (Suitable) or web-based log-in.
There, students can search or filter to find the event/certification they completed.
Once the post is found, students will upload a file, write a reflection, etc., depending on what the post asks of the students.
Finally, students should select the "add to my portfolio" option. The submitted points will be reviewed for approval by the administration.
What is the President's Badge and how do I earn it?
To earn the Dean's Badge of Excellence, students must complete 500 ePoints. These students will be awarded a badge that they may wear with their graduation regalia. Badge recipients will also be invited to a reception with the Dean during the spring semester before graduation and will be able to add this achievement to their resume.