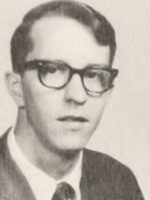 Charles Kenneth Morrison
Charles Kenneth Morrison first attended North Carolina Wesleyan University in 1966-1967, dropped out and was drafted into the United States Army in 1969. He served in Vietnam from 1969-1970.
Morrison returned to North Carolina Wesleyan in 1970, with the assistance of the G.I. Bill, and graduated in 1973 with a BA in History.
Answering a call to the Methodist ministry, he entered Duke Divinity School and graduated in 1976. Ordained a United Methodist elder in 1976, Charles entered the U.S. Army Chaplain Corps, graduating in 1979 from the U.S. Army Chaplains School.
Reverend Colonel Morrison had a dual career with the United Methodist Church and the U.S. Army. He served churches in the North Carolina Conference, UMC, large, small, urban and rural. The Army career included service as chaplain, the N.C. Army National Guard, and the Department of Defense, coordinating reintegration training for soldiers and their families following combat tours. Charles Morrison retired from the United Methodist Church as an elder with 35 years of service, and from the U.S. Army as a colonel with 38 years of service.