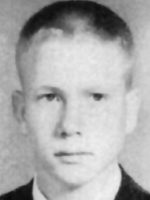 Paul Marion Nance, Jr.
Paul "Petey" Marion Nance, Jr. was born on May 31, 1944 in Washington, North Carolina. He was the only child of his parents, Paul and Helen Nance.  He enrolled in North Carolina Wesleyan University in 1962.
As a member of the United States Army, Sergeant Nance served our country from 1965 to 1968. He served with Alpha Company, 1st Battalion, 508th Infantry Regiment, 3rd Brigade, 82nd Airborne Division, "All The Way Sir", USARV.  He served one tour in Vietnam and volunteered to go back. While between tours, he married and had been married six weeks when he returned to Vietnam February 14, 1968. On May 1, 1968, Sergeant Nance was killed in action in Thua Thien Province, South Vietnam. He was 23 years old.
He was awarded The Combat Infantryman's Badge (CIB), The Army Commendation Medal, The Purple Heart Medal for his combat related wounds, The Vietnam Service Medal, The Republic of Vietnam Campaign Service Medal, and the National Defense Service Medal.