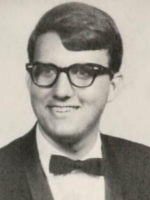 Arlynn Quinton White, Jr.
Arlynn Quinton White Jr. attended North Carolina Wesleyan University beginning in 1964, receiving his BS in Biology in 1968.  He enlisted in the US Army in 1968 and served in Viet Nam 1969-70. He was stationed in Qui Nhon with the HQ Unit of a Transportation Battalion's Communication Section. He was promoted to Sergeant (E-5) prior to an Honorable Discharge in 1970.
Following his discharge, he attended the University of Virginia, receiving his MS in Biology in 1972. He then enrolled in the doctoral program at the University of South Carolina, studying at the Baruch Institute of Marine and Coastal Science. He was awarded his PhD in 1976.
Dr. White joined the faculty at Jacksonville University in the fall of 1976. He has spent his entire career at JU eventually becoming Professor of Biology and Marine Science. In 1978, he established the marine science major. Over his career, he served as Marine Science Program Director, Chair of the Department of Biology and Marine Science, Chair of the Division of Science and Mathematics, and Dean of the College of Arts and Science.
In 2008, he became the founding Executive Director of the Marine Science Research Institute. He directed the fund raising and construction of the 32,000 sq. ft LEED certified MSRI facility.
He works primarily in marine science education, and research concerning the St. Johns River and the impact of man on marine ecosystems.  He has been active in the Jacksonville community serving in leadership roles in several organizations. Dr. White has also been involved in numerous marine science related professional organizations.