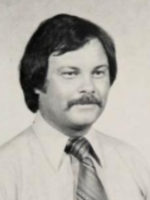 William Charles Rose
William Charles Rose attended NC State University in 1963-1964. He joined the Air Force in 1964 and served in Vietnam 1966-1968.
His unit dropped propaganda leaflets over North Vietnam, transported military personnel into/out of forward areas, and rescued fighter/bomber pilots.
After his honorable discharge in 1968, he began his civilian career at Abbott Laboratories in Rocky Mount. While working at Abbott, he decided to pursue a college degree and began taking courses at Nash Tech. Both his NC State and Nash Tech classes were transferable to North Carolina Wesleyan University, so he decided to use the GI Bill® to complete his degree. He graduated in 1978 with a BA in Chemistry.
With his degree, he was able to accept promotions and positions of increasing responsibility throughout his career. He has a cumulative total of more than forty years of experience with several employers in the pharmaceutical industry. He retired from GlaxoSmithKline in 2006.