Welcome NCWU Freshmen & Local Community!
Rock the Mount is back and we're ready to make it better than ever!
Join us in welcoming North Carolina Wesleyan University's Class of 2027! Business owners, churches and other nonprofits in the surrounding area are invited to attend. Come meet our incoming freshmen and gain exposure among our students by promoting your organization on Wesleyan's campus. 
Tuesday, August 15th
11 am – 2:00 pm
Food Trucks, Music and More!
Athletics showcase: 2 pm -5 pm
The Aftershock Party starts at 6:30 pm
Live concert, carnival rides, free food and more!
What is Rock the Mount?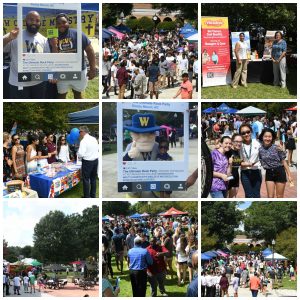 Each year, local businesses, churches and organizations are invited to meet NC Wesleyan University's incoming Class at the annual Rock the Mount event. Rock the Mount is a tradition for NC Wesleyan to welcome new students to campus and to the community. It takes place the day before the University's first day of classes, serving as the official kick-off event for the new academic year. Local businesses and organizations are given the opportunity to come and celebrate the start of a new school year with food, music and free advertising.
Each year, hundreds of students flow through a Bishop Tunnel, formed by cheering returning students, faculty, staff, alumni and community members. The tunnel leads them to the Southern Bank Green, located in the center of campus, where businesses and organizations are setup with booths displaying their products and services. Our Rock the Mount event brings many vendors to campus, including companies such as Chick-fil-A, Hardee's, Overman and Parks, CPA, OIC of Rocky Mount, Subway and more.
Students are able to discover many of the area businesses and places to worship, as well as have the chance to discover volunteer and part-time job opportunities.
The event is free to vendors and the University provides a six-foot folding table, two chairs and complimentary lunch. Exhibitors are required to bring table covers, while power cords and small tents (no larger than 10' x 10') are encouraged. Vendors can begin setting up the day of the event on the Southern Bank Green at 9:30 a.m. and are asked to have the setup completed by 10:30 a.m.
Display spaces are limited, so businesses and organizations are encouraged to sign up early. To participate or for more information, contact Director of Student Activities Elliott Smith at esmith@ncwu.edu or by calling 252.454.1682. 
Rock the Mount Resources
How do I sign up for Rock the Mount?
Display spaces are limited, so businesses and organizations are encouraged to sign up early. The event is open to the general public.
For more information, contact:
Elliott Smith
Director of Student Activities
esmith@ncwu.edu
252.454.1682
Campus Map
Visit our campus map webpage for the layout of campus and event space.
Ultimate List of Discounts
Need a place to stay? Check out our list of Preferred Business Partners in Rocky Mount to enjoy discounts on lodging, food, entertainment, services and more!