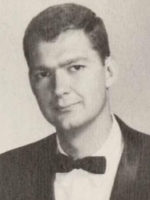 Charles Merle Kraft, Jr.
Charles Merle "Buddy" graduated from North Carolina Wesleyan University in 1968 with a Bachelor of Arts in Economics.
After graduation, Buddy joined the US Navy in 1968 and after flight training was designated a Naval Aviator. In 1972, flying the E-2 Hawkeye on USS America, Captain Kraft deployed to the Gulf of Tonkin in support of air operations in Vietnam.  He was there when the war ended in 1973.
Buddy continued his Navy career where he had multiple deployments flying the E-2 aircraft, two aviation commands and two ship commands.  He also had assignments in Washington, attended the National Defense University and completed his Naval career as the Chief of Operations at the Cheyenne Mountain Operations Center in Colorado Springs, Colorado.
He returned to the Washington, DC area after retiring from the Navy and was a defense contractor for twenty-two years as an Air and Missile Defense Analyst. Buddy retired again in 2018.