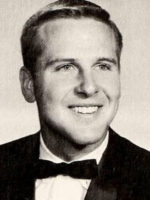 Donald Taylor Everett
Donald Taylor Everett graduated from North Carolina Wesleyan University in 1965 with a degree in History. After graduation he joined the United States Army and began his basic training in 1965 at Fort Gordon, Georgia. In 1966, he finished Armor Training at Fort Knox, Kentucky and graduated from Officer Candidate School. Donald was assigned to South Vietnam and the 1st Squadron, 4th Calvary in 1967. He was discharged from the US Army in 1968. He was awarded the Silver Star and Bronze Star for Valor.
In 1976, Donald joined the NC National Guard and was promoted to BN Commander with the rank of LTC. He retired from the NC National Guard in 1997, with 21 years of service.
Donald was Southeastern Sales Manager for Fluke Corporation until his retirement in 2000. He is the proud father of two daughters.