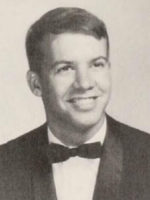 Douglas Stephen Windes
Douglas Stephen Windes graduated from North Carolina Wesleyan University in June 1968 with a bachelor's degree in economics.  His military service began five months later at the United States Army induction center in Baltimore. He missed the first bus to the basic training camp at Fort Bragg, NC and his mother was surprised to receive a phone call from the Army stating that her son was AWOL. He caught the next bus, passing NC Wesleyan on the way.
Coming from the comfortable environment of NC Wesleyan to a basic Army training at a military base was a shock to Douglas. He coped and at the end of his training in December, he was shocked again to be ordered to Fort Polk, LA for advanced training as an infantryman.  Apparently, an NCWC economics degree carried little weight with the Army.  Later he learned that the Army sent every two-year draftee with a college degree to the combat arms to encourage attendance at small unit leadership schools. It worked. Douglas volunteered for non-commissioned officer school at Fort Benning, CA and graduated as a sergeant.
In October 1969, Douglas arrived in South Vietnam and was assigned to the 101st Airborne Division.  Being a paratrooper was not a prerequisite as the division had converted to helicopters.  His new job was at division intelligence (G2) where he prepared daily intelligence summaries of engagements with the North Vietnamese Army (NVA).  Douglas worked twelve hours a night seven nights a week.  Occasionally they would fly down to the Gulf of Tonkin for a day at the beach.  He also attended the Bob Hope Christmas show with Hollywood actresses Connie Stevens and Raquel Welch, and Neil Armstrong who had just returned from the moon.
After six months at a desk in an underground bunker, Douglas was bored.  In a burst of optimism and the lure of an additional $100 flight pay per month, he volunteered for low level helicopter reconnaissance missions over enemy territory. He operated a device which analyzed the dust in the air enabling them to locate NVA troop dispositions.  Daunting doubts accompanied him on the first couple of missions, but he gained confidence and the forty-eight succeeding missions completed successfully while providing quite the scenic tour of the countryside.
October 8, 1970 Douglas returned to the United States and was honorably discharged from the US Army.  Physically and mentally intact, he was happy to be home.