North Carolina Wesleyan University's Fall Open House is scheduled for Saturday, October 21, 2023 and registration is now open. During this event, students will learn more about scholarships and financial aid, the admissions process, speak with faculty and current students, meet President Evan D. Duff and take a campus tour. Attendees can also bring their transcript in order to potentially receive on-site admission and scholarship decisions. Prospective students will receive a free t-shirt, eat lunch in the newly enhanced café and receive tickets to cheer on the Battling Bishops football team as they take on Southern Virginia that day.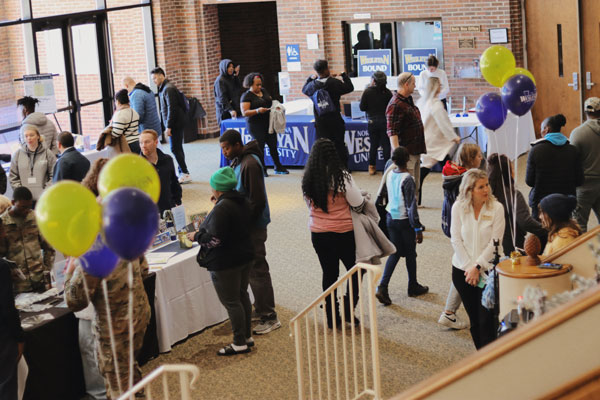 "Open House at NCWU is an exciting time for us to meet prospective students and their families, while giving them a unique opportunity to experience a glimpse of our Wesleyan Family. We're excited to welcome future Bishops and show them what it means to provide an education that is Personal, Practical and Purpose-Driven," stated Paige Price Wells, Director of Admissions.
This year's Open House will begin at 9:00 a.m. with check-in at The Dunn Center. Prospective students planning to attend must register before Thursday, October 19 at ncwu.edu/openhouse or by contacting the Office of Admissions at 252.985.5200.
North Carolina Wesleyan University will soon be launching an additional option for its popular Master of Business Administration (MBA) with its new hybrid program — starting January 2024. As an F1-Visa Qualified Program, international students can continue their education in the states immediately after earning their undergraduate degree. This 12-month, interactive program allows students to work and attend accelerated day classes. Each class will be offered 50% face-to-face and 50% online with classes held during the day in 8-week terms.
NC Wesleyan's MBA is designed to provide the educational knowledge and respected credentials you need to advance your career, increase earning potential and maintain job security. A blended format of both online and in-person classes, the program offers flexible schedules to meet the needs of working adults. NCWU provides students with supportive advisors, one-on-one mentoring, faculty with industry experience and affordable tuition. Forbes recently ranked NC Wesleyan's MBA program as one of the top ten best online MBA programs nationwide.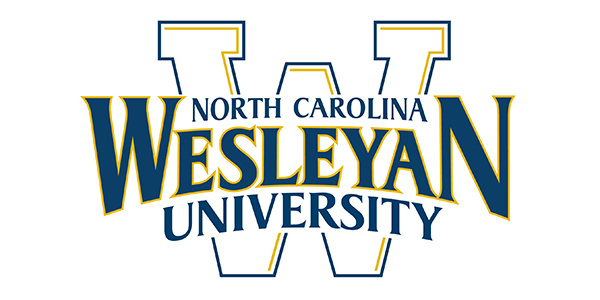 "NC Wesleyan's accelerated MBA program has provided a high quality and successful pathway for graduate students and we are excited to have the ability to extend this opportunity to international students. Our goal at Wesleyan has also been to serve our students and this additional option allows us to expand our graduate options to all students," stated Katie Farrell, Associate Dean of Adult & Professional Studies: Strategy, Partnerships & Assessments.
NCWU's hybrid MBA program will consist of 33 credit hours to accommodate those seeking work or who are already working. The one-year program will consist of six eight-week sessions, two classes per session and end with a final capstone class. The curriculum is designed to enhance students' ability to develop and implement organizational strategies that deliver business results. Students can begin the program in August or January. To learn more about this new offering and the admissions process, visit bit.ly/HybridMBA.
U.S. News & World Report has released their 2024 Best Colleges rankings. This report evaluates 1,500 colleges and universities nationwide based on 17 measures of academic quality. Of the reports, North Carolina Wesleyan University was ranked again in the top 50 for Best Regional Colleges (South) and Best Value School. It was also among one of only 13 schools chosen as Best Colleges for Veterans. These ranking pairs well with the University's recent 2023-2024 Military Friendly® School Gold designation.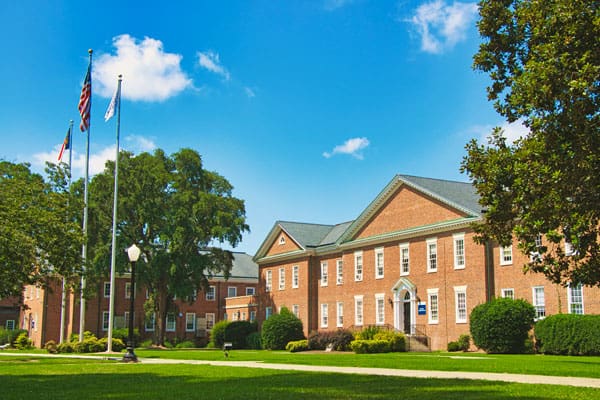 "Our dedication to students and the community is reflected in our consistency of being recognized by U.S. News & World Report year after year. The personal, practical and purpose-driven education that we provide our students is something that I'm proud of; in addition, our faculty and staff do an exceptional job of ensuring a quality experience for these future leaders," stated President Dr. Evan D. Duff.
Other notable rankings include recognition in the Social Mobility category, which considers a university enrolling and graduating large proportions of first-generation college students and disadvantaged students who are awarded with Pell Grants. To learn more about this year's U.S. News & World Report rankings, visit usnews.com/best-colleges/rankings/regional-universities-south.

A September 2023 report by Forbes ranked North Carolina Wesleyan University as having one of the top ten best online MBA programs in the United States. These rankings came from The Forbes Advisor Education team. The Forbes rankings scored 476 accredited, nonprofit colleges offering online MBA degree programs in the U.S. using 16 data points in the categories of credibility, affordability, student outcomes, student experience and application process. Data was pulled for these categories from reliable resources such as Integrated Postsecondary Education Data System; private, third-party data sources; and individual school and program websites.
Learn more about the rankings and the value of an education at NC Wesleyan University.
Beginning this month, North Carolina Wesleyan University commenced offering its own local honey for purchase on campus and online. The University's "B" Club, in a group effort, extracts honey from pollinator garden hives located at the back of campus. The honey is harvested 2-3 times per year. As of 2023, the hives have yielded close to 60-70 pounds of fresh, local honey. Bishop honey is being sold in 8 oz. jars for $6.95 in the Rachel T. Dix Bookstore located in the Hardee's Student Union on campus.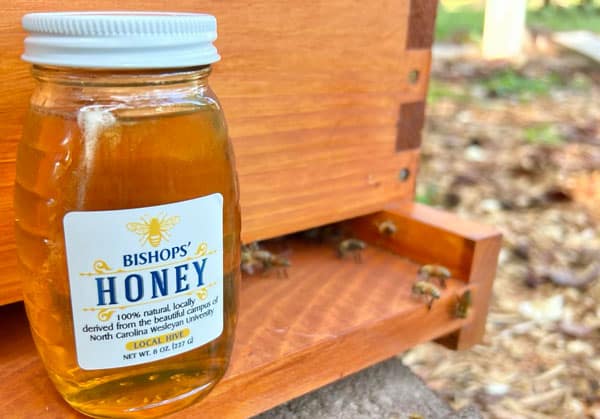 NC Wesleyan recently became an affiliate of the Bee Campus USA program, designed to marshal the strengths of educational campuses for the benefit of pollinators. NC Wesleyan strives to maintain biodiversity throughout its campus and recognizes the vital role bees play in our ecosystem.
With the help of Dr. Carl Lewis, NCWU's Bee Campus USA Program Coordinator and Assistant Professor of Criminal Justice, Wesleyan has created and maintained a pollinator garden for the past several years which is currently home to three active bee hives. The concept of having bee hives on campus was the result of the work of alumna, Carolynn Davern '18. Caitlin BrabbleRose '18, along with several other founding members, helped create The B Club during their time at Wesleyan. This student organization, led by Dr. Ayra Sundbom, allows students to perform research while learning about animals and biodiversity. The "B" in B Club stands for more than just bees— Bees, Bats, Birds, Butterflies and Beasts.
"Being able to offer honey for sale to the public is a goal the University has been working toward for quite a while. I'm happy with the success that we've seen with the hives on campus and hope to see more students get involved with the sustainability efforts of the B Club in the upcoming year," stated Dr. Carl Lewis, NCWU's Bee Campus USA Program Coordinator and Assistant Professor of Criminal Justice.
The University takes pride in its commitment to minimizing hazards to pollinators by using nearly no neonicotinoids or other potentially dangerous pesticides. To learn more about North Carolina Wesleyan University's Bee Campus USA program, visit ncwu.edu/bee-campus and purchase honey at ncwustore.com.
Check out the new issue of Omnium: The Undergraduate Research Journal at NCWU, released in August 2023. Omnium collects written work by promising undergraduate scholars. This year's essays, perhaps in response to current political trends, cluster around questions of identity, discrimination, justice, and freedom. In the same spirit, this issue of Omnium also features a forum of op-eds written by Dr. Kelvin Spragley's students in support of protecting African-American history, Native American history, and women's history courses for high-school and college students. We thank Dr. Spragley for entrusting his students' writing to the journal, invite our readers to enjoy and learn from the fifteen new essays collected here, and also encourage teachers in any discipline to use them as models in their own courses. Please use attribution when you do so.
OUR MISSION. Omnium, housed in the English Department at NCWU, provides our undergraduate students with the opportunity to explore the major genres of academic writing, join in scholarly conversations, share their ideas, perform original research, and see their work published in a professional venue. Omnium also serves as a teaching resource for NCWU faculty—and faculty at other institutions—as the essays and research articles published here reflect the skill and knowledge of real students at various stages of their academic careers, from first-year composition essays to projects created in senior seminars and honors theses. The materials lend themselves well to in-class discussion, analysis, and emulation, and we hope that students will be energized when they realize that there is no single arcane secret to writing well. All it takes is practice, motivation, and direction.
For questions about Omnium, please contact the editor, Dr. Doreen Thierauf.
North Carolina Wesleyan University (NCWU) and Nash County Public Schools (NCPS) recently signed a partnership agreement offering educational opportunities to employees of NCPS. The partnership allows employees to develop practical skills that they can apply to their careers through certificate, undergraduate and graduate degree programs at NCWU.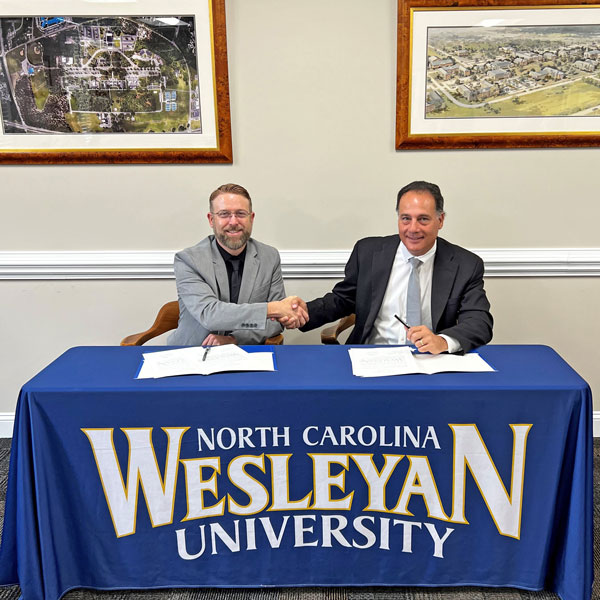 "Employees of the Nash County Public School System serve a vital role educating the next generation of young professionals in our region. At NCWU, we're proud to offer their employees the resources they need to increase their skillset and pursue their educational goals," stated Michael Drew, VP of Enrollment
This partnership allows NC Wesleyan to offer a one-time $250 University Award of enrollment in certificate classes to each NCPS employee during their last semester of enrollment. North Carolina Wesleyan University has certificate programs in Executive Leadership, Healthcare Administration, Human Resource Management and a Public Health Graduate Certificate that can be completed in as little as 16 weeks.
"We're excited to join forces with NCWU to empower our employees through educational opportunities and foster their professional growth. This partnership highlights our dedication to nurturing a talented and skilled workforce for the benefit of our students and community," noted Nash County Public Schools Superintendent, Dr. Steve Ellis.
For those who are interested in pursuing their bachelor's degree, NCWU will offer a $1,000 University Award at the end of the first semester of enrollment in undergraduate classes. Additionally, a second award of $1,000 will be presented at the end of their last semester, for a total University Award amount of $2,000.
Employees enrolling in NC Wesleyan's Master of Business Administration (MBA), Master of Criminal Justice (MSCJ), Master of Public Health (MPH) or Master of Strategic Leadership (MSSL) degree programs will receive a $500 University Award at the end of their first semester of enrollment in graduate classes. In addition, NCWU will award a second amount of $500 at the end of their last semester, for a total University Award amount of $1,000.
Mutually benefitting all parties, this partnership allows NCPS employees to receive special rates to attend NCWU. In return, the school system will market this opportunity and NC Wesleyan's programs to all of their employees. In addition, NCPS will afford NC Wesleyan University an opportunity to educate their employees through email, on-site opportunities, flyers, brochures and the posting of other promotional materials. NCPS employees must remain employed with the school system in order for the employee to remain eligible for this award.
Republicans are irate that their plans to remake higher education are being stymied.
Colleges have been at the center of the nation's culture wars for decades. From boardrooms to classrooms, highly visible battles have taken place over pronouns, free speech, and curricula. Recently, a new battlefield has emerged, one that could have disastrous consequences for public colleges: institutional accreditation.
While conservatives have long held reservations about accreditors, their complaints have mostly been that the agencies hinder the development of vocational programs and other alternatives to traditional higher education. The latest attacks on accreditors, however, largely center on their role in thwarting Republican efforts to reshape institutional politics.
Institutional accreditors do not answer to state governments and therefore have proved to be a formidable hurdle.
In recent years, Republican governors and legislatures have sought to enact rapid and sweeping changes in public higher education, notably in the areas of tenure rights and the curriculum. For the most part those politicians have been able to run roughshod over their opposition, including public-college leaders and faculty members, whose institutions are at the mercy of elected officials. But institutional accreditors, whose approval is essential to colleges' receipt of federal student aid, do not answer to state governments and so have proved to be a more formidable hurdle. Frustrated politicians have responded with targeted legislation, and conservative writers have joined in the attack, characterizing the agencies as "abusive and politicized" "cartels."
An opening salvo in this conflict occurred, perhaps unsurprisingly, in Florida. In 2021, Richard Corcoran, an ally of Gov. Ron DeSantis, a Republican, was being considered for the presidency of Florida State University. But he was also, at that time, the state's education commissioner, and served on the State University System's Board of Governors, the body charged with choosing FSU's president. The institution's accreditor, the Southern Association of Colleges and Schools' Commission on Colleges, known as SACSCOC, sent a letter to the board's chair noting the conflict of interest. The letter stated that if the issue remained unresolved, it could place the university out of compliance with the accreditor's standards, potentially imperiling FSU's accredited status.
While Corcoran ultimately did not get the job (he has since been appointed interim president of the politically realigned New College of Florida), the accreditor's letter so unnerved the Republican-controlled state Legislature that it passed a bill requiring the state's public colleges to change accreditors after each 10-year accreditation cycle. DeSantis was candid in his criticism of accreditors: "The role that these accreditation agencies play, I don't even know where they come from, they're … effectively self-anointed. They have an inordinate amount of power to shape what is going on at these universities."
Conveniently, that legislation had only recently been made possible through revisions of U.S. Department of Education regulations pushed by the then education secretary, Betsy DeVos, long known for her hostility to public education. Formerly, institutions were tied to one of seven regional accreditors based on their location (though it should be noted that there are institutions, most often for-profit colleges, accredited through less-prestigious "national" accreditors). Now, institutions are free to seek accreditation from other accreditors, potentially providing leverage against accrediting bodies that are seen as unfriendly. Notably, the Florida law requires all of the state's public colleges, within the next decade, to find a new accreditor — one that is not SACSCOC.
The law might have been partly intended to warn accreditors broadly and to punish SACSCOC specifically, but it is the state's public colleges that are likely to be harmed the most. Getting reaccredited is an intensive process spanning many years, but it is significantly less daunting and costly than seeking initial accreditation. The Department of Education has warned that the legislation could make Florida's public institutions ineligible to receive federal student-aid money. Without those funds, most institutions would find themselves in financial peril.
The potential benefit for politicians — increased discretion to make fundamental changes that exceed the scope of their authority — probably won't be realized in the short term. All seven regional accreditors possess comparable standards. Although accreditors have their own leadership and staff that are independent of the institutions they serve, member colleges themselves determine accrediting standards, and peer reviewers ultimately enforce those standards. The standards reflect broadly held institutional and educational values.
Of course, the ultimate goal of the conservative movement in higher education is to remake institutional cultures to more closely reflect its values. That means curricular changes, an area of responsibility that all regional accreditors agree belongs to the faculty. And, more recently, another battle has emerged between a governing board and SACSCOC on this very point.
In January the Board of Trustees of the University of North Carolina at Chapel Hill adopted a resolution to "accelerate" development of a new School of Civic Life and Leadership. The school had long been characterized as lacking faculty input and as a thinly disguised means of inserting conservative ideology into the institution's curriculum. Nonetheless, the chair of UNC's board began to publicize the new school to friendly media outlets, including Fox News. As a result, UNC's accreditor, also SACSCOC, announced it intended to send a letter of inquiry to determine the role of the board's involvement in the school's creation. That action was perceived by conservatives as an explicit threat. The Wall Street Journal's editorial board weighed in, stating that the accreditor was swinging a hammer against the institution and violating democratic principles.
Conservatives have made it increasingly clear that they think governing boards of public institutions should answer to no one. But that view has an unspoken addendum: as long as the members of those boards are selected by Republicans. SACSCOC is the accreditor at the center of these early battles simply because, in seven of the 11 states in its region, Republicans control state government and therefore possess the power to select members of governing boards. As those battles extend beyond the Southern region, the terms of the conflict may change. But accreditors are likely to remain the perceived enemy any time they question the authority of governing boards or other bodies that impose changes that violate procedural norms or shift curricular responsibility away from the faculty.
Conservatives have made it increasingly clear that they think governing boards of public institutions should answer to no one.
In a narrow sense, those initial fights may seem to be typical partisan warfare merely extended to a new domain, but the larger question concerns control over institutions. The political right may be the aggressor now, but that could change. Many left-leaning faculty members chafe at the perceived demands of accreditors, and recent research reveals that a sizable proportion of faculty members view accreditation as associated with "bureaucracy, regulation, and control." We shouldn't expect faculty members to rush to defend their accreditors.
Ignoring threats in the current environment would be a mistake. Though there are opportunities for improvement, accreditors principally defend sound institutional policies and practices, including the faculty's role in shared governance. Most important, current accrediting standards across all regions support faculty members' pre-eminent role in shaping curricula. If that is to be maintained, we must guard against sudden, and often ill-advised, regulatory changes. To not do so would further erode the ability of accreditors to act independently.
Information, openness, and transparency are the best ways to build broad support for institutional accreditation. At my own college, we have begun to invite faculty and staff members to attend professional-development events related to accreditation, including our accreditor's annual meeting. In our experience, once people understand the peer-reviewed nature of accreditation, as well as its history and rationale, their opposition and resistance to it wane. The shadowy group of bureaucrats making demands on an institution begin to look more like a body of peers using research on best practices in higher education to guide institutions toward continuous quality improvement.
In truth, accreditors make relatively few demands, and those they do make grant a large degree of discretion to institutions. We should invite reluctant colleagues into a conversation about relevant standards and how an institution might develop strategies to meet them.
The politicization of accreditation may be politically expedient in the short term to some, but it is not in the best interests of institutions or students. As shown in the Florida State and Chapel Hill cases, accreditors can serve as an important check on the political motives of state governments. As these battles continue, we must support the role of accreditors in maintaining the political independence of our institutions. As with any peer-review process, institutional accreditation is imperfect, but it is better than any measure designed only for political gain.
By Jarrod Kelly
MARCH 31, 2023
As published in the CHRONICLE FOR HIGHER EDUCATION, 
A version of this article appeared in the April 14, 2023, issue.
The Academic Perspectives Blog highlights the work of professors and scholars at North Carolina Wesleyan. We will periodically republish or link works that are composed by members of our scholarly community and that highlight how their work can shed light on issues of broad concern beyond their particular academic disciplines. We only open this forum to the writings of our faculty when the issues discussed are clearly tied to the academic expertise of the author.
While essays and posts in this Forum may include strong and controversial opinions, we encourage our authors to limit their presentations to areas within their scholarly competence and only publish opinion pieces when the authors provide evidence to support their thoughts. All opinions expressed in this forum represent the thoughts, arguments, and opinions of their authors and in no way represent a position of North Carolina Wesleyan University.
North Carolina Wesleyan University held its 67th annual New Student Convocation today in Minges Auditorium at The Dunn Center. President Dr. Evan D. Duff gave a warm welcome to over 300 new students who are embarking on their college experience, congratulating them on taking the next step in their educational journey. The newest class of Bishops make up a diverse group of students with 196 hailing from North Carolina, 63 of which are from the local region, and 45 international students from 24 different countries. The top five majors that this cohort will be pursuing include Business Administration, Exercise Science, Criminal Justice, Biomedical Science and Computer Information Systems.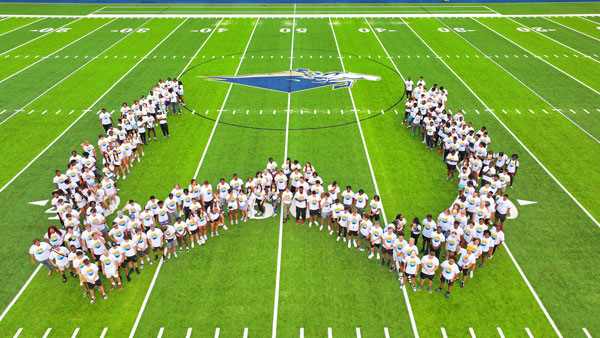 "During your time here, you will learn meaningful skills that will help you to successfully navigate life. Those include communication, collaboration, how to effectively make decisions, being self-aware and information technology skills. Your success in life is our success and we look forward to being an important part of your journey," stated Duff.
This year's guest speaker was Rhonda Vonshay Sharpe, a 1988 Mathematics alumna and founder of the Women's Institute for Science, Equity and Race (WISER), which she is currently actively involved in. WISER is the first think tank to focus solely on the social, economic, cultural, and political well-being of women of color. Sharpe was born in New York City, but raised in Virginia. After graduating from NC Wesleyan, she obtained three master's degrees: Applied Mathematics from Clark Atlanta University (1992); Operations Research from Stanford University (1994); and Economics from Claremont Graduate University. She obtained her Ph.D. in Economics/Mathematics in 1998, also from Claremont Graduate University.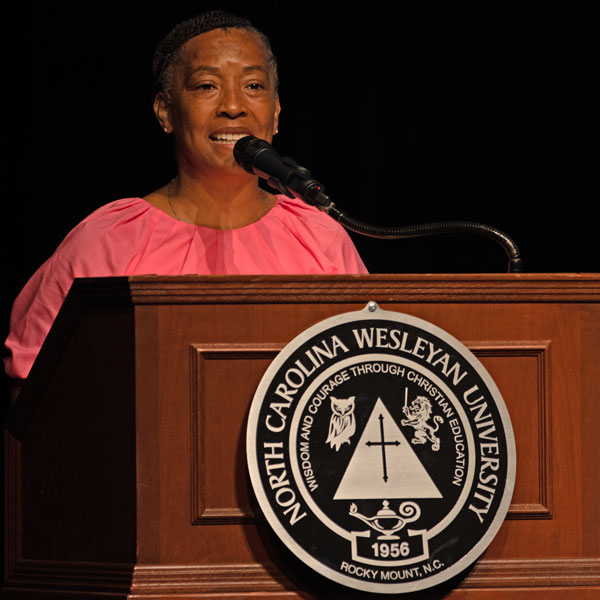 Sharpe has taught at a number of colleges and universities, including Barnard College, Bucknell University, Columbia University, Duke University and the University of Vermont. She is also the co-founder of the Diversity Initiative for Tenure in Economics (DITE), which she served as Associate Director from 2008 until 2014.
While addressing the new class of Bishops, Sharpe stressed the importance of not letting your past dictate your future.
"To the Class of 2027, I say to you: whatever your high school experience—whether you excelled or you had challenges—that was your past. Your future began when you stepped on this campus." stated Sharpe. She went on to offer several tips for being successful over the next four years: be proactive, get to know your faculty, don't be afraid to speak up in class even if you're not always right, embrace and exchange ideas, acknowledge and appreciate those who maintain and clean your spaces, ask for help early and commit to look out for your fellow Bishop.
Throughout her address, Sharpe acknowledged multiple reasons why Wesleyan was a great educational choice for her. She closed by reiterating this sentiment, saying "Whether North Carolina Wesleyan was your first choice, your only choice, or your safe choice, as an alumna, I wish for you an educational experience that makes you feel like it was your best choice. It was for me."
Afterwards, students exited The Dunn Center greeted by a cheering crowd of returning students, faculty, staff and friends of NC Wesleyan forming a time-honored tradition— the Bishop Tunnel. As they continued through the tunnel to enter the annual Rock the Mount event, they were each welcomed by President Duff and his wife, Marcy. Rock the Mount is a tradition at NCWU of welcoming new students to campus and to the community. Each year, it takes place the day before the University's first day of classes, serving as the official kick-off event for the new academic year. Organizations come out to support and celebrate the start of a new school year with food, music and advertising. This year, almost 110 community organizations lined the center of campus to celebrate Wesleyan's Class of 2027. There were a variety of food options provided by food trucks CP3 Catering & Food Trailer, Integrity BBQ, 3Boys Smoke Pit & Catering, Webby's, Minnie Amazing Foods and Thingz, and Dewberrys Fruit Smoothies were on-site to provide a variety of food options for everyone and live entertainment was provided by Meredith Davis Johnson, the band "Blind Joy" and DJ 3two1.
Currently, in the United States, there is an attack on the content being taught in many of America's public schools. Be it the governor in the state of Florida and his so-called "anti-woke" attack on anything that addresses the history of people of color in the U.S., or public schools where books are being banned because the content may cause some to "feel uncomfortable". As a result, teachers in many K-12 schools are afraid to teach about issues that may be controversial (i.e. slavery, prohibition, women's rights, Jim Crow) or reluctant to use approved resources that address other historical inequities because they fear for their jobs. In a sense, what seems to be occurring throughout our country is an effort to hide America's history and the consequences of that history. As a teacher of future educators, I find this growing practice unacceptable and dangerous to the idea of having an educated populace.
Quite simply, to hide the history of this nation is the deliberate act of denying educators the right to teach about the ugly side of the American past. In Texas, the state legislature is considering the replacement of the word "slavery" with the phrase "involuntary relocation". In many southern states, legislatures are passing laws referred to as "parents' bill of rights" where parents can choose whether they want their children to learn about historical issues such as redlining, Jim Crow, and the Trail of Tears. Recently, a Florida textbook changed the story about Rosa Parks such that her race was not mentioned when discussing her historical significance.
Division, resentment, and angst begin to reign supreme in the United States when hiding history. Ignoring our history causes legislators to consider cutting programs that were started for a very clear purpose many years ago (Think Head Start). Ignoring history, I argue, causes some Americans to act in a manner that others have no history worth remembering, so they encourage the banning of certain books that reference a dark period in our nation's history (ex. Harper Lee's, To Kill a Mockingbird).
Maybe legislators and the general public can begin treating educators like they do other professions (doctors, lawyers, accountants, etc.) and accept that licensed teachers and principals know what it is they are doing when it comes to preparing students to live on a diverse and changing planet.
The Academic Perspectives Blog highlights the work of professors and scholars at North Carolina Wesleyan. We will periodically republish or link works that are composed by members of our scholarly community and that highlight how their work can shed light on issues of broad concern beyond their particular academic disciplines. We only open this forum to the writings of our faculty when the issues discussed are clearly tied to the academic expertise of the author.
While essays and posts in this Forum may include strong and controversial opinions, we encourage our authors to limit their presentations to areas within their scholarly competence and only publish opinion pieces when the authors provide evidence to support their thoughts. All opinions expressed in this forum represent the thoughts, arguments, and opinions of their authors and in no way represent a position of North Carolina Wesleyan University.