A Path to Success
North Carolina Wesleyan University is a small, private, Methodist-affiliated university with a liberal arts-based core curriculum.  We offer liberal arts, professional, and graduate degree programs for traditional, transfer, and working-adult students.
North Carolina Wesleyan University offers undergraduate programs leading to Bachelor of Arts and Bachelor of Science degrees. With all students having a strong foundation in the liberal arts tradition, the college offers both traditional liberal arts majors, such as English, Mathematics and Religious Studies and professional programs that include Business Administration, Criminal Justice, Teacher Education, and Marketing.
A solid liberal arts foundation supports any major you choose and will prepare you for enlightened civic engagement, lifelong learning, and critical thinking skills needed for today's workplace. Choosing a minor or a second major further enhances your education and can be accomplished within a four-year plan. Small classes with faculty who care about your progress and work with you one-on-one are an important part of your Wesleyan education.
Learning by Doing
Learning extends outside the classroom, too, with opportunities for service learning, co-curricular activities in discipline-specific clubs advised by full-time faculty members, and learning communities.
NC Wesleyan also offers our Practical Skills Academy. By gaining direct access to industry professionals, students experience a first-person account of an expert's career, education or training, and the ability to work directly with experts to enhance their skills. This experiential learning program emphasizes the understanding of real-world applications of students' chosen major(s) as well as more enhanced discovery and exploration of industry.
We also offer the opportunity to study abroad in London, England, Scotland and in the Tuscany region of Italy. The North Carolina Wesleyan University academic experience provides you with opportunities to learn, serve, and grow.
Applied Learning at NCWU
At NC Wesleyan, we take a practical Applied Learning approach that is supported by research to increase student motivation, encourage student-centered instruction, and offer real-world application. It is also an opportunity for high-impact learning, where students study content and directly apply the knowledge.
Also known as experiential learning, project-based learning, and inquiry-based learning; students will apply learned content through critical thinking and reflection to demonstrate content knowledge as applied learning. Critical thinking and reflection are both part of the Wesleyan experience. The combination of both critical thinking and reflection promotes higher-order thinking skills and problem-solving.
Strong Academics & Support
Our students are proud Bishops and overwhelmingly recommend NCWU! Here are some quick facts* about the overall student experience at NC Wesleyan.
90% Overall Student Satisfaction With NCWU Experience
96% Of Students Say They Are Prepared For Graduate School
98% Of Students Who Say They Are Prepared For a Job/Career
89% Of Students Who Say They Had A Positive Overall Experience
97% Of Students Who Say They Are Satisfied With Academic Services
98% Of Students Say They Improved Important Skills
Your classes are taught by professors who love to teach and work individually with students. Here are some quick facts* about our faculty.
6 out of 7 Professors hold a Ph.D. or Terminal Degree
Average class size is Less than <30
90% of Professors have practical experience in areas they teach
13:1 Student-to-Faculty Ratio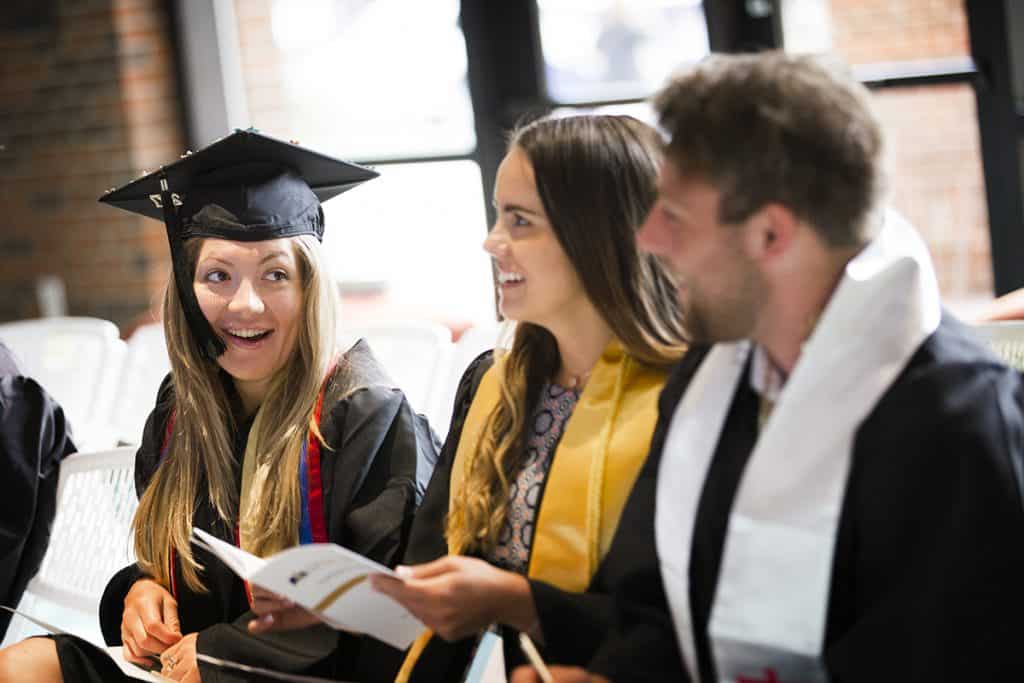 Schools & Departments
Our academic divisions are organized into four divisions by subject type:
School of Business
School of Social Sciences & Education
School of Mathematics & Sciences
School of Humanities
"Wisdom and courage through Christian education." Our motto since 1956.
*2021-22 Graduate Student Survey Data