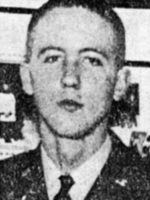 William E. G. Bobbitt
William Eskridge Gilkeson "E G" Bobbitt was born on January 2, 1943 in Norfolk, Virginia and later graduated in 1966 from NCWC. He was the son of Joseph Rosser Bobbitt and Patricia Hope Gilkeson. He enlisted in the Army and served as a First Lieutenant during the Vietnam War. William was also a Infantry Unit Commander for the 25th Infantry Division, 1st Battalion, 27th Infantry, C Company.
Bobbitt experienced a traumatic event which resulted in loss of life on February 22, 1968 during hostile action, small arms fire in South Vietnam, Gia Dinh province.