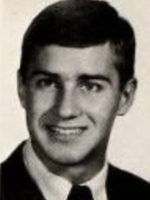 John E. "Jack" Dubel, Jr.
John E. "Jack" Dubel, Jr. was born in Bristol, VA on August 30, 1947. He moved to Rocky Mount, NC just before his 6th birthday. His dad was Catholic so Jack attended the Catholic school, Our Lady of Perpetual Help School, from the 1st through 8th grade. Jack's mom encouraged him to get into scouts, first Cub Scouts and later Boy Scouts. From Catholic School and Boy Scouts, he learned about God and Country, and from Catholic School, discipline. Every school morning at Our Lady of Perpetual Help, the students would march outside and stand in a formation.  They would say the Pledge of Allegiance and sing both stanzas of the National Anthem.
Jack spent his sophomore, junior and senior years at Rocky Mount Senior High School where he graduated in 1965.  During his senior year, he joined the fledgling wrestling program and discovered a sport he really loved.  When he graduated from high school, Jack had a choice between the University of North Carolina-Chapel Hill and North Carolina Wesleyan University. He knew he could wrestle at Wesleyan but was not seasoned enough for Carolina so to Wesleyan he went.  At Wesleyan, Jack played on the soccer team (a new sport for him) and the wrestling team. He tried out for a role in "Visit to a Small Planet", a Gore Vidal play put on by the Wesleyan Players and he scored a lead role. The extracurricular activities were great but his academic progress, or more correctly, lack of, led to his loss of student deferment. So, in the fall of 1966, he enlisted in the U.S. Army because there was a chance he could get into OCS and become an officer. That's exactly what happened. Jack was sent to Fort Carson, CO after graduation from Field Artillery OCS at Fort Sill, OK. He was barely 20 years old when he got that assignment.  He was green and young, but he did learn and did get better.
After spending almost a year at Fort Carson, Jack was assigned to the 199th Light Infantry Brigade in Vietnam and landed in country on July 31, 1968.  The first few days at headquarters he spent in training before going out to the field as a Forward Observer. On one of his first nights there, he ran into Joe Boling, an Infantry officer who was just completing his tour. Joe had been the captain of the wrestling team at NC Wesleyan.  Joe passed on the grim news that two of their classmates had already died in combat.  Jack then went into combat as a Forward Observer attached to Charlie Co., 5th of the 12th Infantry.  On the morning of September 4, 1968, they were engaged in combat with NVA regular troops. Jack was shot in the engagement and later was awarded a Purple Heart and Bronze Star w/ V Device for his actions.  After a slow recovery, he was re-assigned to Fort Dix, NJ where he completed his active service as OIC of a mortar training range.
Jack returned home and re-enrolled at NC Wesleyan for another year and summer school. His Dad had moved to Greensboro to start another business, so Jack transferred to UNCG where he completed his BS in Accounting while working part time.  In 1977, Jack earned an MBA from Wake Forest University.
Jack managed Fleetwash Systems, a family business in Greensboro for a number of years and was president for the last 10 years.  He entered the financial advisory business in Greensboro in January 2000, transferred to Raymond James in 2005 and continues with Raymond James as a Financial Advisor.  Jack and his wife, Kathi, celebrated their 39th wedding anniversary January 9, 2021.