Develop your leadership skills, earn a degree in your desired major and graduate as a commissioned officer in the U.S. Army through NC Wesleyan's ROTC program.
ROTC Programs Resources
For more information, contact:
James Mercer, LTC USA (Ret)
Director of Military Studies
jmercer@ncwu.edu
252.958.5340 or
252.955.7004
Located in the Hartness Student Center
Army ROTC Mission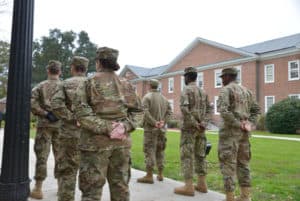 Vision
The Falcon Battalion (NCWU Bravo Company) will be recognized and known for a standard of academic and leadership excellence that prepares our graduates to be commissioned and succeed as the future officer leadership of the United States Army.
Mission
To recruit, retain, develop and commission the future officer leaders of the United States Army and motivate young people to be better citizens through support of local JROTC programs.
Objective
The objective of the Army Reserve Officers' Training Corps (ROTC) is to train, motivate and prepare selected students with potential to serve as Commissioned Officers in the Regular Army, Army Reserve or the Army National Guard.
The program is designed to provide an understanding of the fundamental concepts and principles of military art and science and to develop leadership and managerial potential in the student. A strong sense of personal integrity, honor and individual responsibility, and an appreciation of the requirements for national security are instilled in all students.
Enrollment in the Army ROTC Military Science courses is open to all students attending NCWU. The Army ROTC program offers elective courses for undergraduate and graduate students leading to a commission in the United States Army. Students may compete for four-year, three-year and two-year scholarships.
Benefits:
The ROTC is the nation's largest source of merit-based scholarships. Qualified cadets can attend tuition free
Earn your degree while gaining new leadership, military and adventure training skills
Grow as an individual and gain a sense of belonging with peers who share common interests
Develop a healthy fit lifestyle
Earn a monthly, tax-free cash stipend during the academic year while on scholarship
Travel free on space-available military flights as a contracted cadet
Earn a commission with the World's Greatest
Fighting Force
When you graduate, you will be commissioned as a 2nd Lieutenant and could earn up to $68,000 within your first four years of service