North Carolina Wesleyan University, a private institution affiliated with The United Methodist Church, prepares students for professional advancement, life-long learning, and responsible participation in their communities. The University provides degree programs and other educational opportunities for residential, commuting and adult students.
The liberal arts are the foundation of Wesleyan's curriculum for all undergraduate degree programs. Instruction emphasizes critical thinking, analytical reasoning, reading, writing, speaking, making informed ethical decisions and using new information technologies. Students choose from a variety of majors, all of which help prepare students for rewarding personal lives, good citizenship and productive careers.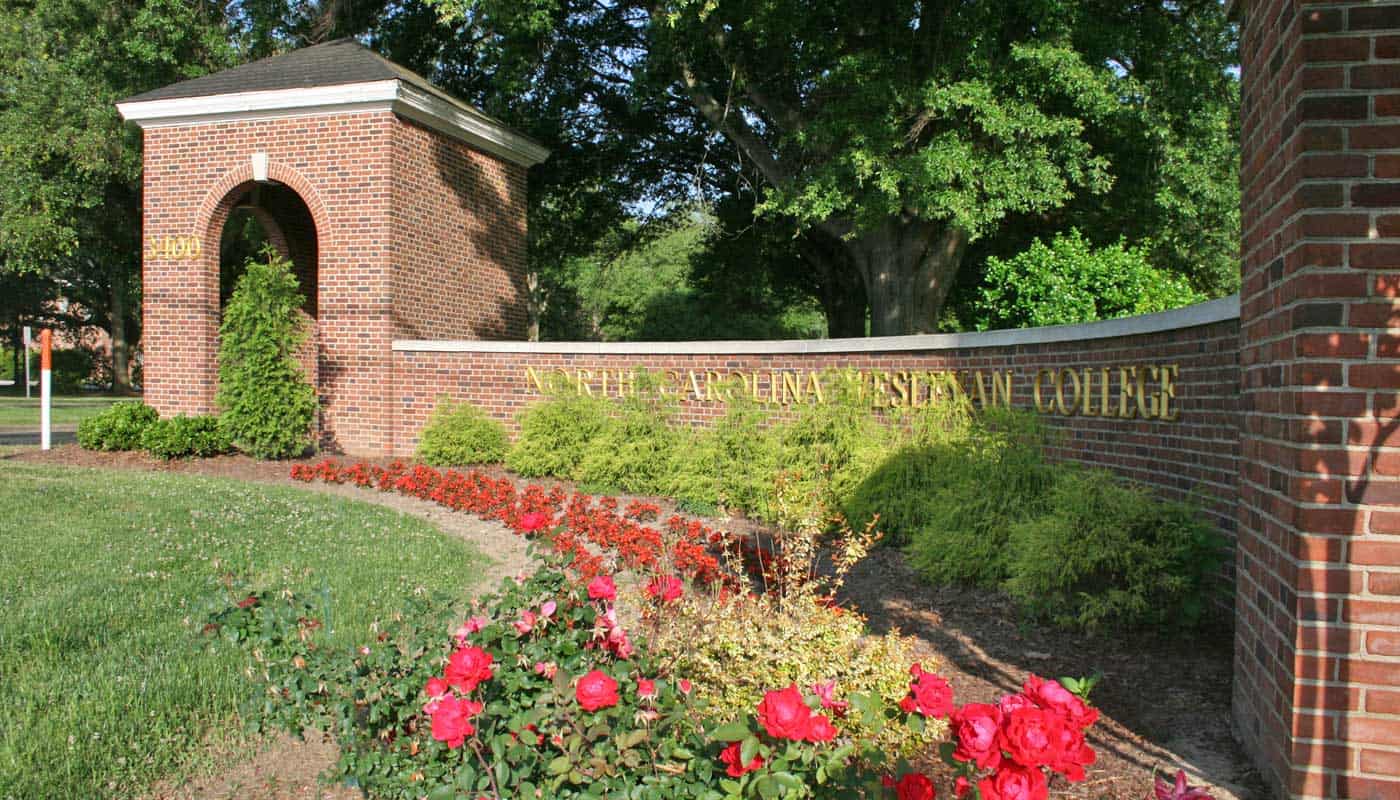 The program in Rocky Mount for residential and commuting students emphasizes small classes and individualized attention. It also provides strong student support services and encourages student development through co-curricular and extra-curricular activities.
The Adult & Professional Studies Program (APS) is designed for students who wish to strengthen their academic background, enhance their professional knowledge and skills, and advance their careers. It is tailored to the learning styles and schedules of working adults.
The University has a special commitment to the Rocky Mount area and to eastern North Carolina. Through individual faculty, staff and alumni activity—and through its educational and cultural programs—the University promotes the development of the region.
The Wesleyan community includes men and women from diverse cultural and racial backgrounds. The University works to create an environment in which students, faculty and staff come together in a dynamic learning community. It understands the increasing importance of a global perspective and of helping students learn to function effectively in a complex society.
North Carolina Wesleyan University provides an educational environment that encourages spiritual and ethical development. Wesleyan serves students of many religious backgrounds. While its curriculum and programs do not reflect a sectarian perspective, the University affirms the values of the Judeo-Christian tradition.
Our Mission
North Carolina Wesleyan University, a private institution affiliated with the United Methodist Church, prepares students for professional advancement, life-long learning, and responsible participation in their communities.
Our Vision
At North Carolina Wesleyan University, we provide students with opportunities to make meaningful connections and learn through innovative teaching approaches. The distinctive Wesleyan experience equips our graduates to make a positive impact on the world.
Core Values
Knowledge and Understanding
Integrity and Accountability
Patience and Respect
Kindness and Empathy
Community, Religion and Discourse
Since its founding in 1956 by the United Methodist Church and Rocky Mount leaders, North Carolina Wesleyan University has been affiliated with The United Methodist Church. The Heritage District Superintendent represents the United Methodist Conference on our Board of Trustees, and the college has a close working relationship with the Bishop and the Conference's Board of Institutions, on which the Wesleyan President sits as an ex-officio member. The college embraces its historical association with The United Methodist Church and the inaugural teaching of its founder, John Wesley. The college is unconditionally committed to the intellectual, emotional, social, and spiritual development of its students. We strive to embody the values and principles of The United Methodist Church while welcoming persons with all religious beliefs to our campus.
We promote and support the following key principles of a Methodist-affiliated college:
The Place of Religion in Higher Education

We respect and provide for the teaching of religion within the curriculum. Faculty, staff and students have opportunities to explore the place of religious beliefs and practices within all academic disciplines and co-curricular activities. Our general education program requires that students take at least one course in religious studies. In addition, Wesleyan has a popular major and minor in Religious Studies.
Our campus is served by a full-time chaplain, Rev. Edwin Ferguson, an ordained A.M.E. Minister and a visible and popular presence on our campus. The College supports a wide range of religious life experiences for students under the guidance of the chaplain. Some of the more active groups on campus include our Refuge Campus Ministries, a chapter of the Fellowship of Christian Athletes, and Covenant Campus Ministries. A number of scholarships are available for Methodist students, sons and daughters of clergy, and students of any religion who aspire to the clergy.
Social Justice

We affirm the basic rights of all persons to equal access to education and to spiritual growth within the college. We deplore acts of hate or violence against groups or persons based on race, ethnicity, gender, sexual orientation, religious affiliation, or economic status, and offer a climate of openness, acceptance, and support to enable all persons to participate fully in the life of the college. We seek to create a community of scholarship and learning that facilitates social and academic participation as an inclusive right for all.
Academic Freedom

We believe that academic freedom is protected for all members of the campus community and that the College should foster a campus environment that allows for the free and reasoned exchange of ideas, while guarding the expression of religious belief on campus. We recognize that excellence in higher education requires an environment that fosters an openness to discourse among faculty, students, and staff. North Carolina Wesleyan College is open to all persons regardless of their religious beliefs. The College welcomes religious diversity as an opportunity for the broadening of minds and the enrichment of campus discourse. We provide opportunities for personal and private expressions of faith and the meaningful exchange of ideas for all members of the campus community.