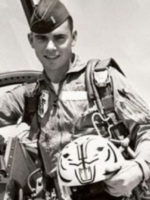 Dwaine Elbyrne Mattox
Dwaine Elbyrne Mattox was born June 1, 1944 and enrolled in North Carolina Wesleyan University in 1962.
Captain Mattox served in the United States Air Force. His first two years of service were spent flying a C141, stationed at Warner Robins, Georgia and in Phoenix, Arizona. He was serving his last year of service with the United States Air Force on tour in Vietnam. Captain Mattox was killed in action on August 10th, 1970 at Cam Ranh Bay, South Vietnam, less than forty-five days after he began his tour of Vietnam on June 30, 1970.