ROCKY MOUNT, NORTH CAROLINA – On Thursday, June 23, leaders from North Carolina Wesleyan University (NCWU) and First Carolina Bank (FCB) met to establish a formal relationship between the two to expand educational opportunities for FCB employees. This partnership will allow employees to develop practical skills that they can apply to their careers through certificate, undergraduate and graduate degree programs.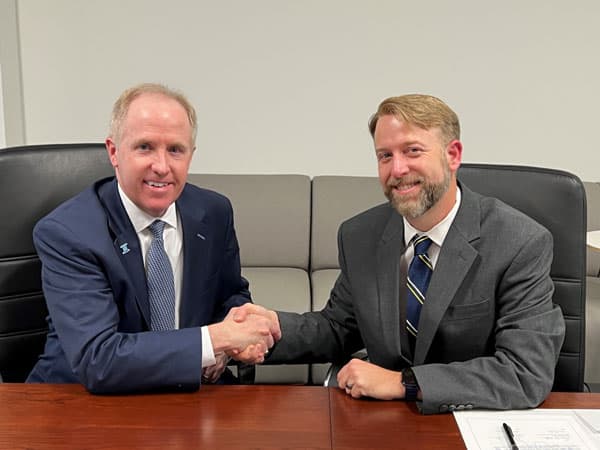 "The partnership between First Carolina Bank and North Carolina Wesleyan University is unique in that both were founded in Nash County. This agreement enhances the ability of both institutions by continuing to provide services to our community and beyond," stated Michael Drew, Vice President of Enrollment. "North Carolina Wesleyan University is proud to serve our region and welcomes First Carolina Bank as our newest partner in carrying out our mission of offering professional advancement at the certificate, undergraduate and graduate level."
Mutually benefitting both organizations, this partnership allows FCB employees to receive financial aid awards to attend NCWU. In return, FCB will market this opportunity and NC Wesleyan's programs to all of their employees. Each employee is offered a one-time $250 award from the University to be used towards a certificate program. Receipt of the award is provided during the last semester of enrollment. They can also receive a $1000 award at the end of their first semester of enrollment in undergraduate classes, as well as an additional $1000 award at the end of the last semester, for a total University award of $2,000. In addition, those who pursue a graduate degree at NCWU are offered a $500 award at the end of their first semester of enrollment and a second $500 award at the end of the last semester, for a total University award of $1,000.
About North Carolina Wesleyan University
North Carolina Wesleyan University (NCWU) is a small, private Methodist-affiliated institution with a liberal arts-based core curriculum that prepares students for professional advancement, life-long learning and responsible participation in their communities. NCWU offers liberal arts, professional and graduate degree programs for traditional, transfer and working-adult students. The skills cultivated by faculty and built into the curriculum include critical thinking and reflection, communication, collaboration, and information technology. North Carolina Wesleyan University delivers education that is personal, practical and purpose-driven. Personal…through mentoring and the connections that are provided. Practical…by helping students develop lifelong skills. Purpose-driven…by helping them fulfill their purpose in life. With students from all over the United States and more than 40 different countries, the University has immense cultural diversity. To learn more, visit ncwu.edu and follow on Facebook, Twitter, LinkedIn, TikTok and Instagram.
ROCKY MOUNT, NORTH CAROLINA – North Carolina Wesleyan University kicked off its fall semester on August 19 by welcoming 275 new and 731 returning students to campus. Recruitment efforts for this incoming class were focused on local recruitment, a diverse representation and building upon the College's growing academic programs.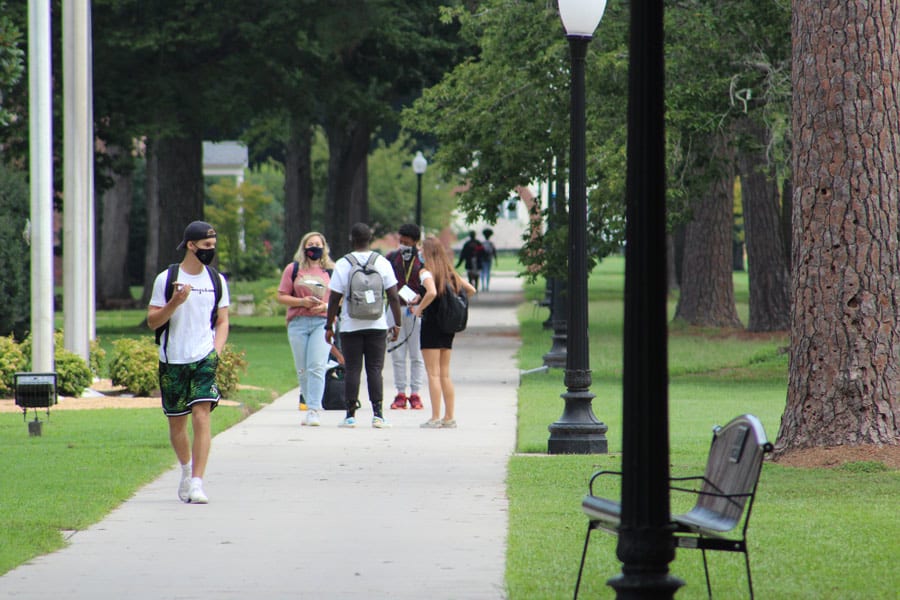 Local students continue to comprise a significant portion of the 2020 freshman class. Sixty-five students arrived at North Carolina Wesleyan from Nash, Edgecombe, Wilson, Halifax and Franklin counties, accounting for approximately 24% of the incoming student body. Three local students have made a great impact on the NCWC campus already – William, Sarah and Morgan Waters. The three are from Scotland Neck and attended Hobgood Academy in Halifax County. The fact that all three are from Hobgood Academy is not unique, but it is rare for triplets to enroll and stay at a local college.
According to Paige Wells, Director of Admissions, "North Carolina Wesleyan is overjoyed to welcome a new class of Battling Bishops to the campus. This academic year looks much different than any other and students are craving a sense of normalcy. Wesleyan is proud to offer this to students, while being Wesleyan Wise." 
A Global Community
While NC Wesleyan University continues to place a strong focus on recruiting state and local high school graduates, the fall 2020 class also has a national and global presence. The incoming class consists of students from 13 different states and 12 different countries around the world. New international students originated from countries such as Argentina and Germany. NC Wesleyan's Director of International Recruitment, Alex Rodriguez, states "Wesleyan continues its recruitment of international students. Our class was challenged this year, as many, with different regulations and restrictions due to the pandemic. However, we look forward to continuing the academic success of our new and current international student population."
Graduate Programs Expand
North Carolina Wesleyan continues to see academic gains from adding a second graduate degree program. In January, Wesleyan began a second graduate program with the start of the Master of Business Administration (MBA) degree. The Master of Science in Criminal Justice (MSCJ) program began in spring 2017 and has since graduated 32 students starting with the first cohort in 2018. The MBA program currently has 83 students enrolled in the fully online, one year, 33-credit-hour program. In total, NC Wesleyan has 120 students enrolled in both the MSCJ and the MBA programs.  
Students interested in North Carolina Wesleyan University should contact Admissions at 252.985.5200 or ncwu.edu/admissions.
ROCKY MOUNT, N.C. – NC Wesleyan University Director of Athletics, Aaron Denton has announced assistant men's soccer coach Meir Lewin has been promoted to the head men's soccer position for the Battling Bishops in the 2019-20 season.
Lewin is replacing the departing Frankie Taal, who went back to his alma mater at Bethany College (WV) to become the head coach after 9 stellar seasons as the head soccer coach at Wesleyan including two USA South regular season titles and one conference tournament crown with a trip to the 2017 NCAA tournament.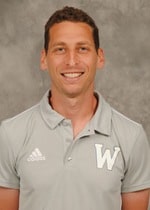 Lewin spent one season as Taal's assistant coach and helped lead the team to a 9-7-1 record and 8-3-1 in the USA South along with a conference semifinal berth.
"I am very excited to have Meir as our new men's soccer coach," said Denton. "Meir has a unique set of experiences as a player, coach and education professional which will serve him well at Wesleyan and in the DIII setting. He is committed to our student-athletes as well as building on the storied success of our men's soccer program."
"It is an honor to be named the head coach of NC Wesleyan men's soccer. I would like to thank our president, Dr. Clark, and our athletic director, Mr. Denton for entrusting me with the responsibility of leading this program. Additionally, I would like to thank Frankie Taal for everything he has done in building such a strong foundation here," commented Lewin.
Lewin comes to Wesleyan after most recently serving as the assistant coach at Mary Washington University (VA) while he was also the assistant for two seasons at Washington College in Maryland from 2012-2014. While at Washington College, Lewin coached 4 Centennial All-Conference award winners and 6 honor roll members.
He was also a former scout for the Israeli Football Association National Team. Lewin played professionally in Israel serving as the team captain from 2007-11 starting 72 games and being named to the league-best-11 in 2009-10 as well.
Lewin was also a teaching assistant and Instructor in the Department of Kinesiology at the University of Maryland since 2014. He will serve as an adjunct English faculty at Wesleyan this Fall.
Lewin graduated with a B.A. in Government in 2011 from the Interdisciplinary Center of Herzliya, Israel. He also completed his Masters in English from Washington College in 2014. He is currently pursuing his Ph.D in Kinesiology and Physical Cultural Studies from the Univ. of Maryland.
ROCKY MOUNT, NORTH CAROLINA – Lt. Col. James Mercer, US Army (Ret.) was recently named as one of twelve to be inducted into the 2018 Twin County Hall of Fame. He will be honored during the 15th Annual Induction Banquet at the Rocky Mount Event Center on Thursday, November 8, 2018.
Mercer is currently the Director of Military Studies at NC Wesleyan University and also coordinates the Army Reserve Officers' Training Corps (ROTC) program for the college. Lt. Col. James Mercer was born in Edgecombe County and raised in Nash County. He joined the US Army after graduating from North Edgecombe High School. He retired with 30 years of military service in the US Army, US Army Reserve and the Army National Guard. During his distinguished civilian career, he served in multiple roles including: police officer and firefighter for the City of Rocky Mount, Deputy Fire Marshal for Nash County Emergency Services, Public Safety Instructor at Nash and Edgecombe Community Colleges, Director of Public Safety Training for Nash Community College, Director of Emergency Management and Fire Marshal for Edgecombe County, Director of Emergency Management for Fayetteville State University and later for the City of Raleigh, where he retired in 2012.
"This is a big deal for me and pretty cool, I must say. What an incredible honor it is to be recognized by my community. I want to thank all those who mentored me, impacted me and helped me along the way. It was a village that got Lt. Col. (Ret) James Mercer from Battleboro, North Carolina, to where I am today," stated Mercer.
The Twin County Museum and Hall of Fame's mission is to celebrate the history, culture, people and accomplishments of Edgecombe and Nash counties in eastern North Carolina. For more information about the Twin County Hall of Fame and for tickets to the 15th Annual Induction Banquet, visit www.tchof.org.