Ami Thompson, Ph.D., NCWU Assistant Professor of Biology, recently traveled to Ohio to present a workshop with her colleagues Melissa Sanchez Herrera, and freelance biologist Sandra Hunt von Arb. They discussed the migration mysteries of the Common Green Darner dragonfly. U.S. Forest Service administrators Karin Theophile and Mike Rizo also accompanied them. 
During the workshop, they performed tests and collected data that will inform future international dragonfly conservation & research and hopefully reveal clues about the mystery of migration. 
VIEW PDF OF ENTIRE ARTICLE  By Ray Novotny, Naturalist Emeritus, Mill Creek Metroparks. 
For more information: 
Ami Thompson – Dragonfly Website
Check out The Naturalist Newsletter, The Naturalist is the official newsletter of NAI's Interpretive Naturalist Section. Find articles, news, tips & tricks, best practices, and more written by Interpretive Naturalists for Interpretive Naturalists! 
How did scientists first come know that dragonflies migrate? This video below highlights one of the first published observations of the phenomenon and tells you where you can go to observe raptor and dragonfly migration, in Minnesota.
A September 2023 report by Forbes ranked North Carolina Wesleyan University as having one of the top ten best online MBA programs in the United States. These rankings came from The Forbes Advisor Education team. The Forbes rankings scored 476 accredited, nonprofit colleges offering online MBA degree programs in the U.S. using 16 data points in the categories of credibility, affordability, student outcomes, student experience and application process. Data was pulled for these categories from reliable resources such as Integrated Postsecondary Education Data System; private, third-party data sources; and individual school and program websites.
Learn more about the rankings and the value of an education at NC Wesleyan University.
A hot topic right now—is a college degree still worth the time, effort and money that it takes to obtain one? At NC Wesleyan University, we think it most definitely is and here is why.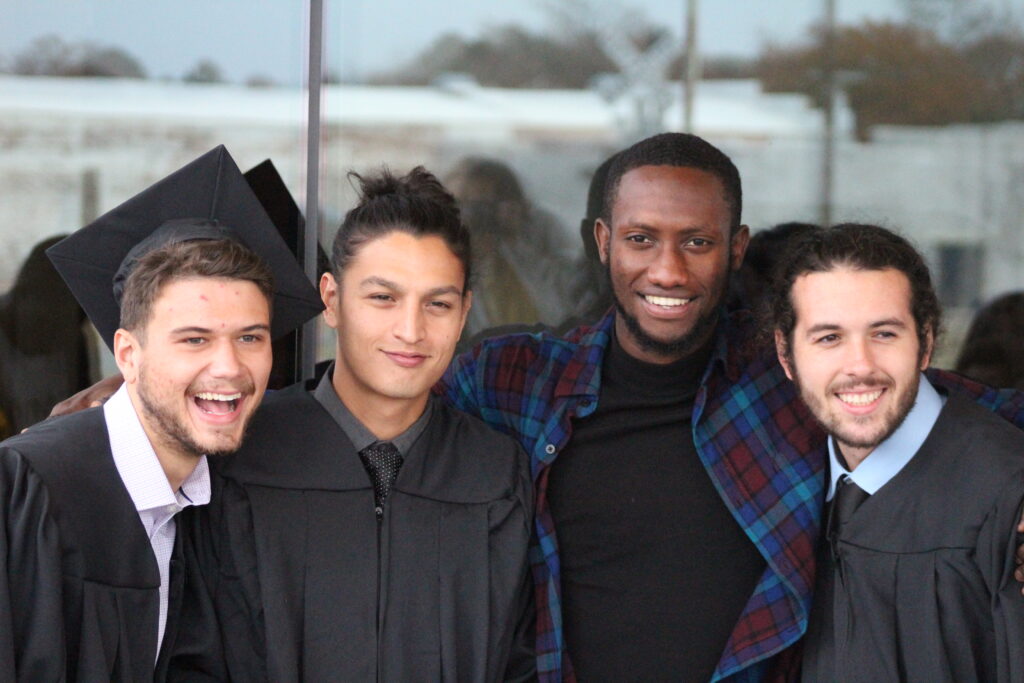 For those concerned about debt due to college loans, Wesleyan offers several options to make your education affordable and attainable: 100% of traditional program students are eligible for some source of financial assistance and we award $24 million in scholarships, grants and financial aid each year. In fact, our average scholarship package actually lowers the cost of attending NCWU to be comparable to the cost of attending an in-state public university.
Many may think that they can make more money coming straight out of high school and going into the workforce. This may be true in certain instances, for the short-term. However, over time studies show that bachelor degree holders are known to earn as much as $1 million in additional income over their lifespan. Employers recognize that college graduates have been trained in areas of communication, problem-solving and critical thinking— skills that are transferable to any field. In a world where competition for jobs is increasingly fierce, a college degree can be a valuable asset in helping job seekers stand out from the crowd and secure their place in the workforce.
A college degree demonstrates that a potential job candidate is dedicated to learning and improving their skills. College graduates are exposed to opportunities that prepare them to make sound decisions, think strategically and offer innovative solutions to problems. In today's economy, employers are more likely to hire candidates who have a degree than those without one, opening the door to greater and more varied job opportunities. For those who are thinking about or currently pursuing an associate degree, we have great partnerships in place to provide a seamless transfer to NCWU following completion of your two-year degree at many NC community colleges.
In college, you also gain experiential learning through project-based assignments that partner with real organizations, internships and student clubs and organizations. You can leverage these valuable experiences on your resume, in your portfolio of work and during job interviews to show employers that you are a competitive candidate. Through our Office of Career Development & Leadership, Resident Expert Program (WES-R.E.P.) and partnerships with local organizations, our students have the ability to explore potential careers through workshops, one-on-one mentoring, career fairs, internships and job shadowing opportunities. In addition, college students are exposed to a wide range of peers from all over the world allowing them to learn about different cultures, make connections and build a professional network.
Higher education is an invaluable tool. At NCWU, we provide opportunities that are personal, practical and purpose-driven to help you unlock your potential and accomplish your goals in life. To learn more about our offerings for traditional and adult students, visit our website at ncwu.edu/academics.
RALEIGH, NC – The North Carolina Sheriffs' Association (NCSA) and North Carolina Independent Colleges and Universities (NCICU) have announced the recipients of a $2,000 scholarship provided by the Association who attend private colleges in North Carolina. READ MORE >
ROCKY MOUNT, NORTH CAROLINA – North Carolina Wesleyan University's RN to BSN program celebrated its inaugural class on Wednesday, August 4 in The Dunn Center on the College's campus. Guest speaker was Dr. Susan Haynes Little, Chief Nursing Officer/Chief Public Health Nurse for the North Carolina Department of Health and Human Services, Division of Public Health.
The program's RN to BSN students, along with two guests, and several community stakeholders were in attendance. All guests were welcomed with appetizers and a punch station as they entered the Garner Lobby of The Dunn Center, followed by a brief Meet & Greet and dinner as they heard from Dr. Susan Haynes Little.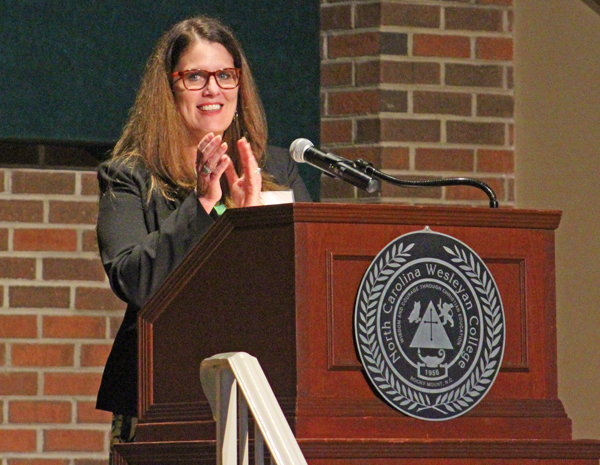 During her speech, Dr. Little encouraged Wesleyan's nursing students by reinforcing the importance of obtaining their BSN degree. "When I talk to nursing administrators, they tell me that their BSN-prepared nurses are better leaders. They tell me that they are also better at program management, data-informed decision making, writing and communicating. With current challenges facing public health, health equity, social justice and health economies—to name just a few—nurse leaders are positioned to shape the future of healthcare."
This group included nurses entering the three cohorts of NCWC's RN to BSN Program during its first full year of operation, which began August 2020. The 100% online, 34-credit hour program allows students to finish in as little as 12 months.
"Our Battling Bishop Nurses made a choice to earn their baccalaureate degree during a time of uncertainty due to the implications set forth by COVID-19 and now the Delta Variant," stated Dr. Brittany Bass, NCWC's Director of RN to BSN. "Thank you, Battling Bishop Nurses, for stepping to the plate during these times to expand your knowledge and nursing practice. It's because of you that our communities will continue to thrive and be safe."
A highlight of the event was a special scholarship announcement by Mark Hinson, NCWC's Director of External Affairs and Annual Giving, reporting that among the nursing students actively taking courses at this time, the two students with the highest GPAs in the program will be receiving scholarships in the amount of $1,000.00 each. The remaining students will be receiving scholarships worth $500.00 each. This was made possible by two anonymous donors.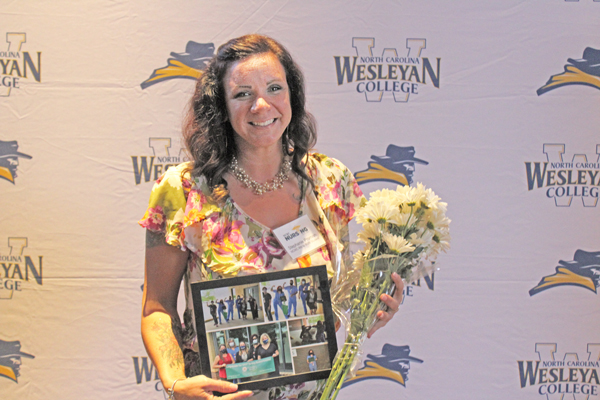 In addition, Stephanie Promish, the program's first recipient of The DAISY Award, was honored and provided with a bouquet of daisy's. Promish, who works as a Registered Nurse at Cherry Hospital in Goldsboro, was presented with The DAISY Award® for Extraordinary Nursing Students in May 2021, where she received a certificate, a DAISY Award pin and "A Healer's Touch" sculpture symbolizing excellence and a love for nursing that is hand-carved by artists of the Shona Tribe in Zimbabwe. She is the first recipient at NC Wesleyan since the inception of the College's new partnership with The DAISY Foundation. This award is part of The DAISY Foundation's mission to express gratitude to nurses with programs that recognize them for the extraordinary, compassionate and skillful care they provide patients and families.
ROCKY MOUNT, NORTH CAROLINA – North Carolina Wesleyan University is one of only 153 colleges and universities around the world to be honored by Exercise is Medicine® for its efforts to create a culture of wellness on campus. Programs and promotions such as the physically active, virtual scavenger hunt, the Exercise is Medicine® on Campus (EIM-OC) Mascot Challenge and other campus wellness initiatives helped NCWC earn Silver level from the EIM-OC program for the second year in a row. NC Wesleyan also obtained EIM's COVID Conqueror badge, a new honor given to campuses that demonstrated creative adaptations to physical activity programming during the COVID-19 pandemic. 
"We are excited to have received the EIM-OC Silver distinction for the second year in a row, and to be recognized with a 'COVID Conqueror' badge for adapting our physical activity promotion and programming to the unique environment of the COVID-19 pandemic. This distinction illustrates the resolve of our students, faculty, staff and administration to continue to prioritize a culture of physical activity and wellness on campus, even during the challenges of the COVID-19 pandemic," said Dr. Shannon Crowley, EIM-OC advisor.
Of the 153 campuses recognized this year, 73 received Gold, 59 Silver and 21 Bronze. All Gold, Silver and Bronze universities and colleges will be officially recognized in June as part of the 2021 virtual Exercise is Medicine® World Congress, held in conjunction with the American College of Sports Medicine's Annual Meeting.
"We are thrilled to recognize these campuses' commitment to make movement a part of daily campus culture and equip students with tools to cultivate lifelong physical activity habits, especially during the COVID-19 pandemic," said Robyn Stuhr, Vice President of Exercise is Medicine. "These campus programs are nurturing future leaders who will advance a key tenet of Exercise is Medicine: making physical activity assessment and promotion a standard in health care."
EIM-OC calls upon universities and colleges to promote physical activity as a vital sign of health and encourages faculty, staff and students to work together to improve the health and well-being of the campus community.
EIM-OC launched its recognition program in 2014 to honor campuses for their efforts to create a culture of wellness. Schools earn Gold, Silver or Bronze status based on their activities. Gold level campuses have created a referral system where campus health care providers assess students' physical activity and refer students as necessary to a certified fitness professional as part of medical treatment. Silver campuses engage students, faculty and staff in education initiatives and make movement part of the daily campus culture, while Bronze level campuses promote and generate awareness of the health benefits of physical activity.
View a complete list of recognized schools and learn more about the EIM-OC program at exerciseismedicine.org/support_page.php/eim-on-campus/.
About Exercise Is Medicine®
The American College of Sports Medicine (ACSM) co-launched Exercise is Medicine® (EIM) in 2007 with the American Medical Association. ACSM continues to manage the global health initiative, which seeks to make physical activity assessment and promotion a standard in clinical care, connecting health care with evidence-based physical activity resources for people everywhere of all abilities. EIM is committed to the belief that physical activity promotes optimal health, is integral in the prevention and treatment of many medical conditions and should be regularly assessed and included as part of health care. Visit www.ExerciseisMedicine.org for additional information. 
About the American College of Sports Medicine
The American College of Sports Medicine is the largest sports medicine and exercise science organization in the world. More than 50,000 international, national and regional members and certified professionals are dedicated to advancing and integrating scientific research to provide educational and practical applications of exercise science and sports medicine. More details at acsm.org.
ROCKY MOUNT, NORTH CAROLINA – Phi Theta Kappa Honor Society has named North Carolina Wesleyan University to its 2021 Transfer Honor Roll. Wesleyan is one of only three colleges and universities in North Carolina, and one of 150 nationwide, to receive this award.
"Personally, having been a transfer student, I understand the importance of making every credit count and receiving a degree of value. NC Wesleyan provides and supports students with a seamless transfer process. We are honored to be recognized by Phi Theta Kappa Honor Society in our efforts of doing so," stated Jason Letchworth, Transfer Admissions Counselor.
Learn more about our Transfer Program at ncwu.edu/transfer and view the attached release for more information.
The College is honored to received this award for the fifth consecutive year. For more information, visit ptk.org/news/2021.
ROCKY MOUNT, NORTH CAROLINA – North Carolina Wesleyan University (NCWC) recently signed an agreement that will help qualified graduates of Craven Community College (Craven CC) transfer to Wesleyan. The agreement aims to provide a seamless transfer for students who enroll at Wesleyan following completion of their two-year degree at Craven CC.
Leaders of both colleges signed the Memorandum of Understanding (MOU) on November 5 in a virtual signing via Zoom. This new agreement adds Craven CC to a list of over 30 other colleges and community colleges throughout North Carolina that have a transfer partnership with NCWC.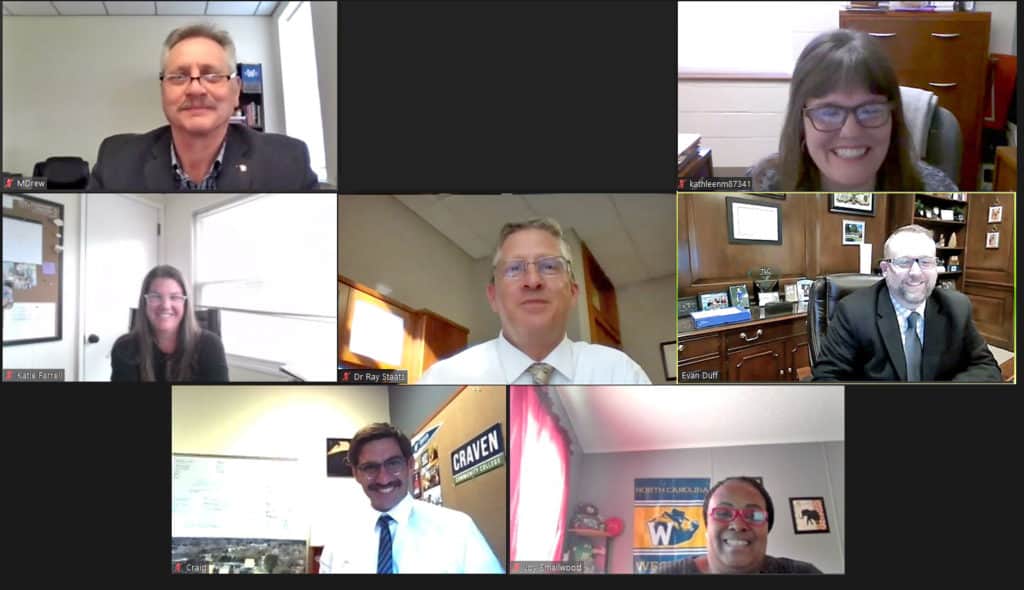 "We are proud to partner with NC Wesleyan and provide our graduates an opportunity to participate in Wesleyan Works," said Craven CC President Dr. Ray Staats. "Providing our students opportunities to build upon their degrees they've earned at Craven CC gives them a convenient and seamless way to earn their baccalaureate degrees, and NC Wesleyan offers program options that align with many of our associate degrees. We value our university partnerships as they provide local options for our students and demonstrate our commitment to lifelong learning."
The agreement will enhance and expand the educational opportunities of Associate in Arts, Associate in Science and Associate in Applied Science graduates by offering Craven CC graduates access to the benefits of the Wesleyan Works program, pre-admission advising, generous transfer credit and a clear definition of the transfer of courses from Craven CC to NC Wesleyan. This MOU allows Craven CC Associate in Applied Science students to transfer an additional 15 hours of general education credits for a total of 75 transfer credits.
"NCWC has enjoyed a successful partnership with Craven Community College since 2015 and we are excited to enhance the benefits of this partnership in 2020," stated Katie Farrell, Associate Dean of Adult & Professional Studies. "Our goal has always been focused on improving transfer credits for community college graduates and through this agreement, Craven graduates will have increased flexibility in transferring their credits resulting in a faster and affordable pathway to their 4-year degree."
Students who graduate from Craven CC and transfer under this agreement may select any of NC Wesleyan's programs of study or may transfer to the college's Adult and Professional Studies program, taking advantage of the Wesleyan Works program. Students are required to maintain a minimum GPA of 2.0 and be in good academic standing. The agreement brings NC Wesleyan within the reach of Craven CC students who may not have otherwise been able to attend the College.
Wesleyan Works is a transfer program designed for community college students who plan to continue their education at NC Wesleyan. Students who participate in Wesleyan Works will have access to academic advising and financial aid counseling through NC Wesleyan, as well as access to events on the College's main campus. The program is ideal for students who would like to attend NC Wesleyan's evening or online programs.
About North Carolina Wesleyan University
North Carolina Wesleyan University, a private institution affiliated with the United Methodist Church, prepares students for professional advancement, life-long learning and responsible participation in their communities. NC Wesleyan University provides a highly personalized education in a dynamic and challenging environment. With students from all over the United States and more than 40 different countries, NC Wesleyan is a small college with a big taste for cultural diversity. To learn more, visit ncwu.edu and follow on Facebook, Twitter, LinkedIn and Instagram.
About Craven Community College
Founded in 1965, Craven Community College (Craven CC) is part of the North Carolina Community College System. With campuses in New Bern and Havelock-Cherry Point, Craven CC serves about 3,200 curriculum students and more than 10,000 continuing education students each year. The college offers a wide range of associate degree and certificate programs, as well as college transfer courses, career and occupational offerings, partnerships with four-year universities, specialized workforce training options, developmental studies and basic skills classes. The Lifetime Learning Center and Adult Enrichment Program offer lifelong learning opportunities. Craven Early College High School programs are available on both campuses. Craven CC is also home to Public Radio East, one of the few community colleges nationally with this distinction. For more information about the college, visit www.cravencc.edu.
NC Wesleyan was featured on WRAL TV as part of North Carolina Independent Colleges & Universities' Virtual College Fair.
"We are honored to have this opportunity to work with such a prestigious academic institution as SRU," said Meir Magal, professor of exercise science at NCWC. "This option will allow our students the opportunity to join an outstanding athletic training program that provides rigorous academic curricula and a superior hands-on, patient-centered clinical experience."
The connection between Slippery Rock University and NC Wesleyan was spurred by Tim Donovan, a 2009 SRU graduate with a degree in athletic training, who is the head athletic trainer at NCWC.