ROCKY MOUNT, NORTH CAROLINA – North Carolina Wesleyan University's RN to BSN program celebrated its inaugural class on Wednesday, August 4 in The Dunn Center on the College's campus. Guest speaker was Dr. Susan Haynes Little, Chief Nursing Officer/Chief Public Health Nurse for the North Carolina Department of Health and Human Services, Division of Public Health.
The program's RN to BSN students, along with two guests, and several community stakeholders were in attendance. All guests were welcomed with appetizers and a punch station as they entered the Garner Lobby of The Dunn Center, followed by a brief Meet & Greet and dinner as they heard from Dr. Susan Haynes Little.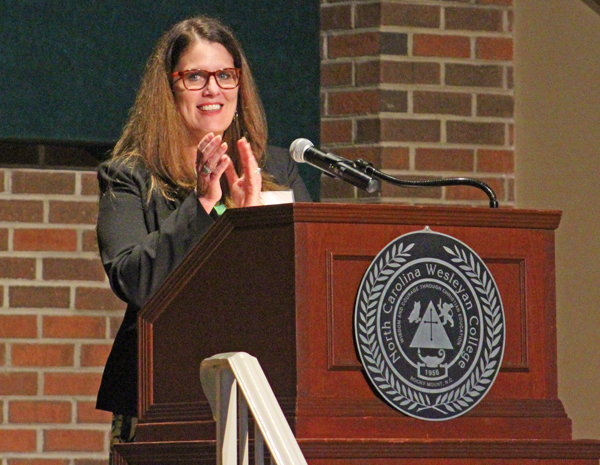 During her speech, Dr. Little encouraged Wesleyan's nursing students by reinforcing the importance of obtaining their BSN degree. "When I talk to nursing administrators, they tell me that their BSN-prepared nurses are better leaders. They tell me that they are also better at program management, data-informed decision making, writing and communicating. With current challenges facing public health, health equity, social justice and health economies—to name just a few—nurse leaders are positioned to shape the future of healthcare."
This group included nurses entering the three cohorts of NCWC's RN to BSN Program during its first full year of operation, which began August 2020. The 100% online, 34-credit hour program allows students to finish in as little as 12 months.
"Our Battling Bishop Nurses made a choice to earn their baccalaureate degree during a time of uncertainty due to the implications set forth by COVID-19 and now the Delta Variant," stated Dr. Brittany Bass, NCWC's Director of RN to BSN. "Thank you, Battling Bishop Nurses, for stepping to the plate during these times to expand your knowledge and nursing practice. It's because of you that our communities will continue to thrive and be safe."
A highlight of the event was a special scholarship announcement by Mark Hinson, NCWC's Director of External Affairs and Annual Giving, reporting that among the nursing students actively taking courses at this time, the two students with the highest GPAs in the program will be receiving scholarships in the amount of $1,000.00 each. The remaining students will be receiving scholarships worth $500.00 each. This was made possible by two anonymous donors.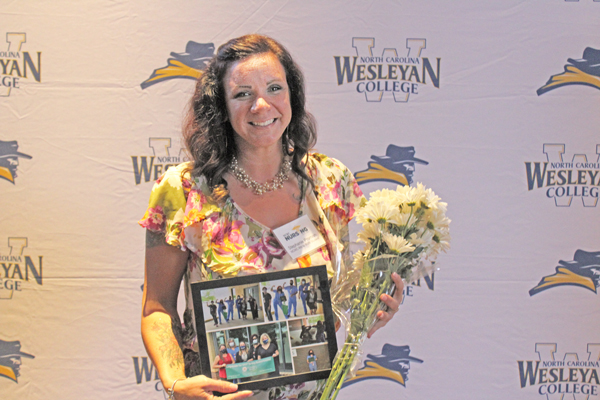 In addition, Stephanie Promish, the program's first recipient of The DAISY Award, was honored and provided with a bouquet of daisy's. Promish, who works as a Registered Nurse at Cherry Hospital in Goldsboro, was presented with The DAISY Award® for Extraordinary Nursing Students in May 2021, where she received a certificate, a DAISY Award pin and "A Healer's Touch" sculpture symbolizing excellence and a love for nursing that is hand-carved by artists of the Shona Tribe in Zimbabwe. She is the first recipient at NC Wesleyan since the inception of the College's new partnership with The DAISY Foundation. This award is part of The DAISY Foundation's mission to express gratitude to nurses with programs that recognize them for the extraordinary, compassionate and skillful care they provide patients and families.