"For in all the states of created beings, capable of laws, where there is no law there is no freedom."
–John Locke
Master of Science in Criminal Justice
The Master of Science in Criminal Justice (MSCJ) program educates new practitioners and provides professional education necessary for those seeking career advancement in both administration and practice. The administrative area emphasizes the formulation and implementation of policies, laws, and management issues such as decision making, fiscal responsibility, program evaluation and performance evaluation. The practice area focuses on understanding specific methods, techniques, and skills utilized in the criminal and juvenile justice systems when interacting with victims, offenders, and other professionals.
This 12-month MSCJ degree program is a pivotal link in the region, as currently no other private higher education non-profit school offers an online MSCJ degree.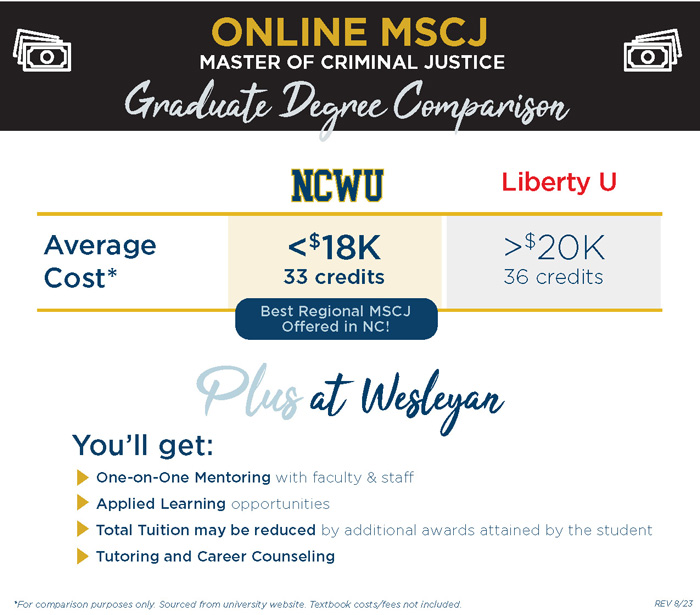 One of the Most Affordable Online MSCJ Programs in the Southeast
The NCWU online MSCJ graduate degree is one of our most popular degrees at NC Wesleyan. Students enroll in the Master of Criminal Justice program for a very good reason! It's one of the best and most affordable compared to other programs in the southeast. This 33-credit hour graduate program is taught by world-class faculty and includes one-on-one mentoring with faculty & staff,  applied learning opportunities, low tuition, and tutoring and career counseling. We offer concentrations in Criminal Justice Administration and Criminal Justice Practice.
Explore the MSCJ degree TODAY and begin your journey to practicing administrative duties in the criminal justice sector.
Program Features & Highlights:
Convenient
 Take classes from anywhere! Balance work, home and school with this 100% online, accelerated 8-week term program. 
Flexible
 Complete your degree at your pace with a full-time or part-time schedule. Featuring multiple start times per year, begin when you are ready. 
Affordable
NCWU's graduate tuition rates are extremely competitive compared to other graduate schools in the U.S.
Experienced
Our engaging faculty have real-world professional experience to ensure you are challenged and supported through practical coursework.