Decided you want to go to a Community College first?
We have a seamless transfer program to complete your degree!
Wesleyan WORKS
Wesleyan Works is a transfer program designed for community college students that are planning to continue their education at NC Wesleyan University. This pathway program guarantees admission for community college graduates who complete a degree in Associate of Arts (AA), Associate of Science (AS) or other Associate of Applied Science (AAS).
Students who participate in Wesleyan Works will have access to academic advising and financial aid counseling while attending a community college, as well as access to attend events on the NCWU main campus in Rocky Mount.
Maximized Transfer Credits
Seamless transfer pathway
Automatic Acceptance for community college graduates
Access to academic and financial counselors during associate's program
Program Overview:
Students can apply to a participating Community College and NCWU at the same time, granting a pathway for earning an Associate's degree and Bachelor's degree.
Students can apply to NCWU Office of Adult and Professional Studies with NO application fees.
Students are guaranteed automatic acceptance upon successful completion of the AA/AS/AAS degree from a participating Community College.
Students will be provided a NCWU Wesleyan Works student identification card and will have access to events on the NCWU main campus in Rocky Mount.
Students will have joint academic advising and financial aid counseling to maximize the savings offered when attending both participating Community College and NCWU.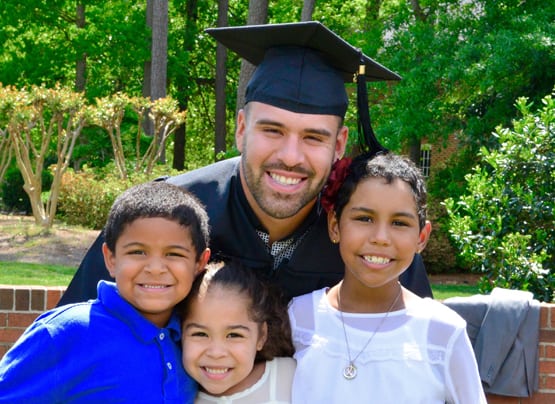 Requirements for the Program:
Maintain a 2.0 GPA and in Good Academic Standing
Be at Least 21 Years of Age – The Vice President of Enrollment has the right to waive this requirement upon successful completion of the age waiver process.
Complete Our Free Application
Complete Your Free Federal Application for Financial Aid (FAFSA School Code 002951).
You can add up to 10 school codes to your FAFSA without impacting your financial aid at the attending Community College.
Complete the AA/AS/AAS Degree with the Attending Community College
Submit an Official College Transcript from Each School Previously Attended
Associate of Applied Science Graduates
NC Wesleyan University recognizes the need for transfer-friendly Applied Science degree pathways. AAS graduates can transfer in up to 75 hours* and the remaining 45 hours can be completed in as little as 12-18 months. Degree crosswalks and individual transfer evaluations can be provided at a students request. Please contact adultstudies@ncwu.edu to learn how to maximize your transfer credits.
*75-hour transfer pathway available to select participating NC community colleges. Transfer credits and remaining requirements are based on individual transcripts.
Community College Transfer Guide
The Community College Transfer Guide is a list of NC community college courses eligible for transfer, providing a smooth transfer for community college students.
Participating Community Colleges:
NC Wesleyan University offers a number of partnerships with other community colleges, universities and institutions for all of their AA, AS and many AAS degrees. These allow students to transfer to NCWU with simple pathways. Explore your options when you consider attending a community college first or even planning post-graduate education. We have excellent programs to finish your degree!
NC Wesleyan Regional Campuses:
We've made it easier for YOU! Once you graduate from a community college, you have the choice to attend any of our campuses throughout NC. Wesleyan has Counselors available on select community college locations.
Brunswick @ Brunswick Community College
Goldsboro Campus @ Wayne Community College
Greenville @ Pitt Community College
Manteo @ College of the Albermarle
New Bern @ Craven Community College
Raleigh-Durham
Rocky Mount
Washington @ Beaufort County Community College
Wilmington @ Cape Fear Community College
Winston-Salem @ Forsyth Technical Community College
Phi Theta Kappa
If you were inducted into the society at the community college you graduated from, you are entitled to a $500 grant each year of your attendance at North Carolina Wesleyan University. You must inform and provide proof to your financial aid counselor.  You must inform and provide proof to your financial aid counselor and $250 will be applied in late fall and late spring of each year.
Phi Theta Kappa Honor Society Transfer Honor Roll
The Transfer Honor Roll recognizes excellence and success in community college transfer pathway development among four-year colleges and universities. NC Wesleyan University continues to be selected based on our Transfer Friendliness Rating.