The Wesleyan Professional Closet is a donation-based program that provides professional attire for NCWC students. Students who are preparing for a job interview, attending a job fair, or even giving a class presentation that requires professional attire are welcome to "shop" at the career closet.
In partnership with the College's Office of Career Development & Leadership, First Presbyterian Church in Rocky Mount and the Rocky Mount Area Chamber of Commerce, the professional career closet strives for its students to excel both inside and outside of the classroom.
The Wesleyan Professional Closet is located in room 216 on the second floor of the Gateway Technology Center at the front of NC Wesleyan's campus. Students are able to borrow clothing for interviews, school events and other community functions. Students can show up, try on clothing and then provide dates for their event in order to ensure that the clothes will be available. Once they are finished with the event, the clothes are laundered and placed back on the rack for future use.
No appointment is necessary!
Hours of Operation:
Monday – Thursday 9 a.m. – 3 p.m.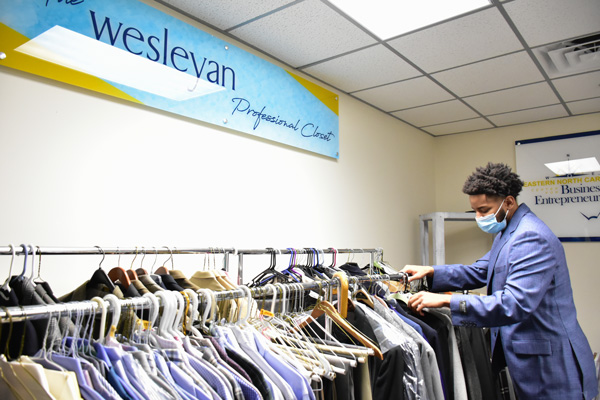 This service is completely FREE to students/alumni and based on the honor system.
Make a Donation
The Office of Career Development & Leadership desires to ensure that we maintain a safe environment with clean, sanitized clothing items that are donated to the Professional Career Closet.
The Career Closet relies on donations from generous business owners, faculty members, and other College employees, alumni, and friends of the College. New or gently used professional attire of all sizes, including ties and belts, is always welcome and helps our students look their best while representing themselves and our College in the workplace.
Those who are interested in donating professional attire can contact:
Gena Messer-Knode
GKnode@ncwu.edu
252.985.5151
Donations are by appointment only. No dropoffs.