ROCKY MOUNT, NORTH CAROLINA – Construction recently wrapped up on North Carolina Wesleyan University's new Shaw Learning Center. This facility was made possible by funds the University received from the Nancy A. Shaw Trust. Dr. Shaw was a successful physician with ties to Nash County. Her trust's primary focus was to benefit the health and care of cats.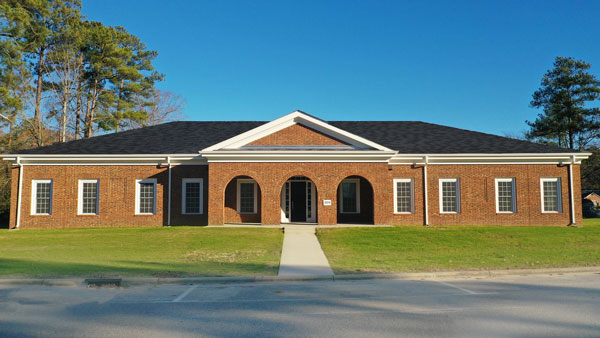 Back in 2020, NCWU announced that it had received an initial $2,500,000 from the Nancy A. Shaw Trust to invest in its science and pre-vet programs. In total, NC Wesleyan received over $4,000,000 from the trust which allowed for the construction of the Shaw Learning Center and the Shaw Environmental Center, currently under construction. In addition, these funds also allowed for endowed scholarships for Pre-Vet students and NCWU's first Endowed Professorship was established. The inaugural Nancy A. Shaw Endowed Professor is Dr. Emily Weber who started in 2022 as an Assistant Professor of Biology. Dr. Weber holds a B.A. in Biology from Augustana University and a Ph.D. in Microbiology and Immunology from the University of Rochester.
The approximately 5,000-square-foot Shaw Learning Center is located behind the Welcome Center in the middle of campus and contains four classrooms and four offices. The facility provides students with unique learning opportunities, scientific initiatives and innovative ideas towards the care of felines. A unique feature of the facility is the cat lounge centrally located as guests enter the building.
The cat lounge will house approximately six to eight rescue or endowed cats from owners who have passed away. In addition to offering a serene space for these cats to live, there will also be space for students to study and socialize. Multiple research studies have shown that cats help reduce anxiety, stress and depression.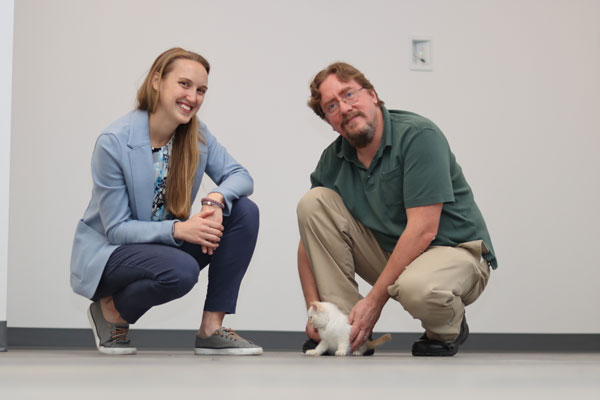 Over the past 20-25 years, there's been a huge explosion in canine cognition research; however much less is understood about cats. There are only a small handful of cat cognition labs in existence. Therefore, the field is ripe for areas of investigation and contributions to animal research.
Dr. Dimitri Blondel, NCWU Assistant Professor of Biology and animal behaviorist, is interested in non-human animals, why they do the things they do and how they perceive their own world. In his second year at Wesleyan, he wants to find ways to expand into different exploration areas, such as human-cat interactions. He also aspires to sponsor student-directed research. Teaching an animal behavior class with a lab opens the door for him to hold these labs in the new cat lounge.
"Some of the research that I plan to conduct includes student-directed cat cognition studies. Studies such as these look at animal intelligence, how they receive information through their senses, learn and process the information. Can they understand speech and things like sense of fairness? Intelligence tests such as pointing exercises have shown that they can understand human pointing gestures. This means they have the potential for understanding other areas of cognition as well. Do they know their name, can they choose between a toy and food, how independent are they? All of which can help with training, owner interactions and the way we communicate with felines in general," stated Dr. Blondel.
Another type of research that will take place in the Shaw Learning Center is behavioral endocrinology, which considers how hormones affect behavior. This is the use of fecal hormone assay to detect levels of stress hormones to determine if there is a connection between these hormones and their personalities. This research will allow NCWU students to determine cat IQs by studying how they learn and process information.
Individuals who are interested in endowing a cat, supporting the cat lounge through supplies, toys and food, or for the naming rights of the lounge should contact Mark Hinson, Sr. Executive for Philanthropic Engagement, at mhinson@ncwu.edu or 252.985.5145. NCWU is planning an official ribbon cutting for the new facility later this spring and hopes to rescue their first cat by summer 2023.
To support the well-being of the cats in our Shaw Learning Center Cat Lounge, Click HERE.
About North Carolina Wesleyan University
North Carolina Wesleyan University (NCWU) is a small, private Methodist-affiliated institution with a liberal arts-based core curriculum that prepares students for professional advancement, life-long learning and responsible participation in their communities. NCWU offers liberal arts, professional and graduate degree programs for traditional, transfer and working-adult students. The skills cultivated by faculty and built into the curriculum include critical thinking and reflection, communication, collaboration, and information technology. North Carolina Wesleyan University delivers education that is personal, practical and purpose-driven. Personal…through mentoring and the connections that are provided. Practical…by helping students develop lifelong skills. Purpose-driven…by helping them fulfill their purpose in life. With students from all over the United States and more than 40 different countries, the University has immense cultural diversity. To learn more, visit ncwu.edu and follow on Facebook, Twitter, LinkedIn, TikTok and Instagram.