ROCKY MOUNT, NORTH CAROLINA – The Executive Committee of North Carolina Wesleyan University's Board of Trustees has extended a five-year contract renewal to Dr. Evan D. Duff, expanding his tenure until May 31, 2028.
Duff was appointed Acting President by the Board of Trustees in June 2019, later accepting a two-year contract as Interim President. In May 2020, he was appointed as President extending his contract for an additional two years. That extension positioned Duff as President through May 31, 2023.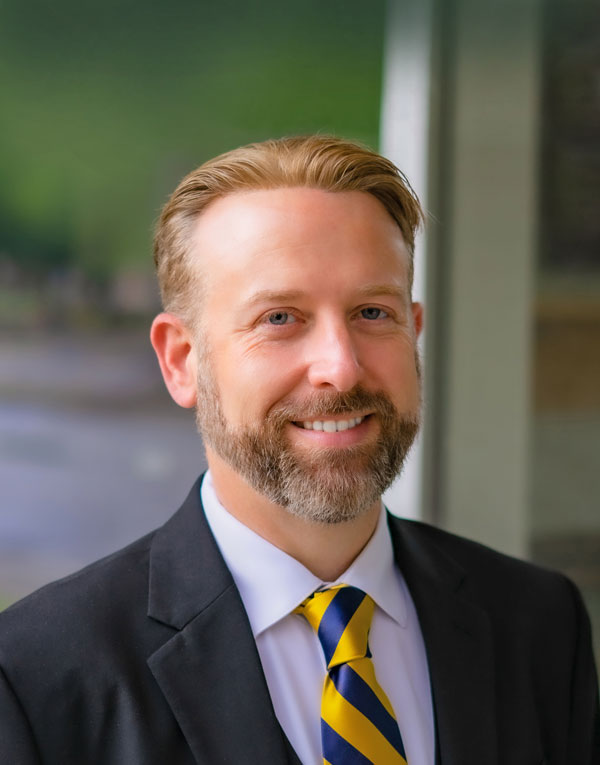 "I am enthusiastic and appreciative for the opportunity to continue to serve this great institution for an additional five years. Working with our faculty, staff, Board of Trustees, alumni and community to enrich the lives of the students we serve is extremely rewarding," stated Duff. "I look forward to our continued growth in graduate programming, while strengthening our undergraduate programs to reinforce theoretical and practical knowledge. Our collective vision is to become a regional university of excellence that equips traditional and adult learners with skills that prepare them for any career or life challenge."
Since becoming President in 2019, Dr. Duff has led the school from a $2M deficit to a positive change in net assets through 2022, along with securing the highest level of giving in the history of NC Wesleyan. To position the institution for the future, a new vision and core values was established in 2019 and a five-year strategic plan was created with initiatives to improve student success, the financial foundation and Wesleyan's connection to the community. During his leadership, the Southern Association of Colleges and Schools- Commission on Colleges (SACSCOC) reaffirmed the accreditation of North Carolina Wesleyan University through 2030. The University also attained accreditation by the Commission on Collegiate Nursing Education (CCNE) and the Association for Advancing Quality in Educator Preparation (AAQEP).
Experiencing one of the most difficult times in higher education during the COVID-19 pandemic, Duff actively worked with faculty and staff to develop a comprehensive strategy to reopen for in-person classes in fall 2020. He has also created student engagement activities, as well as an advisory council on diversity and inclusion. In just over three years as President, Dr. Duff has helped establish new degree programs such as RN to BSN, Master's of Public Health, Healthcare Administration, Supply Chain Management and concentrations in the University's MBA program. In spring 2022, a strategic marketing plan was developed to transition the College to a University with a new identity of Personal. Practical. Purpose-Driven.
Since 2019 Duff has been named a Top 10 Most Influential Education Leader by The Education Magazine (2021), completed a certificate in Employment Law from Cornell University (2021), received the Outstanding Leadership Award from Education 2.0 (2022), as well as became a certified Global Career Development Facilitator (2021) and Certified Career Services Provider (2022). Dr. Duff earned his bachelor's degree in business administration from Mount Olive College, a master's in administration from Central Michigan University and a doctorate in organizational leadership from Nova Southeastern University. He has served in multiple leadership roles at the University since 2011, including Provost and Vice President of Adult Studies.
Dr. Duff and his wife of 24 years, Marcy, have three sons and a daughter – Tyson, Landon, Peyton and Chloe. Tyson graduated Magna Cum Laude from NC Wesleyan in December 2022 with a degree in Marketing and minors in Cybercrime and Computer Information Systems. Landon currently has NCWU on his short list of schools to attend in fall 2023 and is active in the theater program at Rocky Mount Academy (RMA). Peyton and Chloe also attend RMA in the 8th and 7th grades, respectively. The two are active in competitive cheer and dance, they both play soccer for RMA, and Chloe plays volleyball for RMA as well. Marcy is a Talent Acquisition Specialist at Syneos Health. Their family enjoys worshiping at the various Methodist churches in Rocky Mount and visiting Rise Church, adjacent to NC Wesleyan, from time to time. The Duff family enjoys living on campus and supporting all things Wesleyan.
About North Carolina Wesleyan University
North Carolina Wesleyan University (NCWU) is a small, private Methodist-affiliated institution with a liberal arts-based core curriculum that prepares students for professional advancement, life-long learning and responsible participation in their communities. NCWU offers liberal arts, professional and graduate degree programs for traditional, transfer and working-adult students. The skills cultivated by faculty and built into the curriculum include critical thinking and reflection, communication, collaboration, and information technology. North Carolina Wesleyan University delivers education that is personal, practical and purpose-driven. Personal…through mentoring and the connections that are provided. Practical…by helping students develop lifelong skills. Purpose-driven…by helping them fulfill their purpose in life. With students from all over the United States and more than 40 different countries, the University has immense cultural diversity. To learn more, visit ncwu.edu and follow on Facebook, Twitter, LinkedIn, TikTok and Instagram.