"Time spent with cats is never wasted." – Sigmund Freud.
Support the Cats Campaign
If you are interested in endowing a cat, supporting the cat lounge through supplies, toys and food, please donate below. For other ways to give such as naming rights of the lounge, classrooms, etc. please contact:
Mark Hinson
Sr. Executive for Philanthropic Engagement
mhinson@ncwu.edu
252.985.5145
The approximately 5,000-square-foot Shaw Learning Center is located behind the Welcome Center in the middle of campus and contains four classrooms and four offices. The facility provides students with unique learning opportunities, scientific initiatives and innovative ideas towards the care of felines. A unique feature of the facility is the cat lounge centrally located as guests enter the building.
The cat lounge houses approximately six to eight rescue or endowed cats from owners who have passed away. In addition to offering a serene space for these cats to live, there is also space for students to study and socialize. Multiple research studies have shown that cats help reduce anxiety, stress and depression.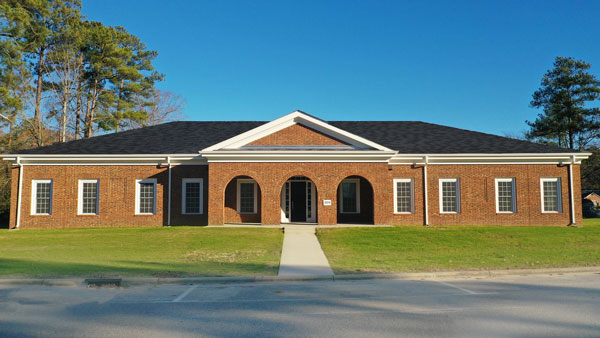 NCWU funds from the Nancy A. Shaw Trust to invest in its science and pre-vet programs, construction of the Shaw Learning Center and the Shaw Environmental Center. In addition, these funds also allowed for endowed scholarships for Pre-Vet students and NCWU's first Endowed Professorship was established. The inaugural Nancy A. Shaw Endowed Professor is Dr. Emily Weber who started in 2022 as an Assistant Professor of Biology. Dr. Weber holds a B.A. in Biology from Augustana University and a Ph.D. in Microbiology and Immunology from the University of Rochester.
Over the past 20-25 years, there's been a huge explosion in canine cognition research (dog intelligence); however much less is understood about cats. There are only a small handful of cat cognition labs in existence. Therefore, the field is ripe for areas of investigation and contributions to animal research. 
Dr. Dimitri Blondel, NCWU Assistant Professor of Biology and an animal behaviorist, is interested in non-human animals, why they do the things they do and how they perceive their own world. In his second year at Wesleyan, he wants to find ways to expand into different exploration areas, such as human-cat interactions. He also aspires to sponsor student-directed research. Teaching an animal behavior class with a lab opens the door for him to hold labs in the new cat lounge.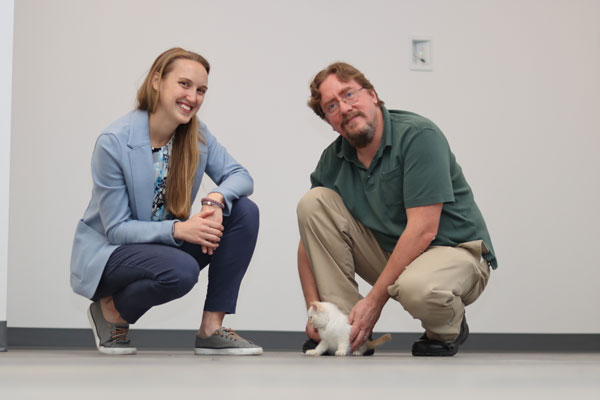 Some of the research that will take place includes student-directed cat cognition studies. Studies such as these look at animal intelligence, how they receive information through their senses, learn and process the information. Can they understand speech and things like sense of fairness? Intelligence tests such as pointing exercises have shown that they can understand human pointing gestures. This means they have the potential for understanding other areas of cognition as well. Do they know their name, can they choose between a toy and food, how independent are they? All of which can help with training, owner interactions and the way we communicate with felines in general.
Another type of research is behavioral endocrinology, which considers how hormones affect behavior. This is the use of fecal hormone assay to detect levels of stress hormones to determine if there is a connection between these hormones and their personalities. This research will allow NCWU students to determine cat IQs by studying how they learn and process information.
About Dr. Nancy Shaw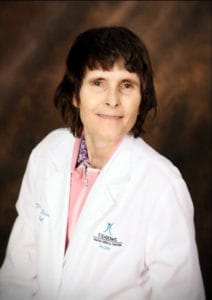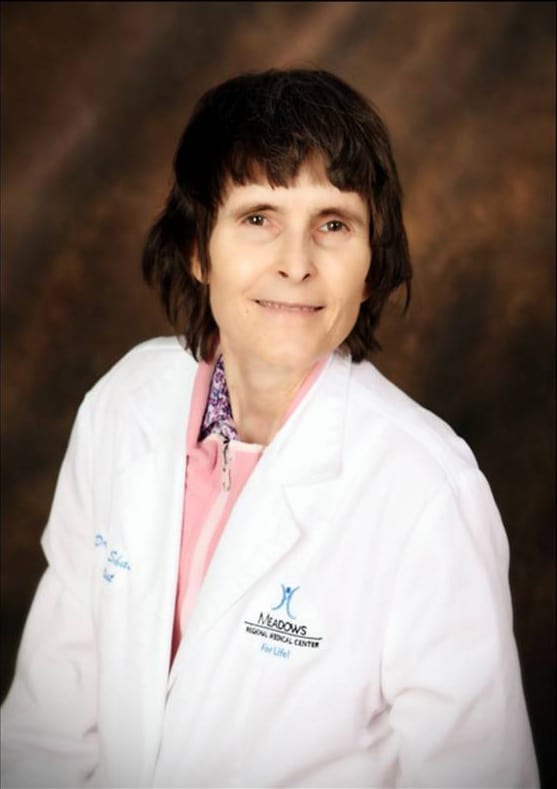 Dr. Nancy A. Shaw attended Brown University where she graduated magna cum laude before entering Brown University Medical School in 1983. Completing her internship at Framingham Union Hospital (MA) in 1985 and her residency at the Hospital of St. Raphael (CT) in 1988, she went on to become Board Certified in Internal Medicine one year later. Dr. Shaw resided in North Carolina from 1992-2012. During that time, she established the Hospitalist Programs for both Cabarrus Memorial Hospital in Concord, and Boice-Willis Clinic in Rocky Mount.