ROCKY MOUNT, NORTH CAROLINA – North Carolina Wesleyan University's President, Dr. Evan D. Duff, recently spoke on a panel at the Education 2.0 Conference. This year's conference, "Uniting Changemakers To Revolutionize Education," took place Wednesday, April 6 through Friday, April 8 in Las Vegas, Nevada.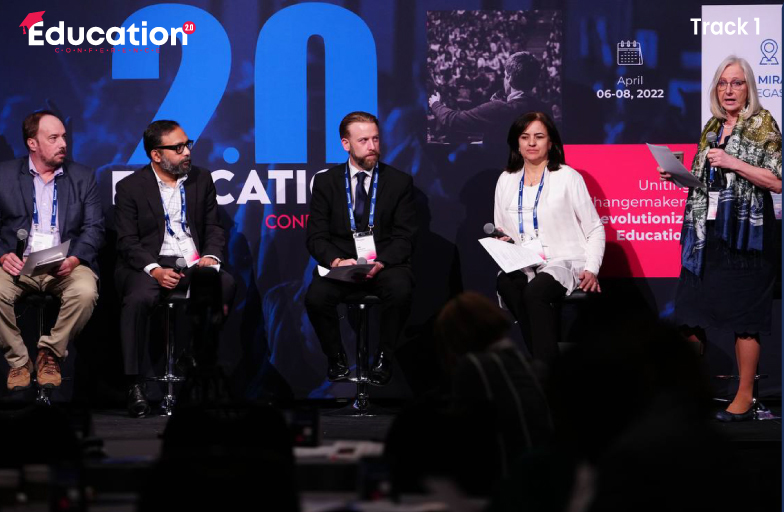 During the event, Duff joined four other educational experts from around the world on a panel discussion titled: "Theory & Practical Knowledge – Bridging the Gap." He discussed the benefits of successfully applying theoretical knowledge in practical settings through meaningful pedagogical practices, corporate partnerships, and applied learning experiences.
The Education 2.0 Conference's exclusive recognition session spotlighted a few incredible individuals and organizations who have worked tirelessly to reform and improve global education. During the event, Duff was presented Education 2.0 Conference's 2022 Outstanding Leadership Award.
"I was inspired by all of the intellectual capital present at this conference and for the learning outcomes that I walked away with," stated Duff. "Being recognized by Education 2.0 with an Outstanding Leadership Award was icing on the cake. I appreciate our talented faculty and staff who work with our students to connect their learning to rewarding career paths."
Attendees included a global learning strategist from Google, college professors, foundation CEO's, and other education industry leaders. This program honors these visionary minds and inspires emerging global voices.
About Education 2.0
Education 2.0 Conference's goal is to bring the global education community together to facilitate knowledge sharing and to look for solutions to issues faced in education transmittal in this day and age. The Education 2.0 Conference aspires to present a vibrant platform where changemakers from the education industry can meet with peers and discuss ways and means to revolutionize how we learn and teach.