ROCKY MOUNT, NORTH CAROLINA – North Carolina Wesleyan University's President, Dr. Evan D. Duff, recently spoke on a panel at the Education 2.0 Conference. This year's conference, "Uniting Changemakers To Revolutionize Education," took place Wednesday, April 6 through Friday, April 8 in Las Vegas, Nevada.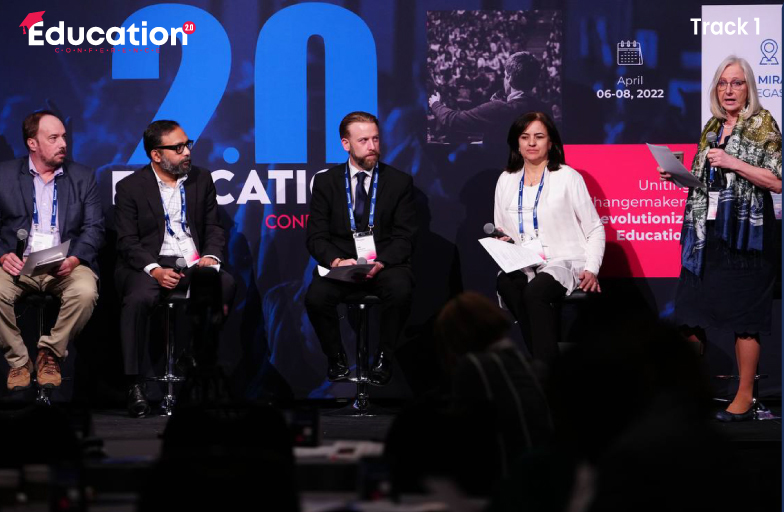 During the event, Duff joined four other educational experts from around the world on a panel discussion titled: "Theory & Practical Knowledge – Bridging the Gap." He discussed the benefits of successfully applying theoretical knowledge in practical settings through meaningful pedagogical practices, corporate partnerships, and applied learning experiences.
The Education 2.0 Conference's exclusive recognition session spotlighted a few incredible individuals and organizations who have worked tirelessly to reform and improve global education. During the event, Duff was presented Education 2.0 Conference's 2022 Outstanding Leadership Award.
"I was inspired by all of the intellectual capital present at this conference and for the learning outcomes that I walked away with," stated Duff. "Being recognized by Education 2.0 with an Outstanding Leadership Award was icing on the cake. I appreciate our talented faculty and staff who work with our students to connect their learning to rewarding career paths."
Attendees included a global learning strategist from Google, college professors, foundation CEO's, and other education industry leaders. This program honors these visionary minds and inspires emerging global voices.
About Education 2.0
Education 2.0 Conference's goal is to bring the global education community together to facilitate knowledge sharing and to look for solutions to issues faced in education transmittal in this day and age. The Education 2.0 Conference aspires to present a vibrant platform where changemakers from the education industry can meet with peers and discuss ways and means to revolutionize how we learn and teach.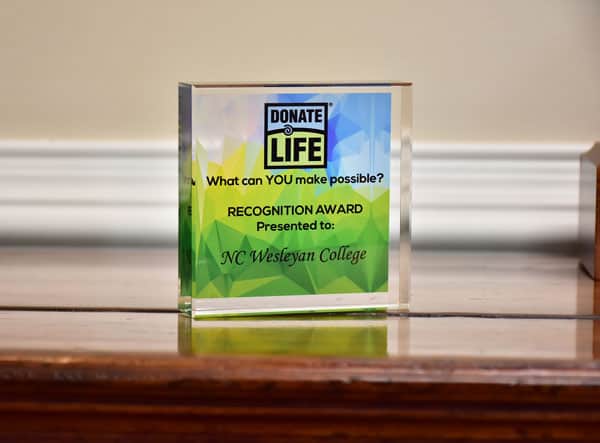 ROCKY MOUNT, NORTH CAROLINA – Recently, North Carolina Wesleyan University received an Award of Employer Excellence from Donate Life North Carolina. April is National Donate Life Month, an entire month of local, regional and national activities to help encourage Americans to register as organ, eye and tissue donors and to celebrate those that have saved lives through the gift of donation.
Wesleyan received this award because of their dedication to going above and beyond the legal requirements in supporting employees who are living organ donors and recipients, as well as, employees who are on the transplant waiting list.
"For many living donors and patients, the worry of missed work or expenses is incredibly stressful and prevents them from focusing on their health. We are so proud of the work that Wesleyan does to support their employees," stated Deanna Mitchell, Executive Director of Donate Life NC.
North Carolina Wesleyan Visiting Assistant Professor of English, Dr. Mike Brantley, received his liver over three years ago. Courtney Moss, a May 2018 Wesleyan grad and employee at the Dunn Center Box Office, received her heart four years ago. There are over 3,000 North Carolinians waiting for an organ and 84 percent of those are waiting for kidneys. Living kidney donor and Executive Director of The Dunn Center for the Performing Arts at Wesleyan, Sheila Martin, has actively volunteered for many years to increase public awareness of the great need for registered organ donors.
"NC Wesleyan hired me fourteen years ago knowing I was a living kidney donor. The recipient was my son, Jim Pittman, who graduated from Wesleyan in 1992," stated Sheila Martin, Executive Director of The Dunn Center for the Performing Arts. "I'm grateful for the College's support and that they allow me to take administrative leave in order to attend the state's License to Give Trust Fund Commission meetings." Wesleyan also hosts a yearly dodge ball tournament, organized by the women's soccer team, which benefits Carolina Donor Services."The involvement of the women's soccer team has been so incredible because it puts the issue of organ donation in front of a young audience," stated Martin.
Donate Life NC is a statewide non-profit organization dedicated to inspiring all North Carolinians to give the gift of life. The organization recognizes those employers who go above and beyond the law to support employees who are on the transplant waiting list as well as those who are living donors.