ROCKY MOUNT, NORTH CAROLINA – North Carolina Wesleyan University and Pfizer recently formed a partnership that will provide hands-on learning opportunities to NCWU students majoring in science. Through the work of Dr. Daniel Elias, Assistant Professor of Environmental Science, and Dr. Molly Wyatt, Associate Provost, Pfizer will establish a new student fellowship program beginning in the spring 2023 semester.
"Pfizer's purpose – 'Breakthroughs that change patients' lives' – is best reflected in the people whom we serve. Our success in achieving our purpose can be accomplished only by finding and cultivating the best talent. Pfizer's collaboration with NCWU demonstrates both our commitment to our purpose and to community outreach," stated Kara Price, Ph.D., Vice President, Rocky Mount Site Lead. "NCWU students gain real-world experience, while Pfizer can continue to source excellent talent. It's a win-win for everyone."
NCWU students, Rheanna Wilder and Mauro Infante, will be the first two student fellows at Pfizer through this partnership. Rheanna is a senior, women's soccer player majoring in Biology and Environmental Science. Mauro, a sophomore from Uruguay, is also a student-athlete on the men's soccer team majoring in Chemistry and Mathematics.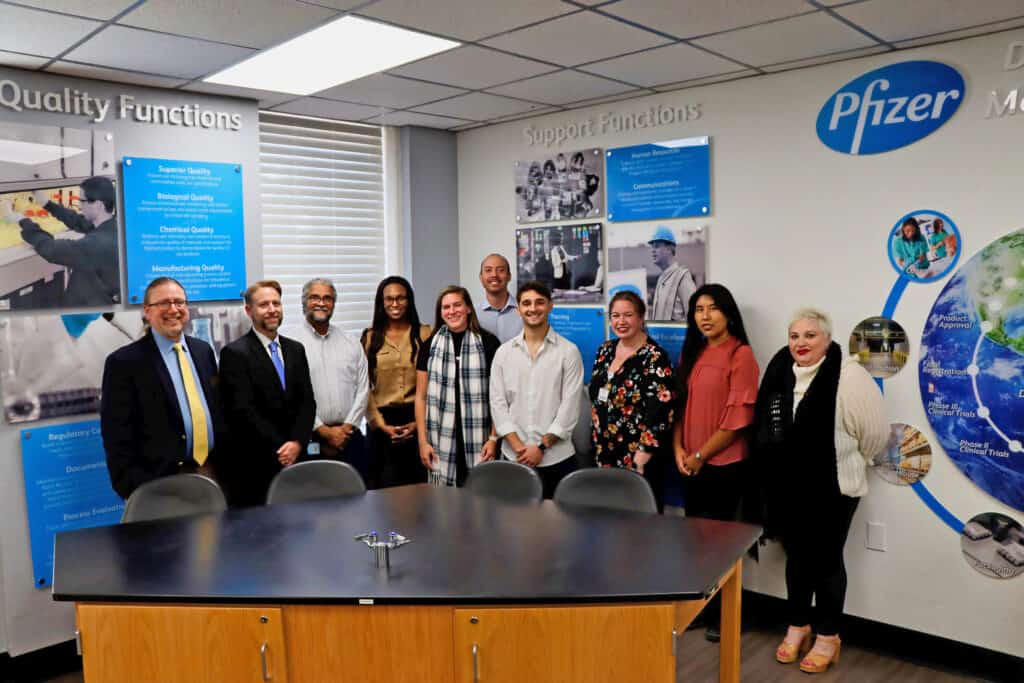 Dr. Joe Lane, NCWU Provost, noted that "This partnership with Pfizer demonstrates the power of Wesleyan's personal, practical and purpose-driven education. Wesleyan students will have the opportunity to take what they have learned in our lecture halls and labs and apply it to real-world problems with Pfizer's professionals. We know that Rheanna and Mauro will be the first of many Wesleyan students to build their network and resumés at Pfizer. They will do great work and we look forward to highlighting their experiences."
During their time at Pfizer, both students will have the opportunity to gain experience in multiple areas. This includes regulatory compliance related activities, Lean/IMEx projects, training and instructional design, science-related laboratory activities, employee performance improvement projects and operational excellence support.
About Pfizer: Breakthroughs That Change Patients' Lives
At Pfizer, we apply science and our global resources to bring therapies to people that extend and significantly improve their lives. We strive to set the standard for quality, safety and value in the discovery, development and manufacture of health care products, including innovative medicines and vaccines. Every day, Pfizer colleagues work across developed and emerging markets to advance wellness, prevention, treatments and cures that challenge the most feared diseases of our time. Consistent with our responsibility as one of the world's premier innovative biopharmaceutical companies, we collaborate with health care providers, governments and local communities to support and expand access to reliable, affordable health care around the world. For more than 170 years, we have worked to make a difference for all who rely on us. We routinely post information that may be important to investors on our website at www.pfizer.com. In addition, to learn more, please visit us on and follow us on Twitter at @Pfizer and @Pfizer News, LinkedIn, YouTube and like us on Facebook at Facebook.com/Pfizer.
About North Carolina Wesleyan University
North Carolina Wesleyan University (NCWU) is a small, private Methodist-affiliated institution with a liberal arts-based core curriculum that prepares students for professional advancement, life-long learning and responsible participation in their communities. NCWU offers liberal arts, professional and graduate degree programs for traditional, transfer and working-adult students. The skills cultivated by faculty and built into the curriculum include critical thinking and reflection, communication, collaboration, and information technology. North Carolina Wesleyan University delivers education that is personal, practical and purpose-driven. Personal…through mentoring and the connections that are provided. Practical…by helping students develop lifelong skills. Purpose-driven…by helping them fulfill their purpose in life. With students from all over the United States and more than 40 different countries, the University has immense cultural diversity. To learn more, visit ncwu.edu and follow on Facebook, Twitter, LinkedIn, TikTok and Instagram.