Join North Carolina Wesleyan University on Friday, November 10 for a Veterans Day event celebrating and honoring the men and women of our armed forces. The morning will start off at 10:00 a.m. with a patriotic salute to all Veterans and a special pinning for Vietnam Veterans.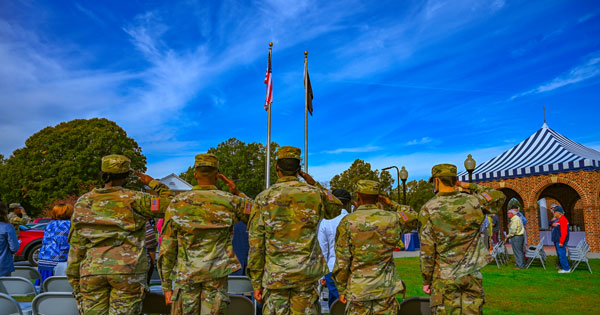 The event will be held at the main flagpole in front of the Braswell Administrative building with guest speaker, Rep. Allen Chesser. In case of inclement weather, the event will be moved to the Garner Lobby at The Dunn Center. Rep. Chesser is an alumnus of NC Wesleyan and currently serves on the University's Veteran Advisory Committee. Elected in 2022, Rep. Chesser is currently the State Representative for North Carolina House District 25, which covers the majority of Nash County. Before serving in the North Carolina House, he was a police officer for the City of Raleigh and the Town of Nags Head. Rep. Chesser is a combat veteran of the U.S. Army National Guard.
"With wars and rumors of wars consistently in the headlines, it is important to pause and recognize those who have served our Country and kept America free. We are thankful to have the opportunity to honor our Wesleyan and Rocky Mount Veterans by continuing our tradition of the Veterans Day Salute. We are excited to have Rep. Chesser, Dawn Cash-Salau and Andrea Bishop joining us this year and look forward to their contribution to the day," stated Laura Estes Brown, Associate Dean of Veteran Services.
During the ceremony, Mrs. Dawn Cash-Salau will present the Christopher Cash Scholarship to this year's recipients. In addition, the University is supporting the local Ride of Honor taking place November 10 and 11. This fundraiser benefits the PruittCares Foundation to help veterans and bring Camp Cocoon to Nash County. Andrea Bishop BSN, RN, Administrator of PruittHealth Hospice of Rocky Mount, will be speaking briefly about this event at NCWU's Veterans Day Salute.