For his great career in serving the region's people and needs, North Carolina Wesleyan University presented Norris Tolson with the Algernon Sydney Sullivan Award at their Homecoming game on Saturday, October 14. Mr. Tolson is the Vice President of Special Projects for the Carolinas Gateway Partnership. The award is presented to a community leader who best exemplifies excellence in character, leadership, service to the community and a commitment to spiritual values. This humanitarian award is meant to recognize those who have selflessly given and served others and the community.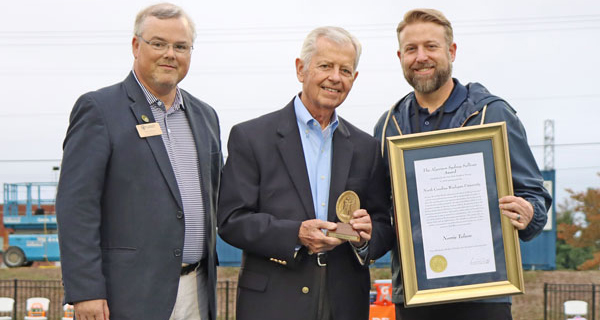 Algernon Sydney Sullivan rose to success in New York City as a respected lawyer and a man who "reached out both hands in constant helpfulness" to others. After his death in 1887, the Society sought to honor him and the award bearing his name was established in 1925 by the Sullivan Memorial Committee and the New York Southern Society, which Mr. Sullivan had served as its first president.
"Mr. Tolson, for many years, has been a remarkable public servant in this region and statewide. When considering the attributes someone should possess in order to be awarded the Algernon Sydney Sullivan Award, he was a clear choice and is well deserving of this honor," stated Mark Hinson, Sr. Executive of Philanthropic Engagement at North Carolina Wesleyan University.
Before joining the Carolinas Gateway Partnership, Tolson served as a senior advisor for economic development with the Williams Mullen law firm, was President and CEO of the North Carolina Biotechnology Center, served as both the North Carolina Secretary of Commerce and the North Carolina Secretary of Transportation. He was elected to the North Carolina General Assembly and served in the House of Representatives from 1994 until 1997 representing parts of Edgecombe, Nash, Pitt and Wilson Counties at the time. In 1999, Tolson served as the Chairman of the North Carolina Hurricane Floyd Relief Fund and in 2001 he was appointed to be the North Carolina Secretary of Revenue and stayed in this role until 2007.
Tolson proudly resides in Pinetops, NC. He has three children and five grandchildren.