North Carolina Wesleyan University held its 67th annual New Student Convocation today in Minges Auditorium at The Dunn Center. President Dr. Evan D. Duff gave a warm welcome to over 300 new students who are embarking on their college experience, congratulating them on taking the next step in their educational journey. The newest class of Bishops make up a diverse group of students with 196 hailing from North Carolina, 63 of which are from the local region, and 45 international students from 24 different countries. The top five majors that this cohort will be pursuing include Business Administration, Exercise Science, Criminal Justice, Biomedical Science and Computer Information Systems.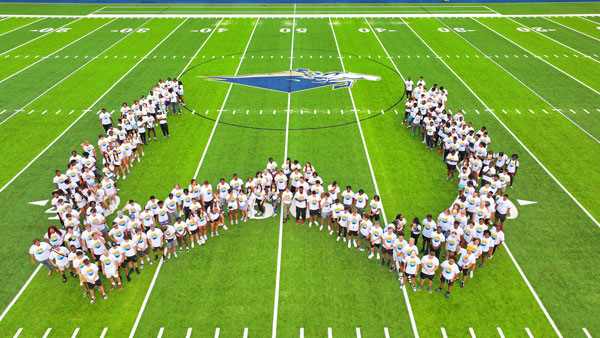 "During your time here, you will learn meaningful skills that will help you to successfully navigate life. Those include communication, collaboration, how to effectively make decisions, being self-aware and information technology skills. Your success in life is our success and we look forward to being an important part of your journey," stated Duff.
This year's guest speaker was Rhonda Vonshay Sharpe, a 1988 Mathematics alumna and founder of the Women's Institute for Science, Equity and Race (WISER), which she is currently actively involved in. WISER is the first think tank to focus solely on the social, economic, cultural, and political well-being of women of color. Sharpe was born in New York City, but raised in Virginia. After graduating from NC Wesleyan, she obtained three master's degrees: Applied Mathematics from Clark Atlanta University (1992); Operations Research from Stanford University (1994); and Economics from Claremont Graduate University. She obtained her Ph.D. in Economics/Mathematics in 1998, also from Claremont Graduate University.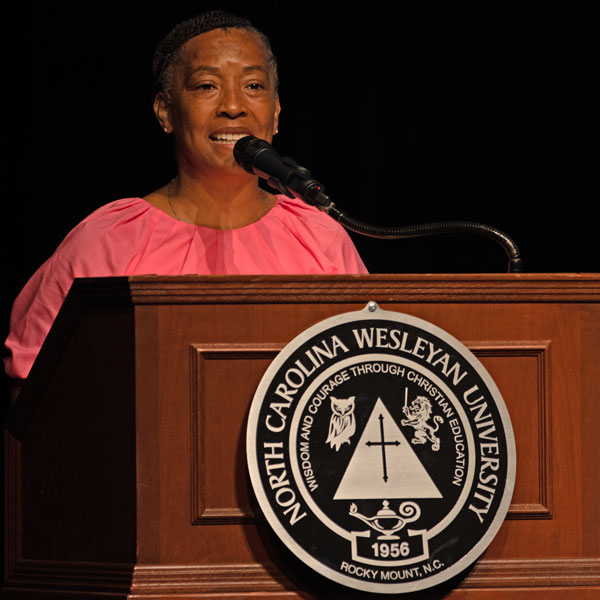 Sharpe has taught at a number of colleges and universities, including Barnard College, Bucknell University, Columbia University, Duke University and the University of Vermont. She is also the co-founder of the Diversity Initiative for Tenure in Economics (DITE), which she served as Associate Director from 2008 until 2014.
While addressing the new class of Bishops, Sharpe stressed the importance of not letting your past dictate your future.
"To the Class of 2027, I say to you: whatever your high school experience—whether you excelled or you had challenges—that was your past. Your future began when you stepped on this campus." stated Sharpe. She went on to offer several tips for being successful over the next four years: be proactive, get to know your faculty, don't be afraid to speak up in class even if you're not always right, embrace and exchange ideas, acknowledge and appreciate those who maintain and clean your spaces, ask for help early and commit to look out for your fellow Bishop.
Throughout her address, Sharpe acknowledged multiple reasons why Wesleyan was a great educational choice for her. She closed by reiterating this sentiment, saying "Whether North Carolina Wesleyan was your first choice, your only choice, or your safe choice, as an alumna, I wish for you an educational experience that makes you feel like it was your best choice. It was for me."
Afterwards, students exited The Dunn Center greeted by a cheering crowd of returning students, faculty, staff and friends of NC Wesleyan forming a time-honored tradition— the Bishop Tunnel. As they continued through the tunnel to enter the annual Rock the Mount event, they were each welcomed by President Duff and his wife, Marcy. Rock the Mount is a tradition at NCWU of welcoming new students to campus and to the community. Each year, it takes place the day before the University's first day of classes, serving as the official kick-off event for the new academic year. Organizations come out to support and celebrate the start of a new school year with food, music and advertising. This year, almost 110 community organizations lined the center of campus to celebrate Wesleyan's Class of 2027. There were a variety of food options provided by food trucks CP3 Catering & Food Trailer, Integrity BBQ, 3Boys Smoke Pit & Catering, Webby's, Minnie Amazing Foods and Thingz, and Dewberrys Fruit Smoothies were on-site to provide a variety of food options for everyone and live entertainment was provided by Meredith Davis Johnson, the band "Blind Joy" and DJ 3two1.