ROCKY MOUNT, NORTH CAROLINA – North Carolina Wesleyan University has always been a leader in providing quality education to thousands of deserving students and this coming fall will be no exception. A local student, Natalie Messer, and a legacy, Brayden Blue, are two academically gifted students who will join the incoming Class of 2027 this fall as they embark on their educational journey at NCWU.
Natalie Messer, from Rocky Mount, has accepted the President and Founder's Scholarships. She plans to major in Biomedical Science: Pre-Veterinary, with intentions to pursue her Doctor of Veterinary Medicine. A senior at Southern Nash High School, Natalie has a 4.22 weighted GPA and is actively involved in various organizations, including Future Farmers of America (FFA) and Winter Guard.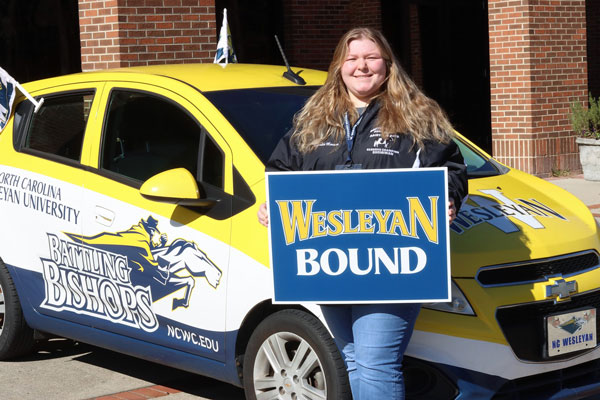 When describing her impression of North Carolina Wesleyan, Natalie stated, "…after my first visit to campus, I was known personally, which made me feel right at home. I fell in love with the beautiful campus which is small, but grand at the same time."
Natalie attributes the community feel of NCWU to making the impact on her college decision. "Their smaller class sizes with more one-on-one instructional time will help me grow as a person, continue to strengthen my foundation and guide me to my childhood dream of becoming a veterinarian." She will receive $104,000 worth of University awards over the next four years from North Carolina Wesleyan University.
Coming from Kannapolis, Brayden Blue will be a second-generation Wesleyan student joining the University in the fall. With both parents being alumni of NCWU, Brayden's father, Bradley Blue, was inducted into the North Carolina Wesleyan University Athletics Hall of Fame in 2017. Brayden, graduating from Concord High School, is a talented basketball player and an accomplished student. Choosing to further his academic and athletic career at NCWU, he will follow his father's footsteps as a member of the men's basketball team.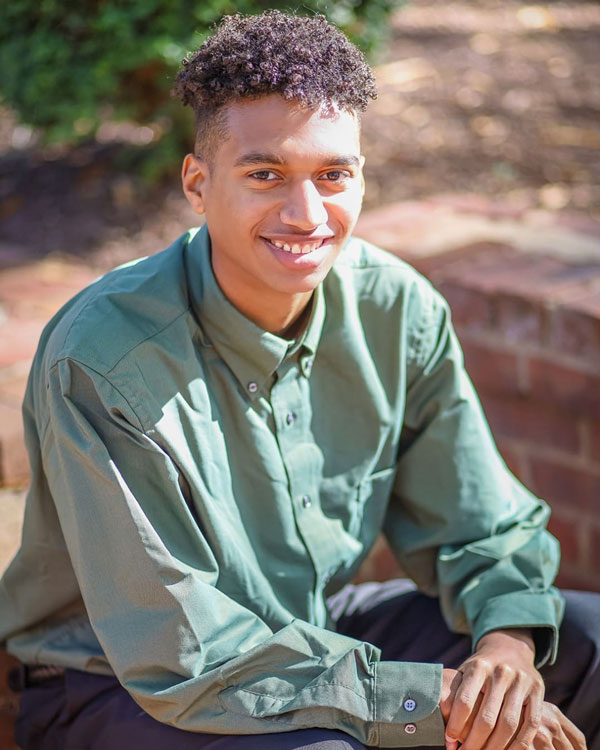 When discussing his excitement about becoming a future Bishop, Brayden replied that he looked forward to "continuing to work on my basketball career while obtaining my degree." Brayden is already accustomed to the family atmosphere that Wesleyan offers stating, "Coach Thompson is like family and he has followed my basketball career over the years through my parents."
As students, Brayden's dad played basketball for Coach John Thompson, while his mom worked as the student manager for the basketball team. Brayden explained his experience when visiting NCWU, "When I came for my first visit, the guys on the team made me feel like I was already part of the family." Brayden is excited for the many opportunities that NCWU has to offer noting that he is "looking forward to making NCWU my home and seeing what the future holds." He will receive $60,000 worth of University awards over the next four years.
Natalie and Brayden are only two examples of academically inclined students who have found their personal connection at North Carolina Wesleyan University and plan to join this fall. NCWU looks forward to welcoming such outstanding students into the Battling Bishop family!
About North Carolina Wesleyan University
North Carolina Wesleyan University (NCWU) is a small, private Methodist-affiliated institution with a liberal arts-based core curriculum that prepares students for professional advancement, life-long learning and responsible participation in their communities. NCWU offers liberal arts, professional and graduate degree programs for traditional, transfer and working-adult students. The skills cultivated by faculty and built into the curriculum include critical thinking and reflection, communication, collaboration, and information technology. North Carolina Wesleyan University delivers education that is personal, practical and purpose-driven. Personal…through mentoring and the connections that are provided. Practical…by helping students develop lifelong skills. Purpose-driven…by helping them fulfill their purpose in life. With students from all over the United States and more than 40 different countries, the University has immense cultural diversity. To learn more, visit ncwu.edu and follow on Facebook, Twitter, LinkedIn, TikTok and Instagram and YouTube.