ROCKY MOUNT, NORTH CAROLINA – First Carolina Bank supports North Carolina Wesleyan University's Sports Stadium Campaign with an additional $25,000. Chief Banking Officer, Maxie Coker, presented the check on campus last Thursday, May 4. The funds will be used, in part, to go towards construction of the stadium's press box.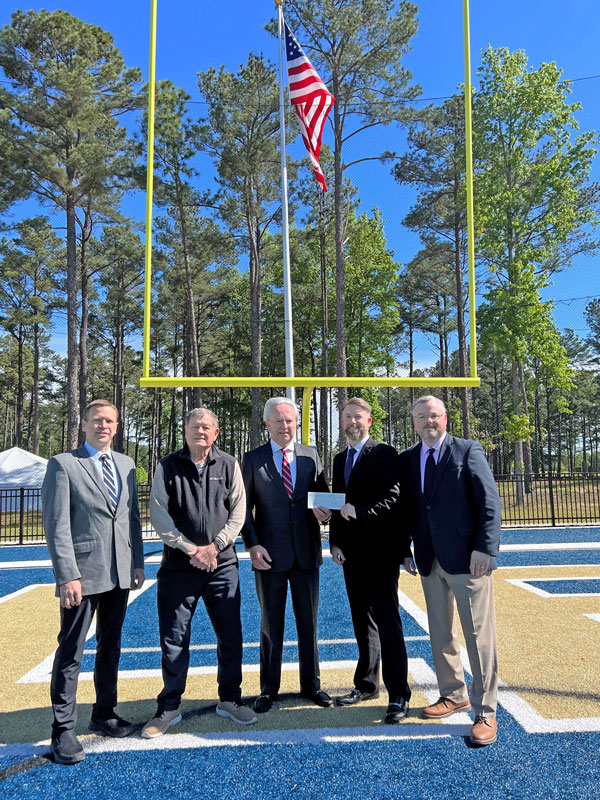 Last year, NC Wesleyan's Board of Trustees voted to name the future stadium press box in honor of Marion Barnes' family. Barnes' father, Guy Barnes, was one of the original founders of NC Wesleyan. The Marion Barnes Family Press Box will kick off Phase II of NC Wesleyan's Sports Stadium Campaign. Marion Barnes is a former longtime trustee of the University and owner of Frontier Trailer Associates, Inc. in Rocky Mount, directly adjacent to the new stadium.
First Carolina Bank gave an initial $25,000 in 2021 in support of the stadium initiative. A banking partner with NC Wesleyan over the years, First Carolina Bank continues to be a strong supporter of Wesleyan and the Sports Stadium Campaign.
"We are appreciative and proud to partner with First Carolina Bank. Their unwavering support of NC Wesleyan, and specifically the stadium project, will pay dividends for Wesleyan students and community members for years to come. Strong, consistent advocates like First Carolina Bank are why this project continues to move forward and I cannot thank them enough," stated Aaron Denton, Vice President of Athletics.
The Sports Stadium Campaign is completely donor-funded and consists of four project phases, as funding allows. Additional phases will include permanent seating and a new Sports and Entertainment Facility that will include classrooms, laboratories, offices, meeting rooms, as well as other sports and entertainment venue related amenities.
Those interested in helping with Phase II of the campaign can contact Aaron Denton, VP of Athletics, at adenton@ncwu.edu.
About North Carolina Wesleyan University
North Carolina Wesleyan University (NCWU) is a small, private Methodist-affiliated institution with a liberal arts-based core curriculum that prepares students for professional advancement, life-long learning and responsible participation in their communities. NCWU offers liberal arts, professional and graduate degree programs for traditional, transfer and working-adult students. The skills cultivated by faculty and built into the curriculum include critical thinking and reflection, communication, collaboration, and information technology. North Carolina Wesleyan University delivers education that is personal, practical and purpose-driven. Personal…through mentoring and the connections that are provided. Practical…by helping students develop lifelong skills. Purpose-driven…by helping them fulfill their purpose in life. With students from all over the United States and more than 40 different countries, the University has immense cultural diversity. To learn more, visit ncwu.edu and follow on Facebook, Twitter, LinkedIn, TikTok, Instagram and YouTube.