ROCKY MOUNT, NORTH CAROLINA – On Saturday, May 6, North Carolina Wesleyan University held its annual commencement ceremony at the Rocky Mount Event Center. The University celebrated 418 graduates, marking its 83rd graduation.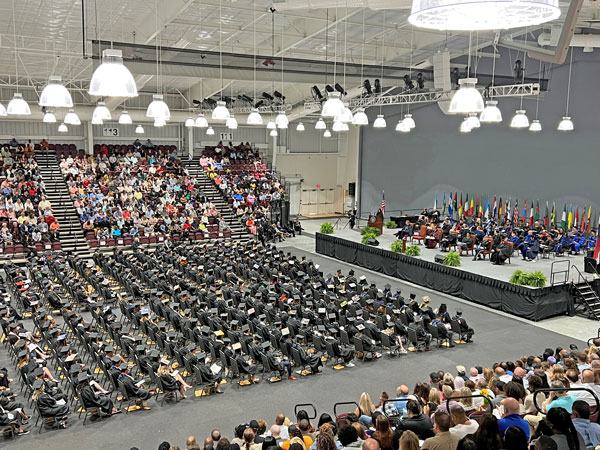 The event was open to graduates, faculty, the platform party and guests of graduates. There were 34 international students from 17 different countries: Argentina, Australia, China, Ecuador, France, Italy, Liberia, Uganda, Venezuela, Israel, Martinique, Mongolia, Philippines, Republic of Congo, Rwanda, Senegal and Turkmenistan. University Chaplain, Rev. Edwin Ferguson, gave the invocation, followed by a performance of the Star-Spangled Banner by alumna, Ms. Latisha Scott '06.
President Dr. Evan D. Duff welcomed the crowd to the momentous occasion and congratulated the graduates on their accomplishments noting, "your degree is provided by an institution which seeks not only to dispense knowledge and develop the habits for lifelong learning, but also expects its graduates to be responsible citizens, contributors to the common good and individuals who care about others. As we celebrate together, we acknowledge the obligations all of us have to help bring about a better world."
The commencement address was given by Renee Chou, news anchor and reporter for WRAL-TV. Chou is a three-time, Emmy Award-winning anchor and reporter who joined WRAL in October 2004 as a general assignment reporter. Over the years, she has served as the weekend morning anchor and weekend evening anchor. Chou was promoted to weekday morning anchor in March of 2014.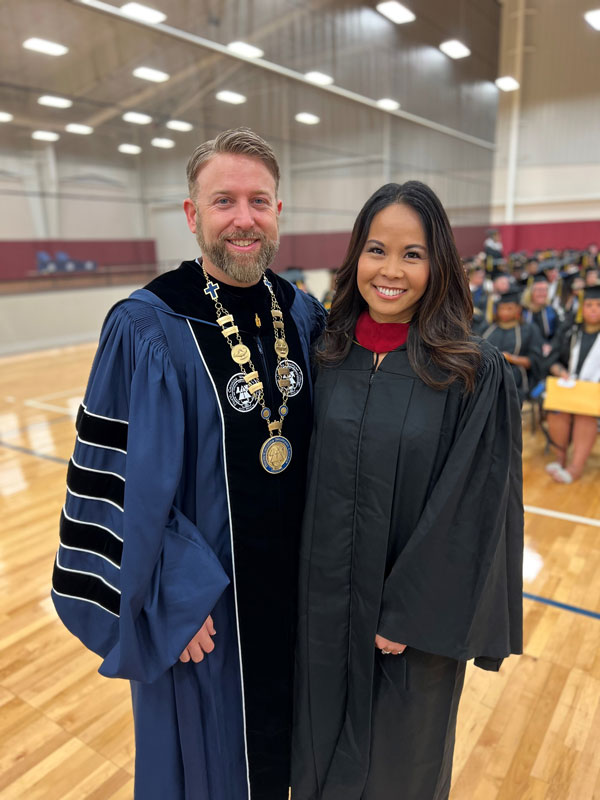 Chou addressed the graduates stating, "your drive and hard work has set you on a path to success and a lifelong journey of learning. There are graduates here who understand how quickly the years go by, who have decades under their belt…they are proof it's never too late to set a goal and conquer it. I say to you, you are an inspiration and the definition of what is possible when you put in the work…your investment in higher education will shape you, transform you and set you on a trajectory."
She went on to offer the Class of 2023 five truths that have helped her on her journey. First: trust that the no's will lead to a yes. Second: you can do anything, but you can't do everything. Third: everyone you meet is fighting a battle you know nothing about. Fourth: pay attention to who shows up for you unconditionally. And fifth: "just think, you're not even the best version of yourself yet. It's comforting to know; the best days of your life are still ahead."
Chou ended with words of wisdom and hope urging graduates, "don't let others write your story. YOU are the author, the journalist of your own story. Your story is still being written and the world can't wait to learn about it. Class of 2023, go shine your light!"
After Mrs. Chou's inspiring speech, Dr. Katrina Sweet, Associate Professor of Business Administration, was presented with the 2023 Exemplary Teacher Award. This award recognizes excellence in teaching and promotion of student learning, civility and concern for students and colleagues, commitment to value-centered education, service to students beyond the classroom and service to the larger community beyond campus.
De'Asia Clark received the Algernon Sydney Sullivan award, which honors a senior who best exemplifies excellence in character, leadership, service to the community and a commitment to spiritual values. Clark obtained a Bachelor of Science in Accounting and a Bachelor of Arts in Political Science.
The President's Cup, an award that recognizes the attainment of the highest standards of academic performance as demonstrated by the overall grade point average, went to Allison Wichrowski. She graduated Summa Cum Laude in the Honors Program and earned a Bachelor of Arts in Psychology and Criminal Justice.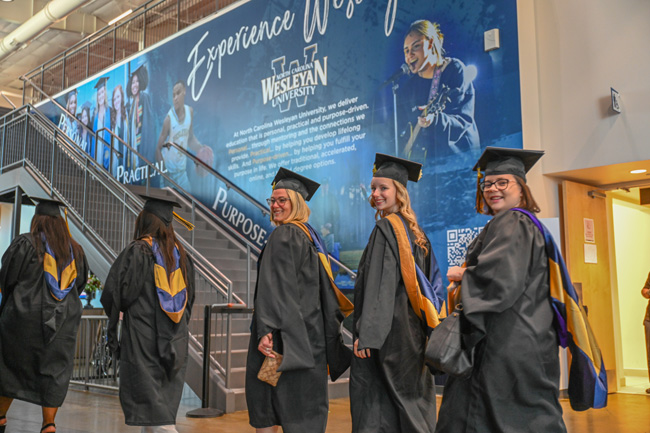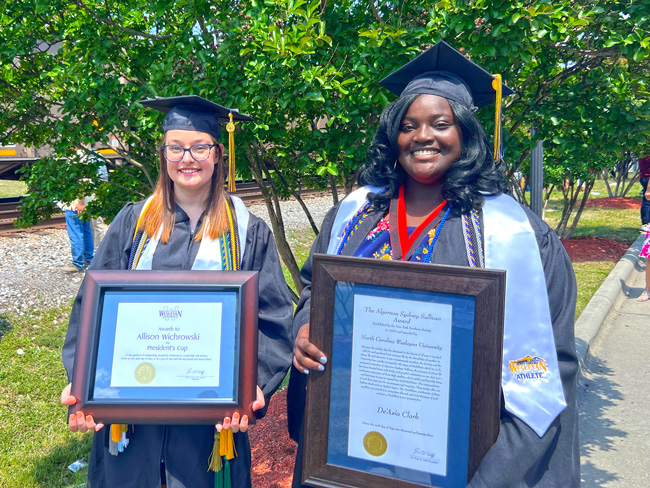 In addition, NC Wesleyan's ROTC program commissioned two graduates into the United States Army. These students took the oath of office from Major William Burgdorf. The newly commissioned Second Lieutenants include: Second Lieutenant Elijah Meyers and Second Lieutenant Joshua Hughes commissioned into the U.S. Army.

The event was live-streamed and recorded so family and friends who were not able to attend in person could celebrate with their students virtually. The recording can be viewed on youtube and the University's Facebook page.
About North Carolina Wesleyan University
North Carolina Wesleyan University (NCWU) is a small, private Methodist-affiliated institution with a liberal arts-based core curriculum that prepares students for professional advancement, life-long learning and responsible participation in their communities. NCWU offers liberal arts, professional and graduate degree programs for traditional, transfer and working-adult students. The skills cultivated by faculty and built into the curriculum include critical thinking and reflection, communication, collaboration, and information technology. North Carolina Wesleyan University delivers education that is personal, practical and purpose-driven. Personal…through mentoring and the connections that are provided. Practical…by helping students develop lifelong skills. Purpose-driven…by helping them fulfill their purpose in life. With students from all over the United States and more than 40 different countries, the University has immense cultural diversity. To learn more, visit ncwu.edu and follow on Facebook, Twitter, LinkedIn, TikTok and Instagram and YouTube.