WILSON — Wilson Community College (WCC) and North Carolina Wesleyan University (NCWC) signed a Memorandum of Understanding and University Partnership Agreement on Monday, February 24, that enables students to continue their education after earning a two-year degree. The agreement gives WCC students with Associate in Arts (AA), Associate in Science (AS), and Associate in Applied Science (AAS) degrees access to the Wesleyan Works program, which includes pre-admission advising, transfer credits, and a clear definition of the transfer of courses from WCC to NCWC.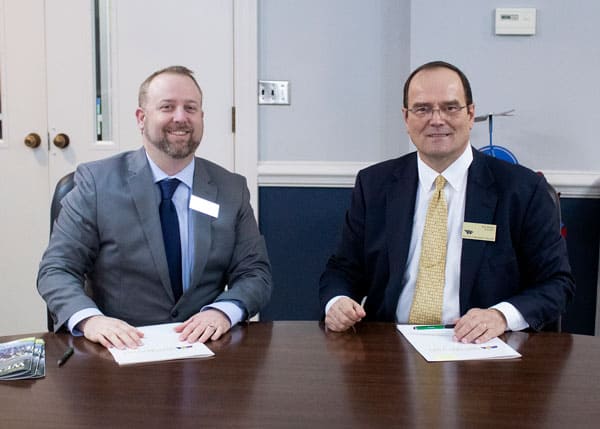 Wesleyan Works is a transfer program designed for community college students who plan to continue their education at NCWC. The program guarantees admission to NCWC for WCC's AA, AS, and AAS graduates. WCC students who transfer under this agreement are automatically eligible for Wesleyan Works. Students will have access to academic advising and financial aid counseling through NCWC. 
WCC students who graduate and transfer under this agreement can select any of NCWC's traditional programs of study or may enroll in NCWC's Adult and Professional Studies programs, utilizing the advantages of the Wesleyan Works program. For example, AAS graduates may transfer up to 75 credit hours to NCWC.
WCC Vice President for Academic Affairs Mr. Rob Holsten shared, "We are excited to continue and expand our partnership with North Carolina Wesleyan University to offer more options for students to continue their studies after completing their two-year degree here at Wilson Community College. This type of partnership furthers the College's mission to help students reach their educational goals, and adds to existing opportunities for transferable degrees."