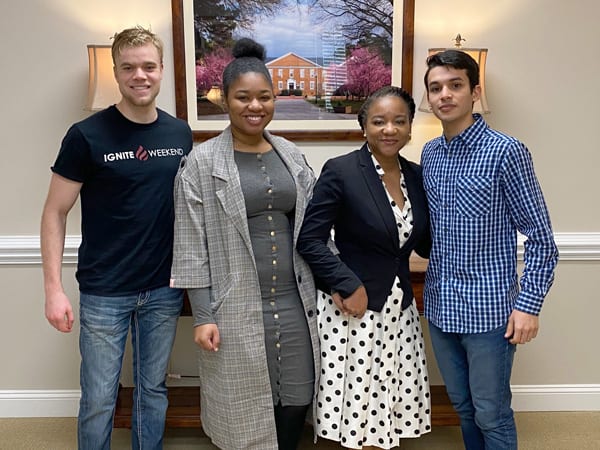 ROCKY MOUNT, NORTH CAROLINA – North Carolina Wesleyan University has partnered with Sony Music Entertainment to provide job shadowing opportunities for music production and Human Resources management students.
"It is partnerships like these that allow our students to experience real-world applications from the learning outcomes they attained in the classroom. Having the ability to offer these extraordinary opportunities prepares our students for their career after graduation and establishes a network of professionals with a major music entertainment company like Sony," stated Dr. Evan D. Duff, Interim President of North Carolina Wesleyan University.
Recently selected NCWC students Brianna Skipwith, Conner Hayes and David Bolivar will travel next week, March 4-6, to participate in the spring break 2020 Sony job shadowing experience. These students along with Dr. Katrina Sweet, NCWC Assistant Professor of Business, will be able to work side by side with Sony Entertainment's human resource professionals. During their time in NYC, they will also visit the 9/11 memorial and attend a Broadway show.
"HR was once viewed as the old personnel department isolated from the rest of the organization. Now HR is viewed as a strategic partner and is a part of the strategic planning phase of an organization. Students will be able to see both the two way linkage and integrative linkage and how each interrelates with the strategic goals and performance outcomes of an organization," stated Dr. Katrina Sweet.
Hayes acknowledges he hopes to "see the business fundamentals, practices, and organizational concepts that I learned in the classroom be applied in a real-world setting" adding, "I believe the wealth of knowledge and relationships I will gain will open up many more doors in the future."
Last October, NCWC students Will Plyler and Josh Strausser received the opportunity to visit The Orchard, a renowned Sony recording studio, and shadow some of Sony's top music production engineers. North Carolina Wesleyan University looks forward to more of their students having these same opportunities in the near future.